Biotechnology stocks have produced big gains in recent years. The iShares Nasdaq Biotechnology ETF (NASDAQ:IBB) is up 25% since last February. Biotech stocks with small market capitalizations are generally assumed to be speculative investments, so there is the potential for big gains because of their small size. SciClone Pharmaceuticals (NASDAQ:SCLN) is one such small cap biotech that is poised for big gains. The one year target estimate is 9.13, which represents a 80% gain from current levels. According to the company's website SciClone is a,
US-based, China-focused specialty pharmaceutical company with a substantial revenue-generating and profitable commercial business and a broad, marketed product portfolio of differentiated therapies for oncology, infectious diseases and cardiovascular, urological, respiratory, and central nervous system disorders."
As stated in the above quotation, SciClone is a U.S. based company that is China centric. The stock provides the big potential that comes with owning Chinese stocks, but it isn't as risky as many Chinese stocks because it is based in the U.S. The company has huge growth potential because of China's large population. SciClone CEO Friedhelm Blobel announced in the Q3 2012 conference call that demand for Chinese pharmaceutical products is expected to grow at a rate of 15%, which SciClone will benefit from. The company has a substantial international business and it has a diversified portfolio of products. Zadaxin, a SciClone product, is approved in over 30 countries and it can used to treat hepatitis B (HBV), hepatitis C (HCV), and certain cancers. Zadaxin is the SciClone's lead product grew 12% from Q3 2011 to Q3 2012. SciClone has about 14 mostly patterned products in China besides Zadaxin. SciClone also markets Ambien in the U.S., which is a fast acting treatment of insomnia. The company executives are also very experienced and the CEO, Friedhelm Blobel, has worked in the biotech industry for decades.
SciClone Key Stats

| | |
| --- | --- |
| Market Cap | 281 M |
| 1 Yr. Target Estimate | 9.13 |
| P/E | 16.11 |
| Forward P/E | 7.83 |
| Debt to Equity | 0 |
| Leveraged FCF | 55.90 M |
Source: data from Yahoo! Finance
The stock has solid fundamentals and it is considerably less risky than many small capitalization biotech stock. It's P/E is 16.11 and the forward P/E ratio is 7.83. Despite the company's small market capitalization, the stock really isn't that risky. For the third quarter revenues for its flagship product Zadaxin increased to 12% to 31.2 million, compared to revenues of the same period of the prior year of $27.9 million. The company has also increased in its free cash flow to 19 million and the free cash flow was only 9 million at the start of 2012 as shown in the chart below. The debt to equity ratio for this stock is currently 0. The leveraged free cash flow is 55.90 million. As shown in the graph below, revenue is at 5 year highs. Unlike many small biotech companies, SciClone is a revenue producing company.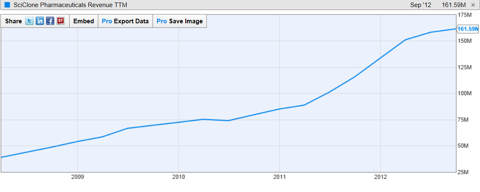 Source: charts from Y Charts
The biggest downside to this stock is the lack of a dividend. Another downside is that SciClone does believe that revenue for its flagship product will decrease eventually due to competitive pressures. However, this is not a serious concern because the company will likely offset any lost revenue with new products.
Conclusion
Chinese stocks are poised to boom this year. Uncertainty due to a once in decade leadership transition held back many China related stocks in 2012. However, many China related stocks have soared since the leadership transition and the Chinese economy is still booming. SciClone's stock is in a good position to make big gains in 2013 because it has a high growth rate and because of its dominance in the Chinese market.
Disclosure: I have no positions in any stocks mentioned, but may initiate a long position in SCLN over the next 72 hours. I wrote this article myself, and it expresses my own opinions. I am not receiving compensation for it. I have no business relationship with any company whose stock is mentioned in this article.