As an investor with a moderately-high level of risk tolerance, I typically focus a large portion of my invested funds in small pharmaceuticals with near-term catalysts as these companies tend to have greater liquidity and typically more positive share price trends during both bullish and bearish markets. A lack of such catalysts or a long duration between them can allow share prices to trend down as impatient investors may choose to invest elsewhere, at least for the interim. Following are some companies that are in or may soon be included in my portfolio with imminent catalysts that are attracting or should soon be attracting investor attention in the near term. These are development phase companies with much risk and much potential reward. These summaries should be considered to be only the beginnings of investors' research. I advise much additional research through the companies' websites, news releases, clinical data, stock charts and SEC filings.
Soligenix Inc. (OTCQB:SNGX) common shares have been on a recent tear, trading about 3X average volume over the last month. The company is just beginning to garner investor attention once again since its 2011 phase 3 clinical trial failure of orBec® in acute gastrointestinal Graft-versus-Host disease (GI GVHD). Recent news now centers around OrbeShield®, oral beclomethasone 17,21-dipropionate, or oral BDP, being developed to treat gastrointestinal (NYSE:GI) inflammation in gastrointestinal acute radiation syndrome (GI ARS). The company's shares began their recent ascent since a January 2nd announcement that the FDA had granted the drug the coveted Orphan Drug designation, protecting it from competition in the treatment for Gastrointestinal Acute Radiation Syndrome for 7 years after approval and greatly reducing regulatory filing fees for the product for that indication. A subsequent January 4th press release announced that the company had received Investigation New Drug (NYSE:IND) clearance from the FDA to initiate phase 1/2 trials evaluating OrbeShield™ as a therapy for the treatment of gastrointestinal acute radiation syndrome.
On January 7th, Soligenix announced that the Biomedical Advanced Research and Development Authority (BARDA), Division of Chemical, Biological, Radiological and Nuclear (CBRN) Medical Countermeasures, had invited the company to submit a full proposal for a potential multi-year, multi-million dollar contract to develop OrbeShield™ from its current level of technical readiness to FDA approval. In the press release, the company noted that it intended to submit its proposal to BARDA in February. If successful, investors could enjoy investment in a company with full funding of a therapy from current levels of development to FDA approval. Additionally, the company would also likely secure government contracts for the therapy to stockpile in the event a radiological disaster necessitates it use. Possibly the next major catalysts for the company, anticipation for its submission and response by BARDA, will likely continue keeping investor interest strong in this promising company with a heavily government-funded pipeline in development. Friday's $2.05 close marked yet another green close for the company's common shares after reaching yet another 52-week high just a few minutes before markets closed. With that close the company's market capitalization now stands at $22.9 million, still undervalued if the company begins showing additional clinical success and tentatively obtains the BARDA development contract. Additional information on the company's pipeline, goals, and financials may be found in my article, Soligenis: The Reintroduction , published last week.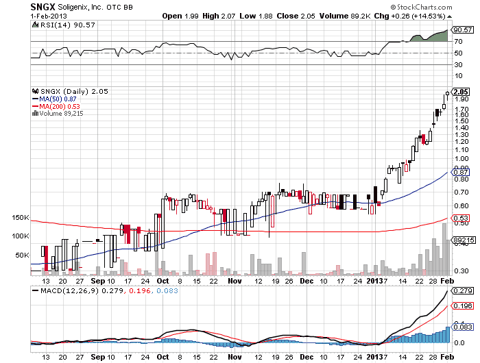 OncoSec Medical (NASDAQ:ONCS) had an exciting 2012, emerging from obscurity and having a productive year in clinicals based on its OncoSec Medical System (OMS) platform. The technology relies on a process known as electroporation in which an electrical current is applied to six needles which act as electrodes. When inserted into cancer tissue/tumors, the electrical current causes a dramatic increase in the porosity of the affected cells' membranes, allowing previously injected immunotherapy or chemotherapy agents to readily enter the cells (up to 4000 times quicker than usual). By its very design, OMS targets specific tissue regions for treatment and minimize the amount of agent that the remainder of the patient's body is subjected to. OncoSec purchased the license for the platform from Inovio Pharmaceuticals (NYSEMKT:INO) in April of 2011. Inovio had already developed the platform somewhat, with two phase 3 data sets backing the program. Patient enrollment in the phase 3 trial for head and neck cancer had been discontinued in June of 2007 as per recommendation from the independent data and monitoring committee (DMC). The committee recommended enrollment termination citing
concern about efficacy and serious adverse events, including higher mortality rates on the SECTA arm of the study than on the surgery arm. In the DMC's opinion, based on the totality of the issues, the SECTA arm has an unfavorable benefit-to-risk profile, relative to the surgery arm.
Although OncoSec has not enrolled new patients in the therapy's trial, it did perform its own internal review of the data collected from the trial and presented it on July of 2012. The control set consisted of the standard of care resection (surgical removal of cancer tissues) and was analyzed versus the two phase 3 electroporation data sets. More specific information may be obtained from the press release. Of significance, the data reanalysis was summarized stating
Despite the early termination of this study, delayed interim analysis of these data clearly demonstrated there was equivalence in safety, local control at eight months and survival between electrochemotherapy (now called NeoPulse) and surgery, with a benefit of quality of life and function for patients who received electrochemotherapy.
With this portion of the company's platform having apparent success in the past, the company has agreed to seek buyers or a licensing partner for NeoPulse and instead focus its attention and resources on the immunotherapy program, ImmunoPulse.
ImmunoPulse utilizes OMS to administer DNA IL-12, a plasmid DNA construct with instructions to produce interleukin-12 (IL-12). Once administered and infused into the patient's targeted cancer cells, the cells begin producing IL-12, making them targets of the patient's immune system. Cancer cells once ignored by the body now become its enemy and are targeted via circulating macrophages and cytotoxic T-cells. OncoSec is now advancing ImmunoPulse through two phase 2 trials targeting metastatic melanoma and Merkel cell carcinoma. Preliminary data presented on October 23rd for the Merkel cell carcinoma trial had promising results for the trial at that time. Although still in the early stages, data indicated not only success at the site of the ImmunoPulse treatment (the tumor microenvironment), but a systemic response was also observed as a result of the treatment in distant tumors not directly treated by the OMS procedure. In other words, the patients' immune system was not only attacking the tumors with the IL-12 expression as a result of the treatment, but was also attacking other tumors throughout the patients' bodies. If this response is robust and effective, more investors and possibly larger pharmaceuticals could start taking note as the trial advances. On November 15th OncoSec presented interim data on its phase 2 trial evaluating ImmunoPulse in treating the much larger indication metastatic melanoma. Like the Merkel cell carcinoma trial, local and distant tumors were responding to the treatment with convincing, but early stage, data. 90 days after the treatment with ImmunoPulse, there were 9 patients evaluable for efficacy. 5% of these had stable disease with no new metastases, 50% had a partial response and 45% had a complete response (the disappearance of all cancer as a result of the treatment regimen).
Interested investors should be mindful of imminent events upcoming as a result of last year's promising news releases. As stated earlier and also in an interview with the company's CEO, Punit Dhillon, the company is actively looking for suitors for its NeoPulse program using OMS to administer the already approved chemotherapy agent, bleomycin, to treat head and neck cancer. Funds obtained as a result of this licensing or sale would certainly be welcome by this development phase company and its investors. OncoSec should be presenting additional phase 2 data on its ongoing metastatic melanoma and Merkel cell carcinoma trials in the near future. With only tepid reception of the promising phase 2 data late in late 2012, investor response would likely be more substantial if data proves to remain strong as the trials progress and the company has larger patient sets to evaluate. On October 17th OncoSec announced that it had received the CE mark for its OMS platform, comprising both NeoPulse and ImmunoPulse platforms. This allows marketing of the OMS platform in the 30 nations comprising the European Economic Area (NYSE:EEA) and Switzerland. The company has given no recent update on the European marketing of the platform. It is still not known whether the company intends to market the therapy there on its own or via licensing or partnerships. Nonetheless, a surprise announcement could be imminent with much upside possible due to revenue possibilities for OncoSec.
Interested investors should perform much research into OncoSec and educate themselves on the risks and potential rewards for this company. The company's common shares have been trading in a tight range from $0.20 to $0.25 over the last month, in a consolidation pattern. With a market capitalization of $19.5 million, the upside for the company's common shares could be significant. However, the company's ImmunoPulse pipeline is still in early stages of its phase 2 trials. The next data set presented for each indication will be very telling and could be indicative of how the final results may turn out. Traded on the OTCBB markets, the company's common shares could be very volatile in the coming days and weeks as catalysts are anticipated and unveiled. The investment is certainly not for the risk averse, and interested investors should perform their own risk assessments and determine entry points with exit prices in mind in the event of failure or success in its clinicals.
Anacor Pharmaceuticals (NASDAQ:ANAC) shareholders were shocked after seeing share prices plummet well over 20% on Wednesday despite a press release from the company stating "Anacor Pharmaceuticals Announces Positive Results From the First of Two Phase 3 Trials of Tavaborole for Onychomycosis". Although the clinical data did meet its primary endpoint of "complete cure" vs. 0.5% of patients treated with vehicle (p=0.001) at week 52, data were not overly impressive and did not seem to indicate superiority in treating onychomycosis, a fungal infection of the nail, versus a competing product now in development by Valeant's (NYSE:VRX) efinaconazole. Shares sold off as many existing shareholders did not appear to want to weather out the therapy's regulatory decision and marketing in the coming months and did not see Tavaborole as being able to compete with efinaconazole. Now trading near its 52-week low, new and existing shareholders will be awaiting the company's next expected major catalyst, the data release from the company's second trial evaluating Tavaborole for onychomycosis sometime in March. The combined data between these two trials will be evaluated and utilized for the company's upcoming new drug application (NDA) sometime in mid-2013.
Anacor is developing another promising therapy, AN2728 to treat atopic dermatitis, a chronic rash characterized by inflammation and itching. On December 10th, the company announced phase 2 results on the first of its two phase 2 trials treating adolescents with atopic dermatitis. With an apparently better outcome than the Tavaborole trial for onychomycosis, results were stated as
74% of patients achieved an ISGA score of 0 ("clear") or 1 ("almost clear") after four weeks of treatment" and "35% of patients achieved an ISGA score of 0 ("clear") or 1 ("almost clear") with a minimum 2-grade improvement after four weeks of treatment.
Data was additionally described in the press release as "treatment with AN2728 also led to improvement in all of the individual signs and symptoms of atopic dermatitis." The safety profile of the treatment was solid with only some application site reactions. The second phase 2 trial evaluating AN2728 for atopic dermatitis is projected to be completed and have data release in 1H 2013, also a significant event. If these data are promising, the company is planning to initiate a phase 3 trial in atopic dermatitis in the near future, possibly in 2H 2013.
Current entry prices could provide for solid investment returns in the coming days as Anacor's common shares possibly begin to rebound. Known positive near-term catalysts for Anacor include any positive spins on the first phase 3 trial data for Tavaborole in treating Onychomycosis, Tavaborole's second phase 3 data to be released in March and the second phase 2 results for AN2728 in treating atopic dermatitis sometime in 1H 2013. As these events approach, the company's common shares could start trending back up off the currently depressed range under $4.00 per share with a now $138 million market capitalization. Downside from current levels is likely minimal as the company's common shares should begin trending back up as a result of these imminent catalysts.
The two remaining sets of data to be released each follow positive results in identical clinicals released over the last two months. Anacor's Q3 financials noted that the company had cash and equivalents of $36.6 million as of September 30th, 2012. With the company's cash burn rate that quarter of about $16 million, the company anticipates its funding should be secure through mid 2013's NDA filing for Tavaborole. One last thought for consideration with regard to Tavaborole's data. Although the fist of the two phase 3 data sets make Tavaborole appear to be inferior to efinaconazole, the second phase 3 data set may or may not improve upon those numbers. Valeant's efinaconazole has an FDA PDUFA date of May 26th, well before Tavaborole's likely 2H NDA submission. This does prove a unique opportunity for Anacor's shareholders as a complete response letter (FDA rejection of marketing approval at that time) for efinaconazole could mean a significant positive upside for Anacor's common shares based on the response we saw early last week with regard to the company's stock selloff as a result of competition fears as a result of efinaconazole. Certainly not an event I wish to see as this is a large area of need, Anacor shareholders should be on watch for efinaconazole's regulatory decision in late May.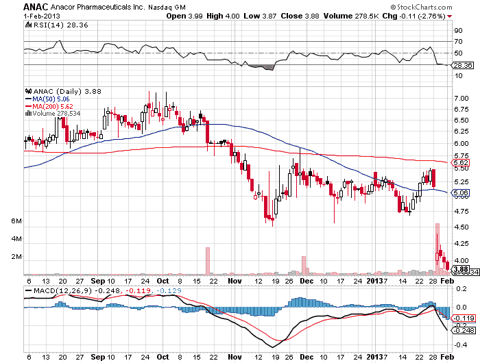 As the overall markets continue upward, corrections are also imminent, especially with the looming debt ceiling debates and increasing government debt concerns. It is during the bearish or peaking markets that these small companies with near term catalysts often excel relative to the overall markets. Not valued due to current revenue or earnings, development phase small pharmaceuticals such as the ones presented above are valued via a combination of the market size their developing products are targeting along with the perceived chances at clinical success and the company's cash levels and cash burn rates. It has been my experience that during bullish markets small pharmaceuticals of all types tend to trade higher with the markets. However, it is during times of market uncertainties or bearish markets that development phase small pharmaceuticals with no near term catalysts seem to sell off the quickest.
Meanwhile comparable companies with significant near term catalysts tend to sell off less or even continue trading positively despite the overall market sentiment. Whether DOW closing over 14,000 represents the next leg up for the markets, or is a peak for the interim, investors with moderate to high risk tolerances should consider the three aforementioned and many other small pharmaceuticals with near term catalysts for investment consideration. Before investing in any such company, I advise much research into the companies you are considering, with an exit plan in place in the event of positive or negative events unfolding.
Disclosure: I am long ANAC. I wrote this article myself, and it expresses my own opinions. I am not receiving compensation for it. I have no business relationship with any company whose stock is mentioned in this article.
Additional disclosure: I may initiate a long position in SNGX.OB and/or ONCS.OB over the next 72 hours.