The modern incarnation of Nokia (NYSE:NOK) made its name selling feature phones. With 13 of the top 20 bestselling mobile phones still bearing the Nokia moniker, it surely achieved a level of dominance that will never be repeated by another manufacturer. Yet, as attention on the phone industry has focused increasingly on the smartphone sector, Nokia's feature phones have barely gotten any press coverage. Nevertheless, by volume, this is still the largest aspect of Nokia's phone division. It is also a vital advertising symbol serving as testimony to Nokia's durability and capabilities making it undoubtedly the foremost reason why consumers select Nokia Lumia phones. The problem is, looking behind the numbers, the feature phone 'average selling price' (ASP) is declining rather rapidly. Using the rather vivid imagery of the Boston Consulting Group Matrix, this 'cash cow' is about to turn into a 'dog'. And when it does, Nokia will have another source of negative earnings on its balance sheet. Before this can happen, Nokia needs a new strategy to take care of this aspect of the business. To give an idea of what's happening; let's take a look at the outward most visible numbers, total volume.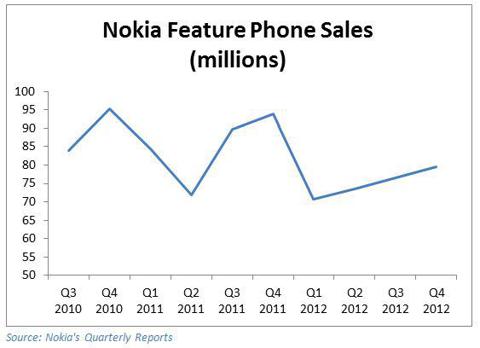 I like this graph a lot, try drawing a trend line through it. If push comes to shove, perhaps a gently declining trend line is possible, but it doesn't seem to be of much interest. It appears static which allows professional analysts to focus on the other more dynamic parts of Nokia. But looking at the numbers a wee bit deeper we see this.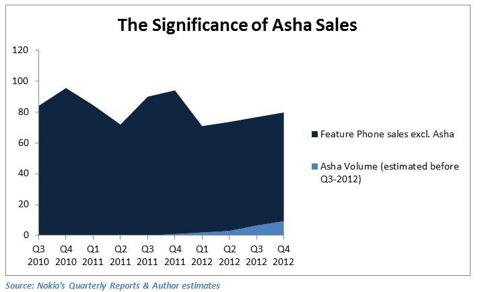 As can be seen, the Asha range is increasingly buttressing the volume shown above. The Asha is a strange hybrid, in their latest earnings report, they're described as smartphones. Yet they are not part of their smart devices division but their mobile phones division. This outwardly confusing attitude by Nokia, might actually be serving a deeper purpose. It is helping to disguise the declining volumes of Nokia's mobile phone division and the rather heavier declines in average selling price.
Having checked the prices for the 26 current variants of the Nokia Asha range, I estimate a very respectable ASP of €60. To digress slightly, it is actually a bit tricky to estimate ASP of the Asha. Much like a Veblen good, I suspect there is a certain cachet in purchasing the more expensive variants; it is therefore not necessarily true that the cheaper variants sell more. This is rather excellent from Nokia's perspective, but it does mean that they are in effect a different market to Nokia's feature phones, but lumped together with them, they help keep Nokia's ASP up as can be seen in the following graph.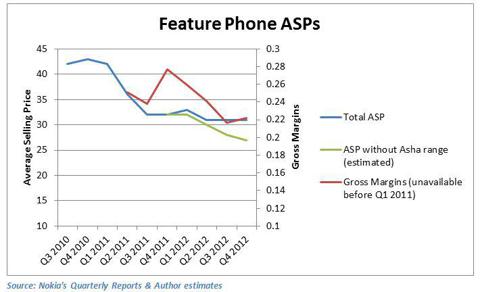 Unfortunately, before Q2-2011 we don't have gross margin figures for the feature phone division but it can be surmised there was steady margin erosion. Now, there was a slight uptick in the last quarter. This was significantly less than the uptick between Q4-2011 and Q3-2011, the last comparable season.
Reading between the numbers, and reading into the comments made during the Q4-2012 earnings call, let me make the following preliminary predictions for Q1-2013.
Nokia's feature phone sales will be between 60-70 million in Q1 2013. This will be the lowest they have been in several years. I also predict based on the smaller than expected upticks and the disastrous collapse of feature phone sales in China (4.6million sales in Q4 -2012: a 21% decline QoQ and a 69% decline YoY), that it will be on the lower end of the 60 million figure.
I believe the ASP excluding Asha sales will also continue to decline from €42-43 2 years ago, to €26 or less. This is based on the quicker than expected decline of volumes sold by the Nokia hierarchy. This is based on extrapolating trends but also on little useful factoids such as the conference call for this quarter where they state channel inventory is on the 'upper end' of their expected range. I think this is underplaying the significance of the volume decline. They will definitely face margin pressure, be forced to cut prices and resultantly have lower ASPs.
Conclusions
Now, when we consider the strategic options for Nokia, I cannot predict anything other than a general decline in Nokia's feature phone sales until they are at some point an irrelevance on the balance sheet.
The problem is, as western investors relying on western analysis, we often have rather poor visibility of the intricacies of the markets in which they interact. To give an example, we have all heard of Samsung (OTC:SSNLF). But how many of us have heard of Karbonn, Micromax, Lava, Spice and MAXX? These are exactly the types of generic feature phone manufacturers which have all the qualities needed to defeat Nokia. Firstly, they do not need expensive R&D, the patents have already been discovered, the capital infrastructure has already been created, they just need to build. They do not even need to advertise, why create a billion dollar brand like the Blackberry, when the excellently named Shanzhai Blockberry does the job? No, in the smartphone sphere, Samsung and Apple (NASDAQ:AAPL) are the competition. Here in the rather more humble arena of feature phone competition, these generic companies will eat away at Nokia's share till it is left with nothing.
Now, the immediate retort to this is that Nokia's superior brand name and quality will win out. This question answers itself. Its superior brand name and quality will make people purchase premium products from Nokia and this is precisely where the Asha range comes in. The Asha range is Nokia's future feature phone division. It is what replaces the volume losses on the budget phone front.
Nokia C-level executives will then be hoping for a certain scenario to play out. Firstly, they would like the Asha range to continue to grow sequentially in volume every quarter. This is not inconceivable with an impressive 43% increase in Q4-2012 for Asha to break the historical trend of post-holiday season declines and keep on growing. Secondly, something as outside observers we will be able to clearly see in the next earnings report, they would like the average ASP to start rising back up. I also think they do not expect any recovery of volume in Nokia's non-Asha mobile phones. They will be content to let it decline and focus on the aspects of Nokia's business where it does have a competitive advantage.
I believe that this scenario is highly possible. The Asha range offers technologies and capabilities that generic manufacturers will not be able to compete against. These includes the low-data usage Nokia Xpress Browser as well as 40 free EA games with every Asha purchase.
I remain a NOK shareholder and will continue to do so for the long-term. I will however be carefully studying the next earnings report to see how the Asha range is performing and will act accordingly.
Disclosure: I am long NOK. I wrote this article myself, and it expresses my own opinions. I am not receiving compensation for it (other than from Seeking Alpha). I have no business relationship with any company whose stock is mentioned in this article.