While anybody following past articles knows that Stone Fox Capital has been extremely negative regarding the business model and valuation of Facebook (NASDAQ:FB), the ultimate pairs trade might be going long Baidu, Inc. (NASDAQ:BIDU). The leading Chinese language internet search provider reached close to all time highs in April around $150 and a market value of $55B. The stock fell off the China cliff until December and has only been keeping up with the market since that point.
As reported back in early December, most of the decline was a combination of less investor appetite for Chinese stocks and growing fears that all Chinese stocks face delisting possibilities due to audit issues. While both issues are disappearing, Baidu still trades closer to 52 week lows rather than highs.
On the earnings release Monday night, investors will focus on the key issues of the conversion to mobile reducing the click through rate (NYSE:CTR) and more competition from Qihoo 360 Technology (NYSE:QIHU).
China Soars Back
The fears over China should be disappearing as the Shanghai Exchange roars back. The index has soared from around 1,950 in early December to over 2,400 in early February.
On top of the stock market gains, the economic reports continue to improve and put the hard landing fears into the distant past. The non-manufacturing report out on the 4th came in at the highest levels since back in August. The 56.2 reading suggests a robust economy that will only help the revenue base for Baidu expand.
Cheap Relative Valuation
Baidu has a business model similar to that of Google (NASDAQ:GOOG) absent all the side projects undertaken by the domestic search giant. Google hit all-time highs and now grasps a market cap of over $255B. Baidu on the other hand only garners a valuation of $37B even with growth still exceeding 40%.
Google trades at around 14x forward earnings while Baidu only trades at 15x 2014 estimates. Most investors consider the domestic market leader as cheap actually trading at the 5-year growth rate. Baidu though trades at less than half of the expected 5-year growth rate of nearly 35%.
Facebook conversely trades at over 37x forward estimates and faces a much tougher business model. It is enormously more difficult to remain a leader in social networks compared to the technological leadership of a search engine. No doubt leading Facebook more and more into the search area with the recent Graph Search product.
Qihoo Search Engine Fears Overblown
Competitor Qihoo trades near 52-week highs after the company launched its own search engine on August 16th. As this article highlighted back in December, the company has seen significant growth with limited impact to Baidu's market share. In fact, Qihoo has mainly gained from replacing its search engine with Google's search engine as the default for the popular 360 web browser.
In fact TechInAsia provides this graph highlighting the limited market share losses by Baidu since October. While under attack from a tough new entrant, Baidu still maintains a market share of nearly 72%.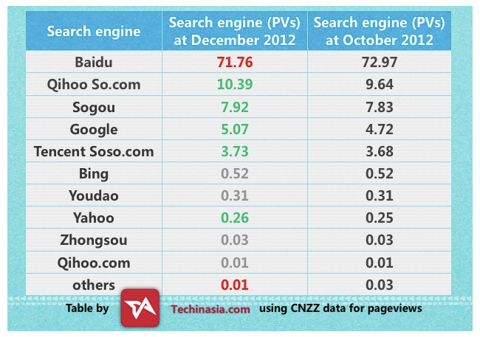 Note that Google remains relegated to 4th position in China.
Earnings Expectations
The fractional market share loss was actually smaller than analyst expectations as earnings expectations continue to drop for 2013. The forecast has dropped to $5.91 from $6.03 around 90 days ago.
The company is expected to report earnings of $1.29 for Q4 on revenue growth of 42.8%. Earnings growth of only 40% are probably lower than what Baidu will report continuing a trend of the last two quarters where the company beat expectations by roughly 10% on average.
Naturally the market will focus on any guidance for 2013. Analysts expect revenue growth of 35% and earnings to jump only 24%. Any signs of higher margins on mobile or reduced competition from Qihoo would send the stock soaring.
Facebook has seen earnings expectations plunge last week. Analysts now expect only $0.79 for 2014 after previous expectations of $0.86. On top of that, the expectations for 2013 are now nearly flat from the $0.53 reported for 2012.
Now why would investors pay a higher multiple for Facebook with limited earnings growth compared to the soaring earnings of Baidu?
3-Month Chart
The below chart compares the search engine competitors over the last 3 months: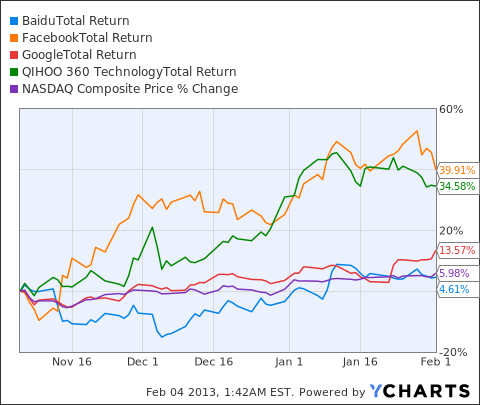 BIDU Total Return Price data by YCharts
Conclusion
While the audit issue hasn't completely gone away, the impact to Baidu's stock is likely to continue disappearing. At a market cap of $37B, the company isn't able to skirt under the market's radar without scrutiny by analysts and industry experts. Any fraud would be a huge negative for any analyst or media outlet unable to unearth it at this point.
Investors are offered the ultimate pairs trade of going long Baidu and shorting Facebook. While the search engine market in China will continue to surge, the domestic social media penetration for Facebook appears to have peaked in December. With Baidu trading at only a fraction of the Facebook multiple and valuation, the stock offers the best value by far. Investors should expect another strong quarter from Baidu.
Disclosure: I have no positions in any stocks mentioned, but may initiate a long position in BIDU over the next 72 hours. I wrote this article myself, and it expresses my own opinions. I am not receiving compensation for it (other than from Seeking Alpha). I have no business relationship with any company whose stock is mentioned in this article.
Additional disclosure: Please consult your financial advisor before making any investment decisions.