By Dr. Declan Fallon
Irish Banks continue to enjoy/suffer a roller coaster ride and the news hitting the tape this morning is hardly the Alka Seltzer the market was looking for.
click to enlarge

Back in early December 2008 I had suggested a potential opportunity for Allied Irish Banks (AIB) at support; although Anglo Irish (OTC:AGIBY) had already nixed its own attempt to hold similar support in November. In the end, negative sentiment won out and the AIB opportunity turned into a bust by December 18th when it breached €1.91 support.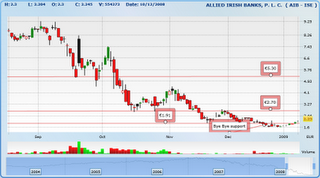 The Irish banking sector faces new challenges with the collapse of Anglo Irish Banks, combined with the troubles in Barclays (NYSE:BCS), Bank of America (NYSE:BAC) and Citigroup (NYSE:C), have all helped push the banking sector to new lows. The latest UK bank bailout plan has seen a mixed response from traders.
There was very little joy for AIB shareholders from mid-December.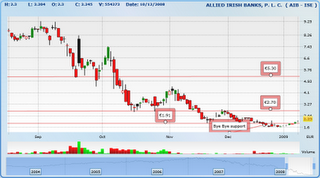 And the brief "Santa rally" utterly collapsed over the past couple of days: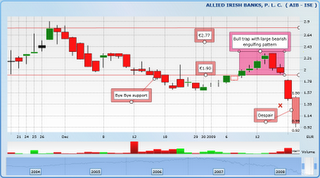 It looks like traders are pricing a new name to AIB, that of Anglo Irish Banks.