Shares of Whole Foods Market (NASDAQ:WFM) reached its all-time high of $101.86 in October 2012, and has since pulled back and traded sideways. While most people would agree that Whole Foods is a great company, many are skeptical of its stock valuation. The stock has enjoyed an amazing run since the end of 2008 when it traded below $10 a share. Four years later, it's trading at $96 a share and at a P/E of 38. Is it likely for the stock price to increase another 800% in the next four years? Probably not. But will the stock price crash down to earth? We don't think so either. In fact, we still believe Whole Foods is a solid investment even at its current valuation.
To draw quick a comparison, Whole Foods is similar to Apple (NASDAQ:AAPL) (during the time when iPod sales started to take off) in a sense that both companies focus on building a powerful brand name capable of command price premiums on its products. The "Whole Foods" experience builds on the premise that people place value on high-quality natural and organic foods, transparency on food sources, support for social and environmental initiatives, and a refreshing environment to shop groceries. So far the company has been able to successfully build a loyal customer base. We believe Whole Foods is truly a pioneer in inventing a "premium specialty" segment in grocery shopping. No other grocery company has come close in putting amount of effort or gaining the same level of success in this space.
Perhaps just like Apple, Whole Foods might one day face heightened competition and see a rapidly diminishing competitive advantage. If the market senses a sign of this occurring, we're fairly certain Whole Foods' stock price will plummet. Besides that, the stock could also take a hit if macro and other industry factors weaken the company's competitive advantage, or a significant change in healthy eating trends adversely affects the whole industry. While these "nightmare" scenarios would cripple any momentum stock that trades at a premium, we believe they are unlikely to happen to Whole Foods in the coming years. Here's why:
The company's $11.7 billion 2012 fiscal year sales only represented 2% of the $584 billion U.S. supermarket industry. Whole Foods has a lot of room to grow, so it's not surprising that the company is planning to triple its U.S. store base to 1,000 stores. Assuming a 9% store increase annually, we estimate that it'll take 13 years for the company to reach its goal. Furthermore, it's likely that Whole Foods will extend its footprints overseas before the end of its U.S. expansion. We also like the fact that the company is taking a conservative approach in expanding stores, even though it has the capacity for a much faster store unit growth rate.
According to the 2012 Organic Industry Survey by the Organic Trade Association, organic food and nonfood dollar sales jumped 9.5% in 2011 to $31.5 billion. Of that figure, food and beverage sales were up 9.4% to $29.22 billion-a growth pace twice the 4.7% sales rise of conventionally produced items. With growth comes opportunity. We expect greater competition among organic food retailers, and perhaps new entries. However, the grocery space has a high barrier of entry, and it is even more difficult to pose a meaningful threat to Whole Foods in the "premium specialty" segment.
The trend for healthier eating is here and growing. We feel that Whole Foods has almost been caught off-guard by the company's recent robust growth. After sales took a dip during the "great recession", the company has rebounded and delivered impressive growth. The table below shows the growth rate for Whole Foods' sales, operating income, and net income in the past three years. We see a consistently increasing topline and rapidly improving margins. However, we do realize that Whole Foods' EBIT and earnings growths in the past three years were well above the company's historical growth, which is around 20% range. While no one should expect this kind of growth to continue forever, we believe that Whole Foods is in arguably the best position in the industry and is capable of delivering EBIT growth slightly above historical rate in the next decade. On top of that, the company had zero debt and $1.2 billion in cash and short-term investments as of September 30, 2012.

Source: Whole Foods Annual Reports 2010-2012
Whole Foods' non-specialty competitors are gradually stacking their shelves with more organic foods. While this could be seen as a threat to Whole Foods, we disagree. Offering more organic foods will accommodate the growing demand among these stores' current customer base, but it'll do nothing to steal customers from Whole Foods. Foods from say, Ralph's, simply do not have the same perceived quality and transparency as foods from Whole Foods. As the non-specially grocers claim a piece of the growing organic food industry, Whole Foods' target customers will most likely still stay with Whole Foods.
In an effort the ditch the "whole paycheck" reputation, Whole Foods has lowered prices and offered discounts on many items. As a result, store traffic has seen accelerating growth, while basket size grew moderately (shown in the table below). We believe the company is doing the right thing by focusing on getting people into their stores. It's also good to see that despite the discounts, 4Q2012 gross margin improved 76 basis points year-over-year to 35.3%, and was consistent with the growth trend we saw in the past three years.

Source: Whole Foods Annual Reports 2010-2012
One concern raised by an analyst during the 4Q2012 earnings call is the limited growth capacity of older stores. In fact, as the graph below shows, stores over 15 years old had robust comparable sales growth since the recession. Moreover, these stores only account for 21% of all Whole Foods stores, and are subject to reviews for remodeling and expansion.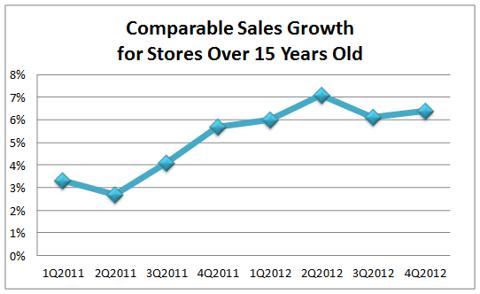 Source: Whole Foods Press Releases 2011-2012
So, the question comes down to: Yes, Whole Foods is a great company, but is the stock a good investment?
Our short answer is: Yes.
The company's guidance for FY2013 was somewhat disappointing to the market, as shown by the stagnant stock price. However, we'd like to point out that Whole Foods' management has consistently raised guidance over time in each of the past three years. Bear in mind that, as we mentioned earlier, the rapid growth might have caught management by surprise, but we still think Whole Foods' management is conservative when it comes to guidance. The graph below compares EPS reported by company to EPS estimates by analysts. We see that Whole Foods has estimate every quarter in the past three years. Continually doing so will no doubt support the stock price.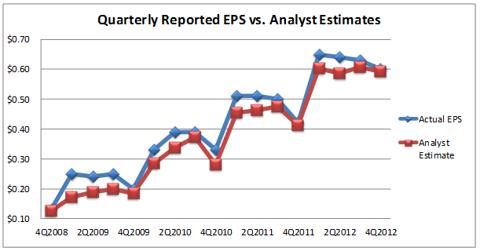 Source: Whole Foods Annual Reports 2010-2012, Bloomberg
Whole Foods has plenty of room to grow. We've calculated a scenario in which the company sustains growth during the next 13 years of its U.S. store expansion. Below are the assumptions we used.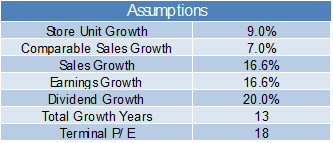 Source: Our Estimates
We assumed a store unit growth of 9% which we feel is in line with Whole Foods' long term expansion target; a comparable sales growth of 7% which is quite conservative considering the historical average has been around 8%; an earnings growth rate that is same as sales growth, again, to be conservative (implying no improving margins); a dividend growth rate that is sustainable; and a terminal P/E ratio that is the current average of Whole Foods' peers. Using these assumptions, we forecast the following at the end of FY2025.

Source: Our Estimates
The purpose of this forecast is to show that even using conservative assumptions, Whole Foods is well capable of generating high returns for investors. Whole Foods is at the early stage of rapid expansion, setting out to a minimum 13 years of sustainable growth. We believe the stock is fairly priced, but certainly not overpriced. While the stock is not a favorite among value investors, it does look promising to us. In the absence of the aforementioned "nightmare" scenarios, any pullback in the stock price should be seen as a buying opportunity.
Disclosure: I am long WFM. I wrote this article myself, and it expresses my own opinions. I am not receiving compensation for it (other than from Seeking Alpha). I have no business relationship with any company whose stock is mentioned in this article.
Additional disclosure: This article was written by an analyst at Saibus Research. Saibus Research has not received compensation directly or indirectly for expressing the recommendation in this article. We have no business relationship with any company whose stock is mentioned in this article. Under no circumstances must this report be considered an offer to buy, sell, subscribe for or trade securities or other instruments.