In part one of this article, I discussed my reasoning on why I believe development phase small pharmaceuticals with imminent catalysts could provide for solid gains if such events unfold positively in bear or bull markets. I delved into the imminent catalysts for Soligenix (OTCQB:SNGX), OncoSec Medical (NASDAQ:ONCS) and Anacor Pharmaceuticals (NASDAQ:ANAC). Still having much risk, as most development phase pharmaceutical investments represent, the upside for each of these candidates could be significant in the coming days with little reason for downside seen in each based on previous clinical data, possible partnerships in wait, and government contract decisions from a government entity that invited one of the candidates to submit a proposal for a large contract. Regardless of the promise possible in each of these, however, the risk is still there and those investments, along with additional ones presented below are not for the risk averse. I have weighed the upside potential versus the downside risks for Soligenix, OncoSec and Anacor and believe my risk assessment for my level of risk is acceptable with regard to my investment strategy. Following are additional possibilities for consideration. Please perform additional research on each to ascertain if they fit your investment strategy.
A.P. Pharma (APPA.OB) common shares have been on a tear since December 10th's intraday low of $0.48. The stock recently reached new 52-weeks highs in Wednesday's trading of $0.89, an 85% gain from just over a month ago. The new highs are likely due to increased investor awareness of an upcoming regulatory decision on the company's lead product candidate, APF530, for the treatment of both acute- and delayed-onset chemotherapy-induced nausea and vomiting. A large indication with much unmet need, the marketing potential of APF530 could be huge depending on how well the drug is received in the markets. The company has a Prescription Drug User Fee Act (PDUFA) action date of March 27, 2013 and common shares will likely see increased volatility and upside in the weeks ahead of the regulatory decision date in which the drug's marketing will be either approved or rejected. June 2012 data presentation of the drug's topline data was more significant than the data might indicate at first glance. The data was summarized as "There was no statistical difference between APF530 and palonosetron (the standard of care) in the rate of CR (complete response) achieved by either chemotherapy naïve and chemotherapy-nonnaïve individuals observed over the entire 120-hour period in the combined MEC and HEC population" and "no statistical difference between APF530 and palonosetron in patient satisfaction in either chemotherapy-naïve or chemotherapy-nonnaïve individuals in the combined MEC and HEC population."
So why the interest in a drug that is pretty much equivalent to an already-marketed and successful product? APF530 is developed from the company's proprietary Biochronomer™ polymer-based drug delivery platform. The platform is being developed to convert already approved injectable drugs' administration by enabling a drug that is normally administered once or twice daily to once every two to three weeks. The implications of fewer injections (and fewer trips to the clinic) are obvious and will benefit patients suffering from chemotherapy-related nausea. Not only could the company benefit from the drug's sales, but the possible approval would help to legitimize the Biochronomer™ technology and provide a firm technological and financial footing for the company moving forward. It could then use the approval for licensing out the technology for revenue or continuing its development for many other indications.
According to A.P. Pharma's Q3 filing, the company had cash and equivalents of $60 million as of September 30th. The company noted in the filing that this money would be sufficient to fund the company through the anticipated product launch (pending regulatory approval). Personally, I wouldn't be surprised to see a stock offering in the days leading up to the regulatory decision. What remains to be seen is the size of the likely offering and at what share price. Nonetheless, I believe the upside potential versus the downside risk merit strong consideration for the company's shares. Trading just under its 52-week high, a close above that level should be construed as bullish, and is an event likely to put the company on many investors' radars that monitor such events. As with any of these development-phase companies, failure of the company to secure regulatory approval could be devastating for shareholders. Upside potential versus downside risk should be carefully considered. Once again, this investment is not for the risk averse. The OTCBB listing imparts additional risk with the reduced liquidity and increased risk of share price manipulation.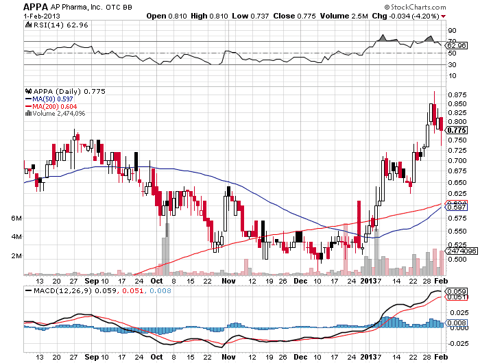 AcelRx Pharmaceuticals (NASDAQ:ACRX) has been and continues to be one of my favorite development phase pharmaceuticals to hold in my portfolio. Friday's closing share price of $5.32 gives the company a market capitalization of $197 million, a low price for a company with solid phase 3 data behind for one indication and with two more phase 3 trials set to release data in Q1 2013. On November 15th, AcelRx released phase 3 data for its lead product candidate ARX-01. The drug utilizes AcelRX's sublingual (under the tongue) administration tablet technology named the NanoTab® System to administer sufentanil, a potent opioid analgesic usually administered intravenously. IV administration of sufentanil normally causes an initial spike in the drug's concentration in patient blood plasma with the subsequent concentration waning rapidly with decreased efficacy after the initial onset. The sublingual NanoTab® administration releases sufentanil more slowly and steadily into the bloodstream, keeping the efficacy consistent and effective. The first of the three phase 3 trials underway for ARX-01 to have its data released, the November 15th press release was for the control of post-operative pain. According to the announcement, ARX-01 was statistically superior to IV PCA morphine for the PGA (patient global assessment) endpoint with a (p=0.009) treatment correlation. The number of patients rating NanoTab® System as "Excellent" was higher than those rating IV PCA morphine as excellent (42.9% vs. 30.6%, p=0.016). Patients in the study reported greater overall satisfaction (4.15 vs. 3.83 out of 5, p=0.003) with greater overall ease of care (4.45 vs. 4.07, p<0.001) with the NanoTab® System compared to IV PCA morphine. Shares spiked moderately with closing highs reached on the following week on November 26th at $4.97. A subsequent offering announcement appeared to kill the stock's momentum on December 5th, with prices dipping as low as $3.31. However, that low marked the beginning of the trend back up. The offering was favorably priced at $3.31 per share for 10 million shares, providing the company with over $33 million in which to wrap up the other two phase 3 trials underway for ARX-01 and file a new drug application (NDA) in mid 2013.
With financing behind it, and solid phase 3 data in ARX-01 for a $6.0 billion market for post-operative pain, I am indeed surprised the company is still trading at its current valuation. Investors have been warming up to the company a bit more with the stock reaching new 52-week highs on January 22nd of $5.83, up 76% from its offering lows of $3.31, less than two months ago. AcelRx's two remaining phase 3 trials for ARX-01 are scheduled to have data released in Q1, 2013. They are for differing indications: patients undergoing elective unilateral knee replacement surgery and a trial evaluating ARX-01 for post-operative pain following abdominal surgery. These are smaller targeted patient groups and would probably simply be left out of the NDA and product labeling if the remaining two Phase 3 data sets happen to disappoint. Perhaps anxiety over these two trials' upcoming data concerns investors? The NDA will be submitted for either one, two or all three of the targeted market groups. However, the larger group is represented by data that has already been released. Once this realization hits the markets, shares could trend up markedly in the coming days and weeks as this realization comes to light, and once the remaining two data sets are released.
In terms of imminent catalysts, the two phase 3 data set releases are imminent. The clinicaltrials.gov website indicates a February 2013 study completion for the study evaluating ARX-01 for "Treatment of Post-Operative Pain in Patients After Knee or Hip Replacement Surgery" and a December 2012 completion for the study evaluating ARX-01 for "the efficacy and safety of the Sufentanil NanoTab PCA System/15 mcg to the Placebo Sufentanil NanoTab PCA System for the management of acute post-operative pain after open abdominal surgery." With the risk of a dilutive offering now minimal due to December's $30 million offering, solid data behind the company's lead product candidate for one indication, and two other data sets imminent, February could be an exciting month for AcelRX and its shareholders. Phase 2 data were favorable for all three indications, phase 3 data for one indication has been extremely positive so far, and two other data sets should keep investors watching this company's progression closely. On January 30th, Mizuho initiated coverage on AcelRX with a 1 year price target of $13, over 144% above Friday's closing price. Although I doubt the $13 price target, representing a market capitalization of $481 million, is reasonable for a 1 year target, an FDA approval and strong marketing campaign could yield such returns within 2 years instead. I will continue watching AcelRX intently and maintain at least a base holding in the company's common shares for some time to come. Trading at its 52-week highs, a close above those levels should be construed as bullish, with many new eyes being set on the company by those who watch for such technicals.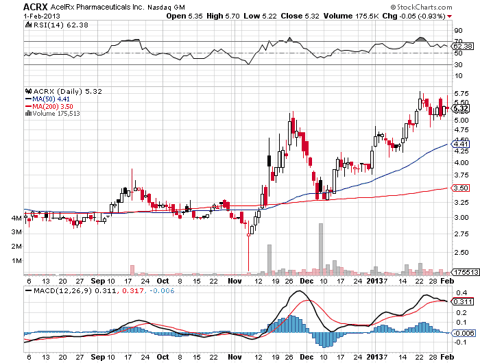 Durect Corporation (NASDAQ:DRRX) shares were trending in a bullish manner in late 2012 with 52-week highs of $1.71 reached on October 17th. Shares would come crashing down on November 1st after a mention of the company's partnered drug, Remoxy, a tamper resistant slow-release formulation of the commonly used oxycodone for pain management, during Pfizer's (NYSE:PFE) Q3 conference call. Durect had licensed the drug from Pain Management, now Pain Therapeutics (NASDAQ:PTIE), in late 2002 and then sublicensed the drug to King Pharmaceuticals which was acquired by Pfizer in February of 2011. Shares that were trading at $1.37 on the 31st, reached as low as $0.61 during trading on November 1st. Zacks Investment Research analyst, Jason Napodano, quoted the concerning statement in his November 5th analysis on Durect. He noted that when asked about Remoxy during the Q&A session of the conference call, John Young, Pfizer s President & General Manager, Primary Care Business Unit, answered:
"Remoxy has been a challenging asset that our teams have been working on very diligently since the acquisition of King. As a result of that work and extensive insights that we've gained around the formulation, we've initiated confirmatory bioavailability studies to assess the pharmacokinetic or PK profile of modified Remoxy formulation compositions. And we expect those studies to read out early in 2013. We think that the results of those studies will provide us a much greater clarity on whether or not we'll be able to adequately address the questions raised in the complete response letter that we received from the FDA. So we're targeting a late March meeting with the FDA to discuss those outputs and agree on a net go or no-go decision. I think one last comment just to make is that I think it's important to remember that our commitment to this area is very strong, and as such we continue to invest in our compound ALO-02, which is an extended release oxycodone, which uses a naltrexone platform technology and it's currently in Phase 3."
Pfizer is attempting to commercialize Remoxy, but needs to address concerns stemming from a June 2011 complete response letter (CRL) in which the FDA refused to give marketing approval until its concerns were addressed. Pertaining to the CRL, Pain Therapeutics noted that the FDA had concerns relating to "the Chemistry, Manufacturing, and Controls section of the NDA for REMOXY. Certain drug lots showed inconsistent release performance during in vitro testing. It is not known at this time whether this is an artifact of the testing method or a manufacturing deficiency. Sufficient information does not yet exist to accurately assess the time required to resolve the concerns raised in the FDA's Complete Response Letter. In the opinion of Pain Therapeutics, potential regulatory approval of REMOXY in the U.S. is unlikely to occur in less than one year, and could be delayed significantly longer than a year."
Although Pfizer intends to meet with the FDA in late March to discuss the pharmacokinetic studies, the release of those results to the public from Pfizer, Durect or Pain Therapeutics before then could give an indication of the drug's chances at approval. Although neither company has mentioned that the data will be released before the March meeting with the FDA, I believe there is a good chance we could be seeing this data sooner, a possible imminent catalyst. However, another imminent catalyst lies in wait for Durect investors. During its Q3 2012 financials, the company noted that it intended to file a NDA for another drug candidate, POSIDUR™, sometime in Q1 2013 for the treatment of post-surgical pain. Not a direct competitor to AcelRX's ARX-01, POSIDUR™ is administered during surgery to the incision site where it releases therapeutic levels of bupivacaine to control pain for up to 72 hours. In phase 3 data released January 2012, data was not overly impressive, but did meet endpoints sufficient for the upcoming NDA submission. The 5.0ml dosage cohort in laparoscopically-assisted colectomy did provide statistically significant results with a (P=0.0410) correlation for 10% less pain than the placebo. However, with regard to the co-primary efficacy endpoint of pain reduction as measured by mean pain intensity on movement during the period 0-72 hours post-dose, the patient group treated with 5.0mls POSIDUR (660 mg) reported a mean pain reduction in pain scores of approximately 7% (p=0.1466), not statistically significant. In a different cohort, one for the treatment of pain after laparoscopic cholecystectomy, there was statistical significance via mean reduction in pain on movement of about 20%, for a (P=0.0111). The second endpoint for that cohort, the reduction of supplemental pain relief (opioids), required 18% less opioids consumed compared to the bupivacaine HCl group (p=0.5455, not statistically significant. With neither cohort particularly impressive, the company subsequent pre-NDA meeting with the FDA in 2012 apparently yielded information that the company believes justifies a NDA in Q1 2013, an imminent catalyst. Although it's not known if a subset or another piece of information could garner a positive regulatory decision, the NDA application is another catalyst that should positively affect share price in the coming days.
Durect's common shares have been slowly recovering since November's dip below $1.0. Shares currently trade at $1.10, on a bullish uptrend and near the highest level since the Pfizer conference call of $1.15 reached on January 24th. In early December, the company announced a public offering to fund its pipeline development. The offering was priced at $0.90 and will provide about $12.5 million in funds for the development-phase company. With dilutive offering behind them, and two upcoming known positive catalysts, Durect common shares should continue their bullish trend with increasing volume. This is a high-risk investment, but I believe much of the downside risks have been priced into the now $97 million market capitalization company.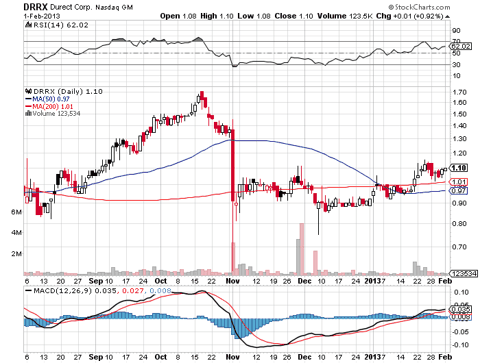 The above imminent-catalyst small pharmaceuticals each present the possibilities for much stock activity over the next days, weeks and months. Each investment has its own unique risks and potential rewards. Please perform additional research into each of the companies using trial data, SEC filings and news releases before making any investment decisions. As the markets either continue on their bullish trends, peak here with Dow at 14,000 for the interim, or begin their descents, I believe development phase pharmaceuticals such as those presented could offer the potential for solid gains with wise planning and research.
Disclosure: I am long ACRX, APPA.OB. I wrote this article myself, and it expresses my own opinions. I am not receiving compensation for it. I have no business relationship with any company whose stock is mentioned in this article.
Additional disclosure: I may initiate a long position in DRRX over the next 72 hours.