A couple of weeks ago, chip giant Intel (NASDAQ:INTC) fell 6.3% after the company's fourth quarter earnings report. The company missed both its own midpoint and analyst expectations for revenues. On an earnings per share front, the company beat, but that beat was due to a significantly lower tax rate and the company's continued buyback. Intel has hit its marks on the bottom line. However, revenue growth has been sluggish on the face of a weak PC industry, and Intel has had trouble meeting expectations. Today, I'll briefly discuss Intel's past year, and then look forward to the promise of 2013.
A recent history:
Over the past year, Intel shares have fallen about 16.80%. That seems fairly justified, because Intel initially expected to have 2012 revenue growth of 7% to 9% initially. When all was said and done, the company actually posted a 1.2% decline in sales. The table below shows some key financial numbers for Intel in 2012, compared to 2011. Dollar values and share count in million. Earnings per share are actual.

Intel's margins took a hit, and net income dropped. Results didn't look too bad on an EPS front thanks to the buyback. Using the 2011 share count, Intel's earnings per share in 2012 would have been about a dime less. The buyback is working in that respect.
2013 revenue expectations:
During the company's fourth quarter release, they guided to Q1 revenues of $12.7 billion, plus or minus $500 million. This forecast was seen as disappointing, as analysts were looking for $12.92 billion. Since then, estimates have come down almost to the guidance midpoint, and now stand at $12.72 billion. Intel's guidance has disappointed in recent quarters. Intel missed both its own guidance midpoint and analyst expectations for Q4, both of which were below what analysts were looking for originally.
The current forecast for Q1 revenues for Intel represents a decline of about 1.47% over the prior year period. Intel analysts forecast an even weaker Q2, with a 4.15% decline in Q2 revenues (year over year). For the first half of 2013, analysts are looking for roughly $25.66 billion in revenues, a decline of 2.84% from 2012's first half revenues of $26.41 billion.
But even with the almost 3% decline in first half revenues, analysts are expecting Intel's revenues for the entire year 2013 to be up about 1.4%. That means that analysts are expecting a decent second half of the year. If you subtract out the first half estimates, analysts are looking for the second half of 2013 to see about 5.5% revenue growth over the second half of 2012.
There are obviously two sides to this issue. The bear side says that Intel has disappointed the past few quarters, a trend that could easily continue going forward. Intel issued a huge revenue warning in September and has still had trouble meeting significantly lowered estimates. The bears are waiting for Intel to prove itself. Since the beginning of 2012, it just has not.
Then there is the bull side, those that believe Intel's 2013 forecast was extremely conservative. Ashraf Eassa provides a compelling argument for Intel reporting revenue growth of 4.5% in 2013, or approximately $55.7 billion. Intel guided to "low single digit revenue growth" for 2013, so Ashraf's forecast would be towards the high end of that broad range, and well above current forecasts for $54.08 billion.
This may sound funny, but just 2% revenue growth for Intel right now would be welcomed, as expectations are for 1.4% growth. Those expectations have come down since the Q4 report, as Intel's 2013 revenue forecast has been cut by about $270 million. At that point, before the 2012 numbers were fully in, analysts were looking for 1.7% growth. That's not much, but we're not talking about a small-cap company, and the PC industry is weak right now.
2013 earnings expectations:
After Intel's poor gross margin guidance for Q4 in 2012, analysts started taking down their earnings estimates for 2013. Analysts have been expecting a further decline in earnings over 2012 levels. Intel does not provide earnings per share guidance, but they give us enough to get an estimate of where earnings may be.
Intel guided to revenue growth in the low single digits for 2013. That's a broad range, so for this argument, I'll use 2.5% revenue growth, which would be a bit above current analyst estimates. That gives us revenues of approximately $54.67 billion. Intel then gave us gross margin guidance of 60%, plus or minus a few percentage points. Now that guidance may end up being slightly conservative, but it would represent a decline from their 2012 gross margins of 62.15%. Using the 60%, we get a number of about $32.8 billion in gross margin dollars.
Intel guided to main operating expenses (research & development, plus marketing, general and administrative) of $18.9 billion, plus or minus $200 million. In 2012, those expenses totaled $18.205 billion. Additionally, the company guided to amortization of acquisition-related intangibles of $300 million, against $308 million in 2012.
Subtracting out those operating expenses gives you an operating income figure of approximately $13.6 billion. Intel said add in $100 million in interest and other income items, so I'll do that. Intel guided to a tax rate of 25.00%, compared to 26.01% in 2012. Altogether, you get a net income figure of approximately $10.2785 billion.
Now, here is where the earnings calculation gets tricky, because it all depends on the diluted share count. Using the 2011 figure for shares, Intel would produce earnings per share of $1.90, based on my net income figure calculated above. Using the 2012 figure (5.16 billion), it would come out to $1.99. Now, if I were to change the revenue figure to the current 1.4% growth analysts currently expect, and I use the 2012 share count, I would only get $1.94. That would match current analyst estimates for $1.94 in 2013. So if Intel hits the 1.4% growth for revenues, and meets all other guidance, they would not need to buy back any shares to meet current analyst estimates for earnings.
But we can assume that the share count will not stay the same. Intel spent $1 billion on buybacks during Q4 alone, and the buyback should continue at roughly that figure. That will get the share count down, so Intel should be able to do well in terms of earnings per share, assuming marginal revenue growth and costs in-line with expectations. The important point here is that if Intel does 2.5% revenue growth and all other expenses meet given guidance, they would have earnings per share of $1.99 given the 2012 share count. That's a 5 cent beat of current estimates, and assumes buybacks do nothing. Intel reduced its diluted share count (for EPS calculation purposes) by 251 million shares in 2012. If they were to do that again in 2013, you would be looking at about $2.09 in earnings per share during 2013. That's well above current estimates.
Intel's buyback is really helping earnings per share, and I expect that to continue. Intel doesn't need to have a tremendous year to beat expectations, just an okay one.
Like revenue growth I detailed above, analysts are expecting a big second half for Intel. Current forecasts have Intel producing earnings per share of $0.83 in the first half of 2013. That would be significantly down from the $1.07 we saw in the first half of 2012. For the second half of this year, analysts are looking for $1.11, which would be up a nickel from the second half of 2012.
Add in the dividend:
Everyone knows that Intel is a mature company at this point. You won't see explosive revenue or earnings growth, but you don't have to either. Intel shareholders invest in the company for its sizable dividend as well, yielding 4.21% as of Friday's close. It is this dividend that has softened the blow as the stock has fallen over the past year. According to Yahoo's adjustment, Intel has declined 16.80% in the past year, after adjusting for the dividend. However, the stock is down 19.59% from close to close, not counting the dividend. So about one seventh of your losses have been recovered thanks to the dividend, not counting taxes.
Intel is currently paying 90 cents a year based on the 22.5 cent quarterly payout. That's up from the 21 cent quarterly payout previously, which got you 84 cents a year. Now, the next payout is extremely soon. Intel goes ex-dividend on Tuesday, so if you want the dividend, you really have to be in already or buy on Monday. Otherwise, you are holding for three months with no income, so whatever the stock does, your position does.
This would be the third payment of 22.5 cents. If Intel does its 4 standard payments before another raise, you would look for the higher payment in the third calendar quarter of this year. Like the revenue and earnings growth analysts are looking for, Intel's dividend could be a second half growth story as well.
When it comes to a stock like this that pays a decent dividend, you can use that dividend for your buying points just as you would normally use a dollar figure. For instance, you might hear someone telling you to buy Intel at $21, or $20. You can listen to them, that's fine. But you could also buy based on what dividend yield you are getting. I've put together the following table to show what price points are equal to certain annual dividend yield points.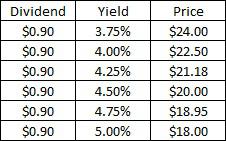 So for instance, I could say buy half of your position when Intel yields 4.25%, and buy the other half when it yields 4.50%. You could then place limit orders for $21.18 and $20.00, respectively. It's just another way of looking at things.
Final Thoughts:
Intel was hurt by a rough PC market throughout 2012, which has taken down the stock price by about 20% over the past year. When it comes to looking for a rebound, most of the growth story is expected in the second half of 2013. Intel analysts are looking for fairly sizable growth in second have revenues, and for a decent size earnings rebound as well. Intel's dividend could also be raised for the second half of this year, and for those wanting the next payment, you better get in now.
If you believe in Intel's growth story going forward, especially in the later part of this year, you might want to take a look at shares now. Analysts don't have high hopes for the first half of this year, so there is room for Intel to beat. However, Intel has disappointed on the revenue front over the past few quarters, which could give some pause ahead of the next earnings report. The current average analyst price target for Intel is $22.88, representing about 7.17% growth from here. My personal recommendation would be to start accumulating Intel in that 4.25% to 4.50% dividend yield range, and to really buy if the yield tops that 4.50% range. When it comes to Intel, you are looking at a growth story for the second half of 2013.
Disclosure: I have no positions in any stocks mentioned, and no plans to initiate any positions within the next 72 hours. I wrote this article myself, and it expresses my own opinions. I am not receiving compensation for it (other than from Seeking Alpha). I have no business relationship with any company whose stock is mentioned in this article.
Additional disclosure: Investors are always reminded that before making any investment, you should do your own proper due diligence on any name directly or indirectly mentioned in this article. Investors should also consider seeking advice from a broker or financial adviser before making any investment decisions. Any material in this article should be considered general information, and not relied on as a formal investment recommendation.