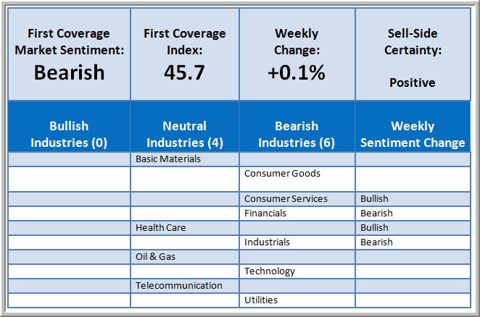 click to enlarge images
The start of last week felt like the first hill on a roller coaster: steep and fast with a nauseatingly sharp decline. Over the first three and a half days, the S&P 500 shed over 6% and immediately validated last week's decline in sell-side sentiment as a precursor to something big, bad and bearish.
But then, where were you at 10:24 a.m. on Thursday morning? Were you grabbing a coffee? Holding your head in despair? Thinking about what other vocation an ability to calculate prime numbers in your head might be applicable to? Was there something that happened that made you think twice about the way the world was unfolding?
In your world, 10:24 a.m. probably didn't mean anything; in fact, the market rally that closed the week was still a good three hours away from commencing. Yet at 10:24 a.m., something caused the sell-side to start telling their buy-side clients on First Coverage that it was time to feel better. At 10:24 a.m. on Thursday of last week, the sell-side stopped an eight-day slide in sentiment and decided that things were looking up.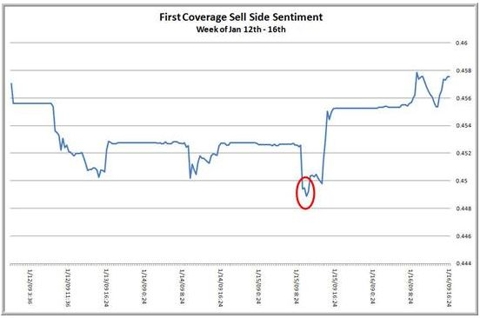 What caused the change? The oddest thing is that it's hard to say.
There were no major economic indicators nor were there earnings just announced. It could have been early rumours of the new stimulus package being larger than anticipated, but that really didn't take hold until the afternoon. It could have been the fact that people were trying to get an early start on the highly anticipated (many would say too highly anticipated) Obama rally. Or, there is another option -- nothing caused the sell-side to change their opinion of the market. They just did.
If the latter is truly the case, then it seems we have finally reached a stage in the market where not only does the market move based on changes in sentiment, but changes in sentiment are moving on nothing at all. Sell-side sentiment, which we've been tracking for more than 18 months now and that always seemed to move on new data, relevant information or the latest market whispers, now seems to have moved 'just because.' This is new and to all involved, a mite unsettling. For while in this case, the sell-side decided, seemingly arbitrarily that it was time to feel better and subsequently the market rallied….well, you know what they say about 'what goes up'…
That being said, regardless of the cause of the shift in sentiment, the connection that continues to exist between sentiment and subsequent changes in market direction (in both the short and long-term) means that you'd have to be pretty confident in your own infallibility to continue to ignore the impact of 'group think' (and in some cases even arbitrary group think) on the markets these days.
Enough about the unexplained, there were also interesting happenings amongst the most bullish and bearish stocks by sentiment this week. GE, which used to hold the spot as the most bullish ticker, has fallen out of the top five, while Wal-Mart (WMT) continues to hang in, holding the fifth spot, even as it recently prepared the street for a disappointing quarter to come.
The sell-side's five most bullish stocks by sentiment are currently:
Amgen (AMGN)
McDonald's (MCD)
Google (GOOG)

Genentech (DNA)

Wal-Mart Stores (WMT)
The quickest way to describe the economy based on these five holdings would be that the sell-side believes we are a society of people reliant on prescription medication bought at Wal-Mart to make us feel better in an economy where entertainment consists of consuming fast-food in front of our computers, while searching for things on the Internet.
For those interested, the five most bearish stocks by sentiment are:
Until next week …