Right now futures are lower as is the fair value so if everything stays as it is we shall see a lower open this morning. Asia was higher for the most part today, but Europe is lower and it appears that the US will take a breather after the large run-up over the month of January. After the avalanche of economic news at the end of last week we have just Factory Orders due out today, with the volume of news picking up later in the week.
Chart of the Day
Factory Orders are a number which has moved into positive territory and that is the area which we would like to see it stay.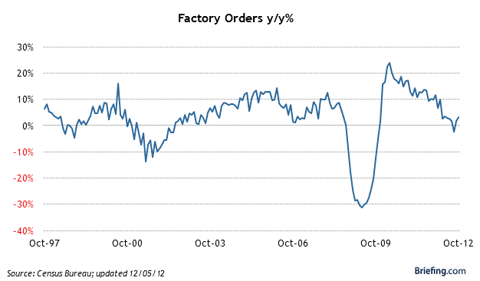 Chart courtesy of the briefing.com
We have economic news due out today, and it is as follows (these are the consensus estimates):
Factory Orders (10:00 AM EST): 2.4%
Asian markets finished mostly higher today:
All Ordinaries - down 0.26%
Shanghai Composite - up 0.38%
Nikkei 225 - up 0.62%
NZSE 50 - up 0.01%
Seoul Composite - down 0.23%
In Europe markets are higher this morning:
CAC 40 - down 0.34%
DAX - down 0.12%
FTSE 100 - down 0.32%
OSE - up 0.26%
Biotechnology
Friday saw the first big, significant pullback in Keryx Biopharmaceuticals' (NASDAQ:KERX) shares in quite some time. The shares fell $1.97 (21.70%) to close at $7.11/share during the session. Volume was once again strong with 35.9 million shares trading hands and the volatility remains high, typical in a situation such as this where a company has solid late stage news to report to investors. We would continue to expect this one to be volatile as the computers and day traders move in and out before calming down a bit.
Celgene (NASDAQ:CELG) saw its shares move higher on Friday to close at a fresh all-time high on the session. This is a stock we have discussed recently as they had a very good presentation at a conference with very bullish comments from their CEO. The analysts then followed with upgrades and revisions in their price targets to higher levels. We make no secret to liking momentum stocks here and Celgene is not only a momentum stock but just so happens to also be one of the best, if not the best, run biotechs out there. The next level to watch is the $105/share level followed by $110. Sometimes it is hard to buy momentum after big run-ups like this, however when one has the added benefit of a management team such as Celgene's, there is no sleep lost at night. Always best to buy quality, and that is present here.
Technology
Many have been quick to write off ARM Holdings (NASDAQ:ARMH) after its huge run-up in recent months as the thinking was that the stock was approaching all-time highs and had risen too much too soon and valuation was becoming a problem. The issues with the iPhone for some reason had people talking as well, but it was our belief that all of this missed the mark and badly. Investors and pundits need to stop counting these guys out, for they have the best technology out there and it seems every quarter Intel confirms once again for the market that no, they still do not have an answer in mobile. With that background we think that it is but a matter of time before the stock takes out the all-time highs and believe that ARM is to be bought on pullbacks rather than sold in a panic.
Retail
Rite-Aid (NYSE:RAD) is a stock which one reader in particular apparently feels pretty strongly about and it has continued to move higher over the past few weeks as the general market has paved the way higher. The company is refinancing their debt and announced that this would affect earnings due to the fees and expenses associated with the process, but this is to be expected so in our opinion it is no big deal. The company also said that same store sales in January rose 0.3% with the flu driving traffic. Generic drugs continue to drag sales lower in the Pharmacy, however they have managed to improve the profitability due to their higher margins. So as the generics work their way into full year results and become comparable quarter to quarter, it is up to front of the store sales to even out the lost sales, which so far has happened.
Finance
We discussed Regions Financial (NYSE:RF) last week and how the $8/share level was going to be difficult for the company to take out as it would prove to be a significant resistance level and Friday it did. The company traded as high as $7.96/share, which was good enough for a new 52-week high, but showed that the resistance is real and will have to be worked through before significant upside is available to shareholders. This will be a situation to watch moving forward.
Disclosure: I have no positions in any stocks mentioned, and no plans to initiate any positions within the next 72 hours. I wrote this article myself, and it expresses my own opinions. I am not receiving compensation for it (other than from Seeking Alpha). I have no business relationship with any company whose stock is mentioned in this article.