Introduction
Should you invest in Nokia (NYSE:NOK)? Many writers on Seeking Alpha have tried to answer that question. Typically those who favor investing in it will present arguments such as;
Nokia has over 4B euro in net cash.
The Lumia phones are really great
The Asha feature phones are very popular
Nokia is priced very cheaply
While all those arguments are true, the question that still remains is whether it isn't already priced into the stock? So how can we know whether Nokia is undervalued or overvalued?
The flaws of the P/E-ratio
Many people will look at the P/E-ratio to get a sense of whether a company is fairly priced. However, the P/E-ratio has its flaws; most notably that it is based on historical earnings rather than future earnings. Therefore it has become increasingly popular to calculate the forward P/E which is based on the expected earnings over the next twelve months. But even that metric isn't perfect, as it only covers the next twelve months, which sometimes can be slightly misleading as the value of the company is based on the present value of all future income.
Another problem with the forward P/E-ratio is that it doesn't take into account that Nokia has a net cash position of roughly 4.3B euro. In theory this shouldn't matter as companies with a lot of cash will invest in bonds/stocks and thus generate income that way (which will reduce the P/E-ratio). However, as interest rates today are very low, Nokia doesn't generate a whole lot of money with its net cash position.
Therefore I believe Nokia's current forward P/E-ratio of 22.22 is misleading.
A better of way of valuing Nokia
Instead of use the simple P/E-ratio, I propose that we make 4 adjustments.
Remove the net cash position from the market value of the company.
Remove the financial expenses from earnings.
Multiply the financial expenses with an "estimated tax rate "(say 30%), and remove that amount from net income.
Calculate the ratio based on non-IFRS figures as they ignore restructuring costs.
It's important to note though that while I believe this method gives us an improved way of valuing the company, it's not perfect by any means.
Below you can see that Nokia's adjusted P/E-ratio for 2012 is negative. However, given my expectations for next year, you can see that the adjusted forward P/E is 7.32, which is significantly below the nonadjusted forward P/E of 17.36.
As a forward P/E-ratio of 7.32 is relatively low, it seems that Nokia is a cheap investment.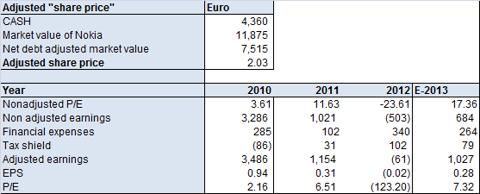 So is Nokia undervalued?
Before you invest in Nokia, there are a few things you should know about the above calculations;
My estimated earnings are based on "everything going according to the plan".
The calculations ignore any further restructuring costs. While restructuring costs shouldn't be included as a part of core earnings, they still drain the net cash position, so the true "adjusted P/E-ratio" is a bit higher.
Almost all companies will have a lower P/E by doing these adjustments, so if you normally consider a P/E-ratio of 12 to be "fairly valued", then a P/E of 11 may be the "fair value" if you are using the adjusted P/E.
It still ignores any income after 2013, and doesn't take into account risk.
The assumptions behind my projection for 2013
So what exact do I mean by the "everything going according to the plan"-assumption?
As you can see in the below graph, I assume that Lumia sales will increase, which can be explained by the fact that Nokia now has China Mobile (NYSE:CHL) as a carrier. I also expect that Symbian sales will continue to decline, but at a less steep rate than previously.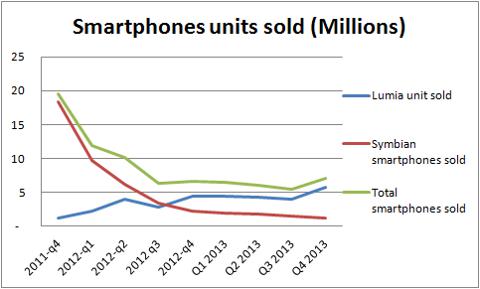 Source: Nokia's financial reports and my own estimations.
The Asha phones have done quite well since they were released. I estimate that the growth will continue, and partially offset the expected decline in Nokia's other cellphones.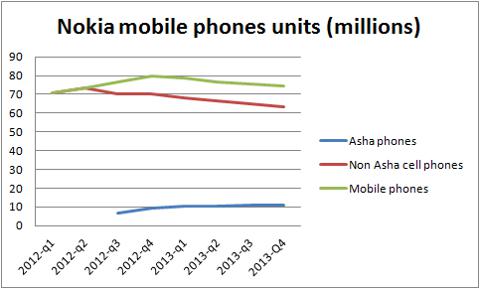 Source: Nokia's financial reports and my own estimations.
I also assume that the average selling price of Nokia's smartphone will increase due to 1) a favorable product mix as Nokia sells more of its higher priced Lumia phones and 2) less price discounting as the brand value of the phones increases. The costs of producing the phones are not shown in the graph, but I estimate that they won't change.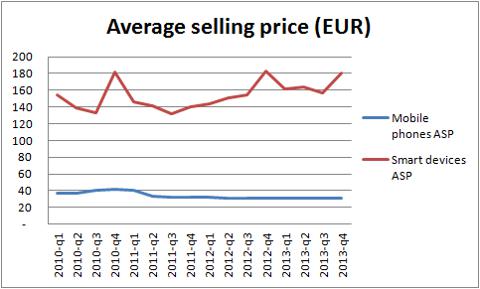 Source: Nokia's financial reports and my own estimations.
As most followers of Nokia probably are aware of, Nokia is in a restructuring process, and they plan to reduce the operating expenses of its Devices & Services division from 4B euro to 3B euro on an annual basis. I assume that Nokia will be able to meet that target at the end of 2013.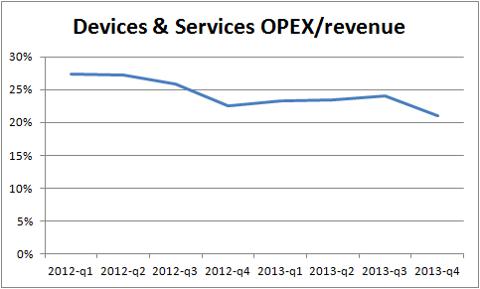 Source: Nokia's financial reports and my own estimations.
The last assumption worthy of mentioning is related to Nokia's two other divisions; The Location & Commerce division and Nokia Siemens Network division. As you can see in the below graph I assume that these two divisions will grow earnings at a steady rate as well.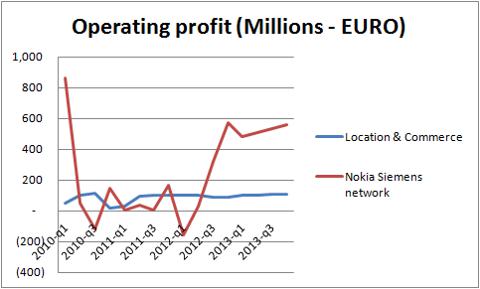 Source: Nokia's financial reports and my own estimations.
To conclude: while I think most of my assumptions are realistic, they are still relatively optimistic as they don't leave a lot of room for failure. Most analysts also have a more pessimistic outlook on next year's EPS than I do.
General guidelines to take risk and future income into account
As Nokia is a relatively risky investment it should definitely trade at a discount compared to more reliable companies. In the below table you can see how I try to combine risk, growth potential and the forward P/E to get a better understanding of the "fair" forward P/E-ratio.

I would characterize Nokia as a high risk/medium growth company, and therefore it should trade at an adjusted forward P/E of roughly 8. Given that Nokia's forward P/E is slightly below 8 (but based on somewhat optimistic projections), I think Nokia looks somewhat fairly valued.
But if you have a different opinion on some of the assumptions I made, you are welcome to buy the stock. For instance if you believe that Nokia could grow earnings after 2013 by 10%+ annually, then Nokia should probably be characterized as a "high growth company", which implies that its fair forward P/E is roughly 12. At a forward P/E-ratio of 12, Nokia's fair share price is 4.5 euro ($5.9), which make it look like an extremely attractive investment.
Disclosure: I have no positions in any stocks mentioned, and no plans to initiate any positions within the next 72 hours. I wrote this article myself, and it expresses my own opinions. I am not receiving compensation for it (other than from Seeking Alpha). I have no business relationship with any company whose stock is mentioned in this article.