The pundits (e.g.,
Goldman Sachs
or the
White House
) say that real GDP will fall about five percent (seasonally adjusted at annual rates) Q3-Q4.
I have used three different methods to make my own forecast, and each of them says that the pundits are wrong. Here is what I find for seasonally adjusted real GDP growth Q3-Q4 at annual percentage rates (and thus in the same units as the -5 cited above):
Productivity based: -2.2%
Income based: +0.4%
Spending based: +0.8%
The productivity forecast is the simplest: I take the -7.4 %/yr decline in aggregate work hours and assume that productivity rises via a movement up the labor demand curve, which yields -5.2%/yr. The pundits appear to stop here, assuming no productivity growth for a given amount of labor, but productivity has been increasing throughout this recession, so why should it stop now?! Thus, I get -2.2%/yr.
The forecasts based on income and spending are shown in more detail below. In terms of the income account, the fairly strong aggregate payroll spending (as indicated by BEA and by Treasury payroll tax collections) are my reasons for optimism. In terms of the spending account, my optimism comes from net exports and my view that this recession's investment decline will be MILD.
I do not want to exaggerate the degree of precision any of us have - the gap between my most and least optimistic forecast is only about $75 per person. The gap between Goldman and my least optimistic forecast is also about $75 per person. But there is no doubt that I see Q4 a lot differently than do the pundits.
click to enlarge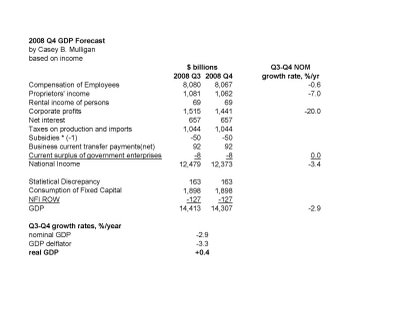 click to enlarge