Leap Wireless' (LEAP) stock has undergone significant volatility in the past few weeks. Most of this volatility can be attributed to merger speculations. The stock rallied on 10th Jan when an analyst predicted a 70% chance of T-Mobile's bid for Leap Wireless. The rally fizzled out in the subsequent week when Jefferies downgraded the stock, stating that any possible interest in Leap's spectrum will not result in a takeover attempt in the near future. The stock gained again last Friday when Janco Partners upgraded the stock to strong buy, emphasizing the attractive spectrum holdings of the firm.
So is Leap Wireless all about its spectrum holdings? Is it all that a LEAP stock investor can hope for? Look closer and you will find other value propositions in this battered stock. However, before delving into the details, it's important to reference the following key numbers:

Leap Wireless is an underweight in the industry dominated by big players such as Verizon (NYSE:VZ) and AT&T (NYSE:T). Although its flagship brand Cricket is offered in 47 states, it is still a small player. However, it is the leader in the prepaid market which according to many industry watchers offers immense possibility as the industry is gradually moving from post to pre paid service. Cricket has positioned itself as the brand for value conscious customers. Its low cost unlimited talk and text packages have proved an attractive draw for more than 5 million Americans. Additionally, the prepaid nature of the offerings means customers do not require any credit checks. In an environment of declining credit quality of American consumers, this is a significant plus. However, as per the last earnings conference call, the management hinted at taking on some credit risk by giving away subsidies for higher priced phones in order to attract new customers. It's also important to note that the management has hinted at a slight repositioning of their brand by increasing the ARPU (Offering higher priced smart devices). This is evident from the increasing trend in the revenue per subscriber.
The Good
Cost: As previously mentioned the biggest strength and differentiating factor of Cricket brand is its low cost and pre paid nature which should remain that way. Cricket offers the lowest cost unlimited package to consumers. An iPhone plan with Cricket works out to be 40 to 60% cheaper than competing service providers over a two year period. Customers do pay a higher upfront cost for the device as there is no contract but the overall cost is significantly less. Additionally, Leap is exploring options to increase subsidy on smartphone devices.
Pre Paid: No credit checks required as service is pre paid.
Muve Music: Another feature that has garnered good reviews is the Muve Music offering which allows customers to download songs directly on their Android smartphones. The inventory of songs is impressive with the present track count being over 10 million. The company had previously offered this service as an add-on charging a service fee. However, they are now planning to make it available on all smart devices. However, I do not think Muve Music is a significant differentiator anymore as a) Developers have released free apps (e.g. Gtune) which pretty much does the same thing as Muve Music and b) The interface of Muve Music albeit better than free apps, is not very versatile and needs a major face lift.
Nationwide Roaming: Cricket customers get nationwide voice and data roaming due to a renegotiated agreement with Sprint Nextel (NYSE:S). The agreement is pricey and puts negative pressure on margins. Nevertheless, it is a good investment as it makes Cricket a true national brand.
The Bad
Churn Rate: The churn in the number of subscribers has spooked the investors and this was a recurring theme in the conference call. In the above chart, it is evident that after increasing the number of customers since 2007, the firm's net increase of subscribers is now negative. This is a problematic development and given management's shift towards pricier phone offerings, this trend does not look like reversing anytime soon.
Margin: As you can see in the above chart, the gross margin has been in continuous decline. This is not necessarily a worrying aspect as the firm had been in investing mode so far. Costs such as Sprint agreement, expansion of Muve Music to all devices etc. have cost the firm money but were necessary. However, as per management there are plenty of opportunities to scale back on investments that have been underperforming. An example is inefficient retail network which the management has already cut back on and is now focusing on only those retailers which focus on wireless carriers (e.g. Radioshack (NYSE:RSH)). The CFO also hinted at reducing capex to a level of 10% of total revenue.
Leverage: The leverage is fairly high compared to peers. This compounded with shrinking equity, should be the perfect recipe for investors to run. However, LEAP's spectrum holdings (discussed later in the article) allay my $3 billion debt fear. In addition, the firm has been able to refinance significant amount of debt at better terms.
Customer Service: I have visited numerous product review websites and it's obvious that Cricket customers are not happy with customer service. Thankfully, management has acknowledged weak customer service and has taken measures to rectify it. Improved customer service should reduce churn.
The Spectrum
This is where most of the discussion and analysis around LEAP has centered. Spectrum holding is undoubtedly the most important aspect of any Wireless company's balance sheet. However, I refuse to let this hijack the whole discussion and consequently, I have put this section at the bottom of my analysis. It is important for readers to take into account other salient features of the firm too before considering spectrum holdings, as getting obsessed with Spectrum valuation runs the risk of not getting the entire picture.
Leap has wireless licenses that can service approximately 140 million people. However, the utilization is fairly low. The firm presently operates in less than 70% of the maximum POP coverage. Out of that 70%, only 40% of the spectrum is being utilized presently at the firm's current subscriber base, therefore the firm has ample capacity to grow its subscriber base without spending on spectrum real estate. Its spectrum depth is around 23 MHz and most of the spectrum holdings are in AWS and PCS bandwidth (with a small 700 MHz offering). AWS and PCS are both on the higher frequency side compared to 700 MHZ. Lower band width is considered better as it can propagate signals over longer distances thereby not requiring additional towers. However, this advantage is nullified in urban centers where multiple towers are required anyways to service dense populations. Verizon's recent swapping of its much bragged about 700 MHZ spectrum for AWS spectrum proves it. LTE is best rolled out on 700 MHZ spectrum but AWS can also be used for LTE.
It is important to compare LEAP's spectrum holdings with that of other players in the industry to get a perspective. LEAP serves 5.6 million customers with an average spectrum of 23 MHz whereas T-Mobile serves 33 million customers with average 50 MHz and Verizon serves over 100 million customers with an average of 88 MHz. As you can see, LEAP does not score too well in spectrum efficiency and probably that's the reason why they have entered into various spectrum swap agreements and sale of unused bandwidth. However, this is what makes Leap Wireless an attractive takeover target. There is plenty of room to grow subscriber base with existing spectrum holdings and also Leap has the correct spectrum type in AWS and PCS to address any future development needs.
As per the management, the market value of their spectrum holdings is $3 billion. This was an interesting disclosure and it has two interesting implications:
a) The approximate value of equity considering $3 billion in spectrum holdings is around $1.7 billion. This is more than three and a half times the present market value of equity. As I see this, it means that the management will warm to any offer less than $21 per share. Hostile takeover attempt is unlikely due to the poison pill provision. Therefore, the bid will have to be placed taking the management into confidence. Management has indicated that they are open to a bid that is fair and maximizes shareholder value.
2) The $3 billion valuation is significantly higher than the fair value of these assets as per the last 10K. If these assets are appreciating in value at such a high rate then I would draw an analogy of a firm sitting on a gold mine but not having the wherewithal to efficiently mine the gold. A takeover therefore bodes well for the overall economy and the parties involved.
Valuation
I have used DCF to attempt valuation of Leap. My assumptions are fairly conservative and my model takes various growth projections such as Revenue per subscriber, Gross Margin etc. below industry average. It may appear that my subscriber growth projection is fairly aggressive. However, it is significantly lower than the growth experienced by T-Mobile, Verizon, AT&T and Sprint and given the management's weak track record, I think this projection is reasonable.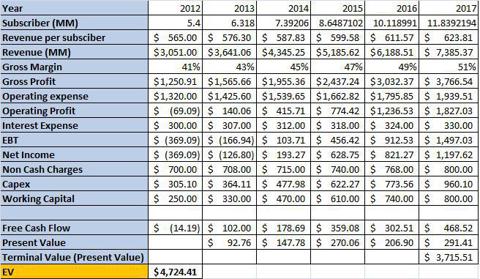 This DCF analysis returns the market value of equity close to $1.7 billion which is consistent with $3 billion spectrum valuation and I believe that the stock is trading at a significant discount to the intrinsic value.
Conclusion
I am not expecting any fireworks in the upcoming quarter and annual earnings. But I do expect the Cricket brand to improve performance in the medium term. Leap Wireless is one of the pioneers of pre paid wireless service which experienced commendable growth from 2007 to 2011 by offering quality wireless service at very reasonable rates. The management missed a number of warning signs and made many strategic mistakes. However, they have made amends and the firm is well positioned to benefit from the migration taking place in industry from post paid to pre paid service. Additionally, the firm is sitting on invaluable spectrum holdings in a spectrum starved industry and is an attractive takeover target. Serious challenges remain but the wide mismatch between the market value and intrinsic value makes LEAP a steal for any value investor.
Disclosure: I am long LEAP. I wrote this article myself, and it expresses my own opinions. I am not receiving compensation for it. I have no business relationship with any company whose stock is mentioned in this article.