In August 2011 and February 2012 I presented detailed overviews of Vical Incorporated's (NASDAQ:VICL) herpes simplex virus type 2 or HSV-2 vaccine. Of the two serotypes identified, HSV-1 and HSV-2, the former is more common in the United States, but the latter is considered more serious. HSV-2 is a sexually transmitted virus which is the leading cause of genital herpes. According to Medscape, approximately 65% of the United States population is seropositive for HSV-1 by the fourth decade of life. As well, approximately 25% of the United States population is seropositive for HSV-2 by the fourth decade of life, with women being infected more frequently than men. The indirect and direct costs of incident HSV genital infection in the United States are presently approximately $1.8 billion and expected to be greater than $2.7 billion by the year 2015.
Currently, there is no cure for genital herpes. It is a recurrent, lifelong viral infection. But under a grant from the National Institute of Allergy and Infectious Diseases Division of the National Institutes of Health (NIH), the effort mounted by Vical is directed at developing a plasmid DNA-based vaccine to inhibit recurring lesions in patients latently infected with HSV-2. And while still in the preclinical stage, results have shown a reproducible statistically significant reduction in viral lesion occurrence in guinea pigs latently infected with HSV-2.
This morning the company announced the publication of a new article detailing results from the company's completed guinea pig studies with the company's Vaxfectin-formulated plasmid DNA (pDNA) vaccines against herpes simplex virus type 2 (HSV-2). According to the company, "[T]hese results, along with previously published results from mouse studies, support the company's decision to advance toward clinical testing, which is expected to begin in the second half of 2013."
The article, 'A Vaxfectin-adjuvanted HSV-2 plasmid DNA vaccine is effective for prophylactic and therapeutic use in the guinea pig model of genital herpes,' was authored by RL Veselenak, et al. and published in the journal Vaccine. The studies described in the guinea pig model demonstrated that prophylactic immunization with variations of Vical's Vaxfectin provided protection against primary and recurrent disease, with Vaxfectin-gD2UL46/UL47 being superior in reducing latent viral load. The latter variant, when used as a therapeutic vaccine in infected animals, also was shown to reduce both recurrent disease and viral shedding in the genital tract.
According to the authors, "…the observation that therapeutic immunization with Vaxfectin-gD2/UL46/UL47 significantly reduced the frequency of virus shedding has public health implications given that this is thought to be a major source of transmission. It is important to note that while immunization reduced the potential for transmission of the virus due to a reduction in the frequency of genital tract shedding, the potential for infection by exposure during a shedding event is not decreased. However, these promising results strongly suggest that Vaxfectin-gD2/UL46/UL47 warrants further development as a therapeutic vaccine.
If the results described in the Vaccine article can replicated in clinical trials, Vical's HSV-2 vaccine would provide an excellent alternative to suppressive antiviral therapy. Importantly, it would not require patients to adhere to a strict daily treatment regimen. Further, they would not have to be concerned with the possibility of developing antiviral resistance.
The company expects its HSV-2 vaccine to enter the clinic in the second half of 2013. Current estimates suggest that a therapeutic HSV-2 vaccine could generate as much as a billion dollars in annual sales at its peak.
Technical Analysis (as of 11 am, ET, Monday, February 4, 2013)
As seen in the Daily chart below (courtesy StockCharts.com), VICL appears to be in the early stages of a new upleg, having touched $2.60 at the end of 2012. Relative Strength is approaching Overbought levels while the MACD is neutral. The stock is comfortably above both the 50- and 200-day moving averages.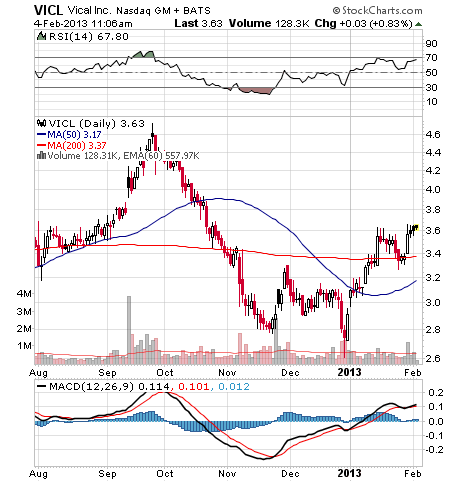 The Weekly data suggest the stock is still trapped in a broad "flag" formation as the Street awaits the results of the pivotal Phase 3 Allovectin 7 trial for metastatic melanoma. The company has stated it intends to unblind the study mid-2013, once it is confident it has reached the requisite number of "death events" in the trial. The Relative Strength and MACD are neutral.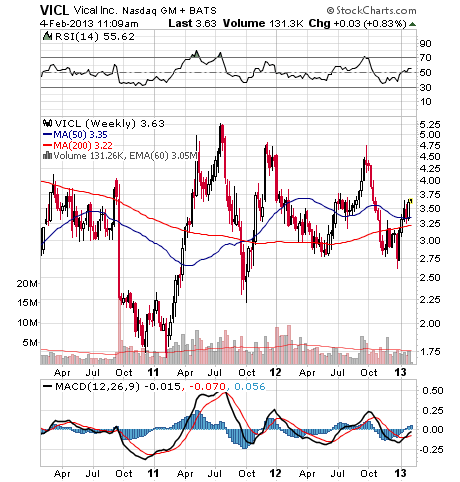 Disclosure: I am long VICL. I wrote this article myself, and it expresses my own opinions. I am not receiving compensation for it (other than from Seeking Alpha). I have no business relationship with any company whose stock is mentioned in this article.
Additional disclosure: I am long VICL. I am not a registered investment advisor and do not provide specific investment advice. The information contained herein is for informational purposes only. Nothing in this article should be taken as a solicitation to purchase or sell securities. Before buying or selling any stock you should do your own research and reach your own conclusion. It is up to investors to make the correct decision after necessary research. Investing includes risks, including loss of principal.