Today, we saw Merger Monday return as Oracle (NASDAQ:ORCL) announced that it was buying Acme Packet (NASDAQ:APKT) for $2.1 billion. It will pay $29.25 per share which is a 22% premium over Acme Packet's closing price on Friday. Oracle's entry into the IP network business confirms my persistent confidence in Audiocodes (NASDAQ:AUDC) as an E-SBC player in the voice over IP (OTCPK:VOIP) market.
Oracle is paying $2.1 billion for Acme Packet which equates to 6.7 times sales. I promise you that Oracle isn't paying this multiple without reason. Today, you have an opportunity to buy Audiocodes which has the same dominance in the enterprise side as Acme Packet does in the service provider side of the E-SBC market. Audiocodes is a one year old player in the E-SBC market, but it is important to note that historically, it has always commanded a top 1 or 2 spot in its markets.

Here's why I'm even more confident in Audiocodes at $4.15 than at any time since September, 2012 when I issued my first report.
· Acme Packet is the dominant session border controller (SBC) pure play on the service provider side. Audiocodes is the dominant enterprise-session border controller (E-SBC) pure play on the enterprise side.
· The integration of Acme Packet into Oracle could be an opportunity for Audiocodes as some of Acme Packet's customers may be wary of signing an extensive contract with the industry behemoth and may look for an alternative.
· Institutional Interest - With today's buyout, I would expect to see analysts and investors that followed Acme Packet turn their attention to Audiocodes. We saw this already as Needham's analyst in a note out this morning on the buyout, said "This could suggest interest from other computing/data center players in similar assets. Most notably Sonus Networks (NASDAQ:SONS), but possibly also players such as Audiocodes ."
Audiocodes is ranked #3 in the E-SBC market behind Cisco Systems (NASDAQ:CSCO) and Acme

Packet

.
· Next week, Audiocodes' CEO will be in New York meeting investors. Institutional interest will now be multiples stronger after today's news. Keep an eye out for news coming out of Microsoft's (NASDAQ:MSFT) Lync conference February 18-21 and the Mobile World Congress in Barcelona on February 25-28.
· Audiocodes should be an even more attractive takeover candidate:
o Microsoft - Audiocodes with its One Voice Lync is the only single-source provider for Microsoft buyers with a complete end-to-end voice solution package.
o Google (NASDAQ:GOOG) - Google is developing its Web Real-Time Communications (WebRTC) system. If it wants to bring this to enterprises then it will need Audiocodes' expertise in VoIP.
o Dell (NASDAQ:DELL) - Dell is moving away from PCs and towards the enterprise market. Audiocodes with its E-SBC's and its Microsoft One Lync program would be an attractive addition to its product portfolio.
o BroadSoft (NASDAQ:BSFT) - Audiocodes is a partner of BroadSoft and it already provides media gateways, E-SBCs, MSBRs, and HD IP phones that are fully integrated into BroadSoft's VoIP environment.
o Juniper Networks (NYSE:JNPR) - Juniper's routers are lacking in voice expertise. Audiocodes could bring this to Juniper.
o Oracle - Today it bought the dominant SBC player, could the dominant E-SBC player be next.
Valuation:
ACME PACKET(APKT-$29.25)

2013 sales: $310 million (estimate)

Market Cap: $2.1 billion

2013 EPS: $0.60 (estimate)

Price to sales: 6.7

P/E: 48

Cash: $5 per share.
SONUS - (SONS $2.65)

2013 sales: $270 million (estimate)

Market cap: $731 million

2013 EPS: $0.05 (estimate)

Price to sales: 2.75

P/E: 53

Cash: $1 per share.

If priced at 6.7 x sales: $6.46

AUDIOCODES-(AUDC $4.15)

2013 sales: $138 million (estimate)

Market Cap: $156 million

2013 EPS: $0.18 (estimate)

Price to sales: 1.2

P/E: 22

Cash: $1 per share

If priced at 6.7 x sales: $24.37
Chart:
(click to enlarge)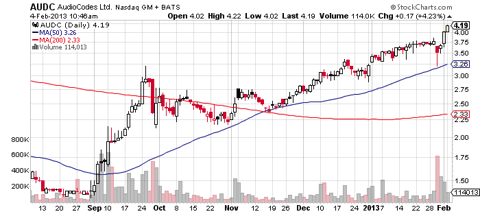 Over the last two days we have seen Audiocodes break out to new 52 week highs. As I mentioned in my last article, the stock saw support at the 50 day moving average as it made a hammer. The hammer was indicating higher prices which we have seen with a new 52 week high today. I believe that we should see $5 to $6 in the next few weeks and now $8 to $12 over the next six months as volume has been coming into the stock and it is becoming more liquid.
Conclusion:
Audiocodes is a stronger investment today because it will attract large institutional buy interest on its pure play status and uncovered upside to the space with Oracle's buyout of Acme Packet. I'm confident that Audiocodes will have a bigger run than in 2010-2011 when Lync 2010 took shares from $3.75 to $8.80 in two months. This run has started today and we will see how high it goes in the near future.
Disclosure: I am long AUDC. I wrote this article myself, and it expresses my own opinions. I am not receiving compensation for it. I have no business relationship with any company whose stock is mentioned in this article.