While the U.S. economy has been limping along in 2011 and 2012, January saw a change in trend in some industries worth sharing that might give us a hint to where the economy and stocks are potentially heading next.
The two sectors of the economy I'm looking at here are the manufacturing sector and retail trade sector. Both are showing a change in trend.
The manufacturing sector employs 11,950,000 workers in the U.S. as of January of 2013. This is up from 11,841,000 in January of 2012, which is a 0.9% improvement from a year ago.
Average weekly hours worked for all employees in manufacturing in January of 2012 was 40.9 hours. In January of 2013, it dropped to 40.6 hours, which is .75% less than in 2012.
When we want to see the aggregate amount of hours worked in the manufacturing sector, we multiply the total number of employees times the average hours worked per week in each given month. From there, we can get a year over year comparison as viewed as a percent change in aggregate hours from a year ago.
The percent change of aggregate hours worked in manufacturing over the past 5 years looks like this: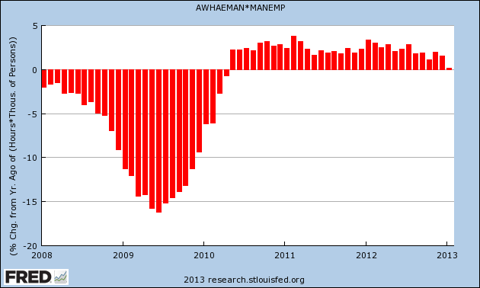 We can see here that in January, there was a clear drop in year over year comparisons that appears to be a change in trend.
It's as if the manufacturing sector had just 0.2% more work than a year ago but instead of hiring more people and keeping hours unchanged, the sector as a whole has both reduced hours and hired more employees.
Let's now look at the retail trade sector of our economy.
Retail trade employed 14,829,000 employees in January 2012. In January of 2013, retail trade had 15,041,000 employees for an increase of about 1.42% from the year before.
The average employee in retail trade worked 31.8 hours per week in January of 2012. In January of 2013, the average work week declined to just 31.3 hours per week or about 1.55% less.
For a year over year comparison as viewed in a percent change in aggregate hours from a year ago, retail trade looks like this: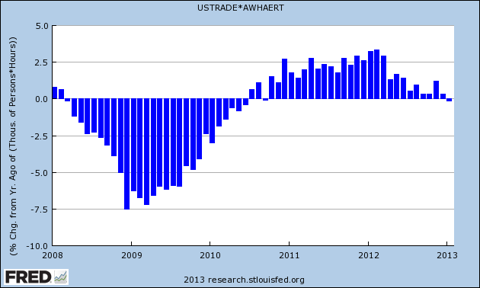 Retail trade had less aggregate number of hours worked in January of 2013 vs. January 2012, about -0.17%.
Retail trade sector saw a decline in the average weekly hours from 31.8 to 31.3, but more employees to adjust for less aggregate hours of work required.
The only piece of information we're missing to be able to determine if volume is experiencing similar year over year comparisons is productivity or labor output per hour. Regardless, hours worked is showing a clear move to the downside.
Given the recent boost in equity prices, you would think most industries, including manufacturing and retail trade, were showing strong improvement. This data suggests the opposite.
Industrials Select Sector SPDR (NYSEARCA:XLI) has shown a strong performance for the past 2 months and counting. These are stocks that would be considered in the manufacturing sector like General Electric (NYSE:GE), United Technologies (NYSE:UTX) Caterpillar (NYSE:CAT), 3M (NYSE:MMM) and Deere and Company (NYSE:DE).
Here is a 1 year chart: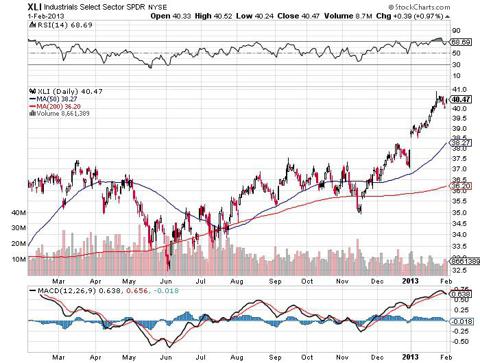 S&P SPDR Retail Index ETF (NYSEARCA:XRT) has also been showing a very strong performance of late. Similar to what appears to be a slowdown in aggregate hours worked in the retail space, with what could very well be due to a volume of sales decline, there is a disconnect here potentially. This ETF has 98 holdings and most with an equal weight, so there is no one stock that makes up a large percent of the fund. It includes holdings like Amazon (NASDAQ:AMZN), Costco Wholesale (NASDAQ:COST) and Dick's Sporting Goods (NYSE:DKS).
Here is a 1 year chart: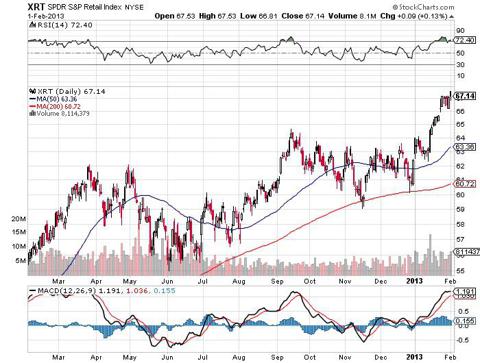 My take is start gearing up for potential sales disappointments in the months ahead that may well lead to a correction in share prices that may have gotten ahead of themselves here.
Disclosure: I have no positions in any stocks mentioned, and no plans to initiate any positions within the next 72 hours. I wrote this article myself, and it expresses my own opinions. I am not receiving compensation for it (other than from Seeking Alpha). I have no business relationship with any company whose stock is mentioned in this article.