Wilbur Ross is one of the greatest investors of this era, with a talent for buying up distressed assets with excellent timing and exiting once the value has been squeezed out. Recently, he has made big bets on banks, natural gas, and shipping. Some of his most famous triumphs have been rolling up bankrupt steel mills and forming International Steel Group, which was sold to Arcelor Mittal (NYSE:MT) in 2005. Another success was International Coal Group, which bought assets out of bankruptcy and was profitably sold to Arch Coal in 2011. These are examples of his ability to invest in the right places at the right time.
Recently, his record has been marred with EXCO Resources, Inc. (NYSE:XCO). Ross has purchased nearly 32 million shares of this stock between $20 and $6. Currently, EXCO's price is languishing at $6.43, which is about 14% above its 52-week low of 5.65. The stock is well off its post-March-2009 highs around $20 achieved in late 2010 and spring 2011. The company also sports a healthy dividend of 2.50%, but given its recent troubles, the potential for some sort of dividend cut looms.
Ostensibly, the reason for EXCO's poor performance has been the weakness in natural gas prices. EXCO is one of the most leveraged stocks in terms of natural gas prices. Since April 2012, natural gas prices seem to have bottomed and are up more than 50% off their low, but the stock has not really picked up.
Five-Year Chart of XCO Vs. Natural Gas
Click to enlarge images.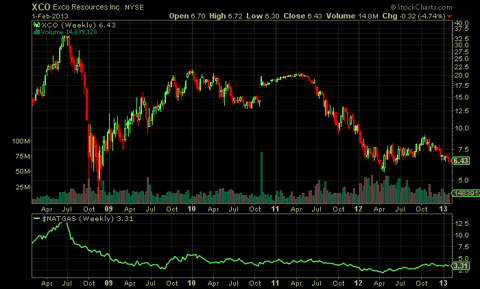 One-Year Chart of XCO Vs. Natural Gas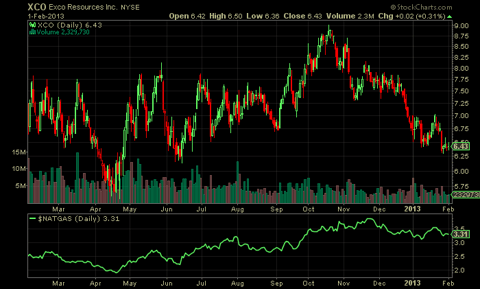 Despite this weak performance, I think there are some constructive developments that could appeal to longer-term-oriented investors.
Oaktree Capital Investment
In addition to Wilbur Ross, Howard Marks has also built a position in XCO of 37 million shares, representing 5% of his portfolio according to Insider Monkey. I think this is quite notable and one sign that value investors are beginning to take note of this company. Marks has an excellent track record of long-term success, although his approach differs from Ross. It's a good sign that two accomplished investors have reached the same conclusion about XCO with different approaches.
In fact, put together Ross' 32 million shares and Marks' 37 million shares and that accounts for more than half of the float of 132 million shares. In July 2011, XCO's CEO put together a deal to take the company private at $18.50/share. Although the deal fell apart, Oaktree was one of the funds enlisted to facilitate the buyout. Based on this, it seems reasonable to conclude they have some familiarity with XCO's business.
It is rare to be able to ride the coattails of successful investors and buy at prices equivalent to or lower than what they bought. However, XCO is currently giving investors such an opportunity.
Natural Gas Prices
As mentioned above, natural gas prices have risen strongly from its low in April 2012. If natural gas prices continue to increase, then the company's revenues and the value of its assets will increase. Of course, the company faces some serious problems as its last four quarters have seen staggering losses with declining stockholder equity. However, all its problems will seem more manageable, assuming the bottom is in for natural gas prices.
Some positive indications for natural gas is that recent manufacturing data has come in strong, as well as housing and jobs data. Furthermore, the Fed seems inclined to continue supporting the recovery through asset purchases. The strong performance of housing (NYSEARCA:XHB), small-cap (NYSEARCA:IWM), and transportation (NYSEARCA:IYT) stocks points to a scenario where the market is anticipating a stronger economy in the future. A stronger economy would entail greater demand for natural gas, especially if household formation continues to trend up.
Conclusion
XCO is an interesting stock to study. Looking at the stock on its own merit, I see tons of red flags. However, I'm drawn to the stock based on the huge sums of money invested in it by people with more success than me, more resources than me, and better connections than me. On the other hand, with about 17 million shares short, huge sums have been invested in betting the stock continues to remain weak.
Given the stellar performance of the S&P 500 Select SPDR ETF (NYSEARCA:SPY) -- and even more recently energy indexes -- it has to be disappointing for XCO holders that the stock has been one of the few that are down during the same period. Technically, the stock seems under-distributed -- while natural gas basically doubled from April to November, XCO was up around 50% in the same time period. However, while natural gas has given back around 10% of its gains, XCO is down about 40% in the same period. This negative divergence is troubling.
I expect this bull run in stocks to continue and gave my reasons in this article. The next question is whether or not there is rotation into this lagging stock. In my opinion, the answer mostly hinges on the performance of natural gas going forward. Many energy stocks, such as Chesapeake Energy (NYSE:CHK), have seen strong gains due to the recent cold spell. However, XCO has not participated.
The bad news is quite obvious in XCO and can be quickly gleamed from a glance at its recent earnings reports. It makes bankruptcy or some sort of restructuring seem inevitable, especially if natural gas prices do not continue its upward trajectory. Of course, some of these poor fundamentals have been discounted in the stock price and, again, the heavy involvement of Wilbur Ross and Howard Marks indicates some sort of value in the stock.
Due to these conflicting signals, I will not be immediately taking a position, but instead choose to continue closely watching the stock and awaiting its next earnings report. However, the stock remains of deep interest to me mainly due to the track records of Ross and Marks and their huge bets on the company.
Disclosure: I have no positions in any stocks mentioned, and no plans to initiate any positions within the next 72 hours. I wrote this article myself, and it expresses my own opinions. I am not receiving compensation for it (other than from Seeking Alpha). I have no business relationship with any company whose stock is mentioned in this article.