Since my initial positive piece on August 16, 2012, 3 Reasons Why American Capital Agency Can Continue To Rally, shares of American Capital Agency Corp (NASDAQ:AGNC) are down more than 6% while, at the same time, the S&P 500 is up more than 6%. However, despite this poor relative performance, I remain bullish on AGNC.
QE Infinity As A Negative For The Industry
One consistent argument against the entire mortgage REIT sector has been the impact of the Fed's relatively new unlimited QE program. SA contributor Markos Kaminis does a nice job of laying out the negative argument in his piece entitled Why QE Infinity Is Bad For Annaly. Annaly (NYSE:NLY) is very similar to AGNC, so the argument can be extrapolated to AGNC. In short, the negative argument based on QE infinity is that the Fed's purchases of MBS will lead to lowered interest rates on mortgage securities and thus lower spreads for the mortgage REITs. As shown by the chart below, both NLY and AGNC, the two largest mortgage REITs, have come under selling pressure since QE infinity was announced on September 13, 2012.
There are two reasons why I am skeptical of the "QE infinity is Bad For AGNC" argument. Firstly, as shown by the chart below, AGNC performed quite well through the first rounds of QE, which have been ongoing since late November 2008. In addition to a more than 70% appreciation in share price, it must be noted that AGNC yielded more than 15% for each year. The total return for AGNC since November 25, 2008, when QE started, is more than 270%. Additionally, I do not believe QE infinity means MBS yields must go lower. To the contrary, it is possible, perhaps unlikely, but possible that QE infinity, as desired, leads to a sharp increase in inflation, which leads to higher MBS rates.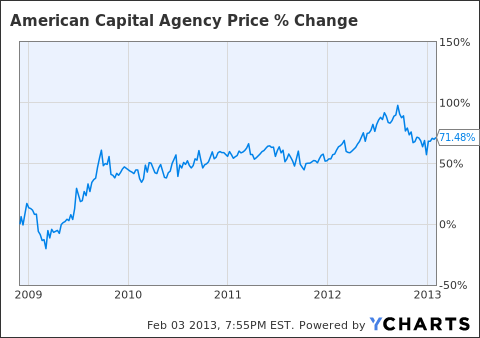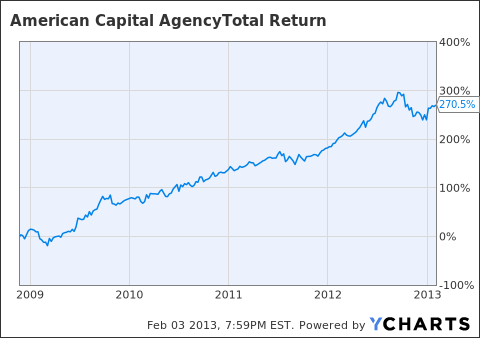 3 Reasons Why I Remain Bullish
1. Valuation
Right now, as shown by the chart below, AGNC is trading slightly below book value. Price to book is a key metric to use when looking at AGNC, because, unlike most companies, all of AGNC's assets are very liquid. Throughout its history, AGNC has usually traded at a premium to book value. AGNC's current valuation has priced in significant headwinds ahead for the company.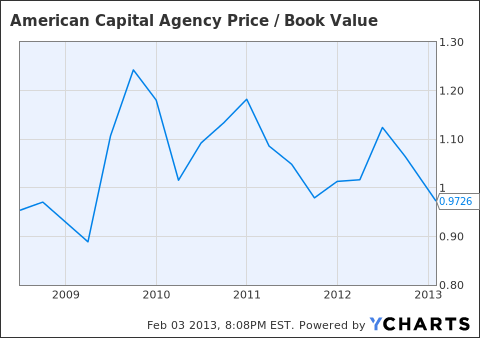 2. Share Buyback Program
In late October, AGNC announced a share repurchase program of up to $500 million. While it must be noted that this plan can be suspended at any time, I believe that this program will put a floor under AGNC shares. SA contributor ValueMax does a good job of explaining by the buyback is bullish in his piece here. In addition to proving demand for the stock, the share buyback plan is also a defensive move on AGNC's behalf. Typically, mortgage REITS such as AGNC sell additional shares through secondary offerings in an effort to increase their leverage. AGNC's defensive move means that, if market conditions are to worsen further, the company will be less exposed.
3. Insider Buying
Over the past few months, there has been significant insider buying in AGNC. The insider activity indicates to me that those who know the company best, the insiders, agree with me that despite the headwinds, AGNC shares are too cheap to ignore.
Mortgage Rates Rise
Over the past few months, as shown by the chart below, mortgage rates have started to rise. In fact, 30 year mortgage rates are near 3 month highs. While AGNC has received something of a boost because of this, I believe, as shown by the chart below, that AGNC has not yet fully responded to the increase in rates. Simply put, the increase in long-term rates means AGNC's spreads should be improving.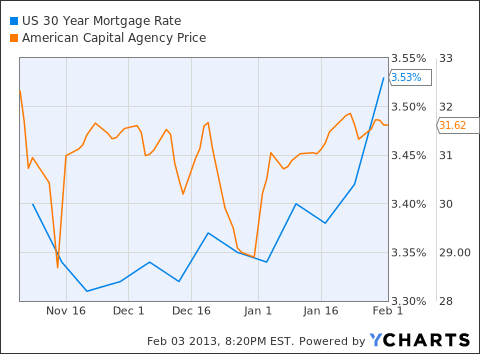 Diversification
In May 2012, in a piece entitled Buy American Capital For Diversification, I argued that AGNC was a good investment for diversification purposes. This is an argument I continue to believe in. In addition to worries over QE, another reasons why I believe investors have been selling AGNC has to do with a desire to put on higher risk/reward trades. This makes sense as AGNC is not poised to benefit from a strengthening economy to the same degree that banks, insurance companies, or other risky financial companies are. However, this trend could change at any time sending investors back into AGNC.
Conclusion
Despite the current headwinds, I am sticking with AGNC. Essentially I continue to own the stock for 3 reasons. Firstly, I believe AGNC can play an important role in portfolio diversification as its correlation with stocks and bonds is relatively low. Additionally, I am skeptical of some of the negative arguments against the stock and believe that the current valuation has priced in many negatives. Finally, the share repurchase program and recent insider buying program lead me to believe that the downside from here is quite limited.
Disclosure: I have no positions in any stocks mentioned, and no plans to initiate any positions within the next 72 hours. I wrote this article myself, and it expresses my own opinions. I am not receiving compensation for it (other than from Seeking Alpha). I have no business relationship with any company whose stock is mentioned in this article.