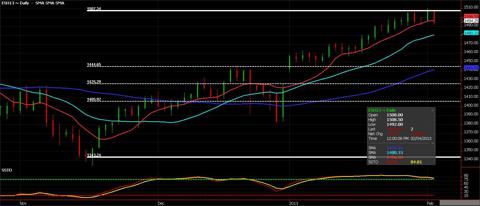 In the last 2 ½ months, the S&P has advanced 12%, lifting prices to 5-year highs above 1500 in March futures. As one can see, it has been a steady climb for all of 2013, as prices have been able to dance above the 9 day MA -- identified by the red line in the chart above. I have been anticipating a correction now for several weeks. It is way too early to call an interim top, but if we are able to close below this pivot point, it could be the start. As one can see, prices have reached overbought levels. On a correction lower, I think it is very feasible to see a trade to the 38.2% Fibonacci level. This would put prices just above the 50 day MA -- identified by the dark blue line. Along the way, I have advised clients to be short and hedge their position with put options. I have taken a profit on the put options, and now look to recoup value on the futures leg on the way down.
I will be the first to admit that I made 2 mistakes on this trade… letting a winner become a loser, and holding on for too long. On a trade back near 1425-1440 in March futures, it would amount to a small loss for clients that weathered the storm. Two takeaways… don't allow winners to become losers, and regardless of your opinion, cut losses when a trade moves array.
Turmoil overseas, negative earnings, weaker economic numbers, or even just traders booking profits could serve as a catalyst to get indices moving lower short term. We do not need to see a bear market but rather, a routine correction for traders to dodge a bullet on this trade.
Risk Disclaimer: The opinions contained herein are for general information only and not tailored to any specific investor's needs or investment goals. Any opinions expressed in this article are as of the date indicated. Trading futures, options, and Forex involves substantial risk of loss and is not suitable for all investors. Past performance is not necessarily indicative of future results.
Disclosure: I have no positions in any stocks mentioned, and no plans to initiate any positions within the next 72 hours. I wrote this article myself, and it expresses my own opinions. I am not receiving compensation for it. I have no business relationship with any company whose stock is mentioned in this article.