NetSol (NASDAQ:NTWK) describes itself as a worldwide provider of global IT and enterprise application solutions that include credit and finance portfolio management systems, SAP consulting and services, custom development, systems integration, and technical services for the global Financial, Leasing, Insurance, Energy, and Technology markets. Headquartered in Calabasas, Calif., NetSol's product and services offerings have achieved ISO 9001, ISO 20000, ISO 27001, and SEI (Software Engineering Institute) CMMI (Capability Maturity Model) Maturity Level 5 assessments, a distinction shared by only 178 companies worldwide. The company's clients include Fortune 500 manufacturers, global automakers, financial institutions, utilities, technology providers, and government agencies. NTWK's fiscal Q2 ending December 31, 2012 is expected to be reported. Here's 5 reasons to be bullish now ahead of its earnings report and beyond.
(1) CEO confidence
In a Christmas eve letter to shareholders just before the quarter ended, CEO Najeeb Ghauri was bragging up a storm about how well 2012 went leaving the company in the "most financially sound and stable position ever." He had already put his money where his mouth by buying shares in the open market over the prior month:
Dec 17, 2012 GHAURI NAJEEB
Officer 2,600 Direct Purchase at $6.10 per share. 15,859
Nov 22, 2012 GHAURI NAJEEB
Officer 8,850 Direct Purchase at $6.20 per share. 54,870
Nov 18, 2012 GHAURI NAJEEB
Officer 7,500 Direct Purchase at $6 per share. 45,000
(2) Guidance and estimates
NTWK reiterated guidance of .80 to 1.00 EPS for the fiscal year ending June 30, 2013 which represents over 100% to 150% year over year growth. Analysts are estimating .85 EPS for the fiscal year and another 1.12 for next year. For a stock price barely over $7.00, that's a PE under 10. With earnings growing this fast, there appears to be significant upside potential. This is coming off the heels of the best quarterly revenue in the 15 year company history despite it being a seasonally slower quarter. In the conference call, it was mentioned a target of $100 million in sales in 2 years time (more than 150% growth over 2012's record) and then doubling that amount. The combination of value and potential growth for NTWK at such a low stock price makes NTWK quite compelling.
Further down in the conference call to the Q&A section, management gave more color. Last quarter (Q1) .12 EPS was reported, and "first quarter is seen as the lowest. We are already seeing better traction in the current quarter. So, I think we're going to do better." Yet analysts are estimating .11 EPS for the quarter, setting themselves up for an easy beat.
(3) Chart
NTWK is close to trading near its 52 week high. A break of that which gets easier over the next 2 weeks (the 52 week high was 50 weeks ago) could bring a lot of positive attention from investors and traders to its upcoming earnings report. With such a low share count yet relatively high institutional interest for a $50 million market cap company, the potential percentage gains could be significant. We saw similar with Gray Television (NYSE:GTN) which I recently wrote an article on. Once GTN broke the $2.50 52-week it made almost an immediate jump over $4.00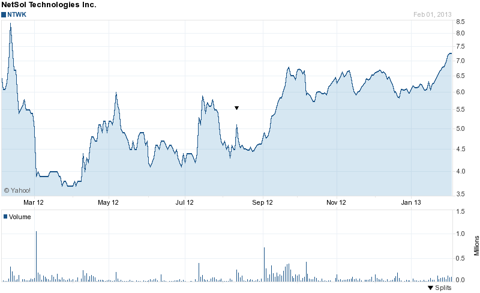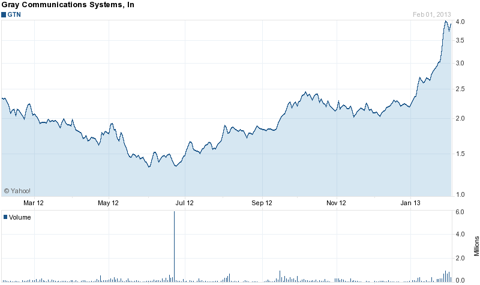 (4) Short Ratio
As NTWK's stock price continues to perform well, the urgency of shorts to cover must be building (similar to what was seen with GTN). NTWK has last reported short interest of 125,700. While that doesn't sound like a big number, it represents a short ratio of 3.8 which can only add fuel to any upcoming fire.
(5) Auto Industry
According to NTWK's 10K filing, 29.65% of its revenues in fiscal 2012 were to Daimler, Nissan, and Toyota (NYSE:TM). As such NTWK stands to benefit from continuing strength in the automotive industry. GTN CEO Robert Prather stated there's 3-4 years of pent-up demand for cars, the banks are seeing very little in the default rate, and it's therefore expected that credit available and lending for cars will continue to expand. Strength in the car industry can be easily confirmed by peaking at Ford (NYSE:F) and General Motors (NYSE:GM) as both companies have been showing higher sales and profits at levels not seen since before the collapse of the financial markets in late 2008. Investors have bid up the market values of F and GM significantly. As investors take their profits and look for other areas to invest in the car industry boom, NTWK may become an interesting alternative, undiscovered angle.
Also from NTWK's 10K filing: "NetSol is now the only company in the leasing and finance solution space that provides regional solutions in North America, Europe and Asia Pacific. In addition, it is the only company in this space that is publicly listed and provides an offshore development infrastructure with CMMI level 5 accreditation."
As bullish as I am on NTWK, I do feel it's important to note two key risk factors. First, since the "company's clients include Fortune 500 manufacturers, global automakers, financial institutions, utilities, technology providers, and government agencies" their business is obviously affected by the economy and specifically by the strength of those industries. Weakness in any one of them could hurt NTWK's prospects. Second, with so much of their business around the globe in foreign currencies, currency risk could always affect them negatively. If any one of the many countries they do business in has a significant devaluation in their currency, it could have a material resulting affect on NTWK's bottom line. Each country has its own risks in terms of economic and political uncertainty. Only 12% of NTWK's sales are in the Americas (though NTWK is targeting 30% by 2015). A great recent article by Quoth the Raven you can click here for 17 Cardinal Rules For Investing Success (Editor's Pick!) that is a must-study for any novice or even experienced investor.
Disclosure: I am long NTWK, GTN. I wrote this article myself, and it expresses my own opinions. I am not receiving compensation for it (other than from Seeking Alpha). I have no business relationship with any company whose stock is mentioned in this article.