Biotech stocks move based on trial data and those moves can be outsized, both to the upside and downside. Traders and investors can profit from these moves and position ahead of the catalysts. Below are two small pharmaceuticals with upcoming catalysts traders and investors should pay attention to.
Durect Corporation (NASDAQ:DRRX) had a tough fourth quarter after Pfizer stated it would run another trial on their Phase III pain drug. The stock quickly shed 60% of its value on the press release. Durect has slowly recovered some of those losses over the last month with updated trial data plus a new NDA submission due any day. These catalysts if positive could set the stage for a recovery in shares of Durect. Durect focuses on the development of products for the treatment of various chronic and episodic disease areas, such as pain, central nervous system disorders, cardiovascular disease, and other chronic diseases. Its product pipeline includes Remoxy, an oral oxycodone gelatin capsule for chronic pain, which has received complete response letter from the U.S. Food and Drug Administration (FDA); POSIDUR, a Phase III clinical trial release formulation of bupivacaine for the treatment of post-surgical pain; ELADUR, a Phase II transdermal bupivacaine patch intended to provide delivery of bupivacaine; and TRANSDUR, a Phase II transdermal sufentanil patch intended to provide delivery of sufentanil.
Durect is expected to file an NDA with the FDA within the next several weeks per their last earnings report. As stated in that press release, "
Following our pre-NDA communications during the summer with the FDA regarding POSIDUR, we intend to submit a new drug application (NDA) under 505(b)(2) with the FDA in the first quarter of 2013.
POSIDUR is our investigational post-operative pain relief depot that utilizes our patented SABER technology to deliver bupivacaine to provide up to three days of pain relief after surgery. We currently hold worldwide commercialization rights to POSIDUR."
The company is also awaiting word on their Remoxy (oxycodone) trial underway by Pfizer (NYSE:PFE). Pfizer has efforts underway to resolve the issues raised in the REMOXY Complete Response Letter and stated in their quarterly earnings call on November 1, 2012 that they have initiated a confirmatory bioavailability study to assess the pharmacokinetic profile of modified REMOXY formulation compositions, with data expected in early 2013. News on this could come at any day and if the data can be mined positively we could quickly see Durect move back to the pre-news levels of $1.70.
The stock recently completed a financing, raising $12.6m in December. With approximately $30m in cash and an average quarterly cash burn of approximately $2.5m the company has ample cash going forward. A quick look at the Durect chart shows an upcoming chart breakout at $1.15 with a gap fill target of $1.40 then $1.70.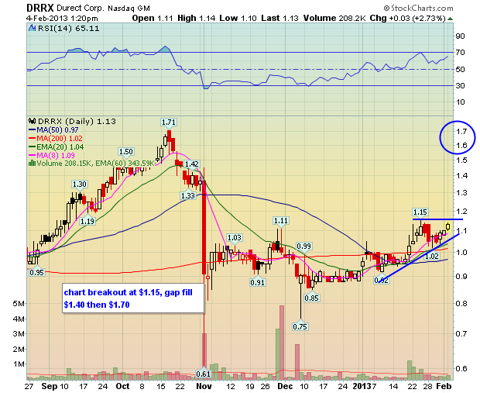 Click to enlarge
(Click to enlarge)
Inovio Pharmacueticals (NYSEMKT:INO) is another biotech with many upcoming catalysts in 2013. Chief among them is updated trial results from their Hep C Phase II interim data from partner Chrontech. ChronVac-C®, developed by ChronTech Pharma AB, is a codon-optimized NS3/4A DNA vaccine targeting chronic hepatitis caused by HCV, genotype 1. It is injected into muscle tissue and followed by electroporation using Inovio's MedPulser® DNA Delivery System, with the goal of achieving expression of and T-cell immune responses to the NS3/4A antigen. In an earlier Phase I study, 83% of the participants who received this treatment cleared the virus. The stock appears to have begun its move higher ahead of positive expectations on this trail data. Inovio also has additional trial data due on their numerous other drug candidates over the next several months. A chart breakout of 76c could set the stage for a move back to the $1 area.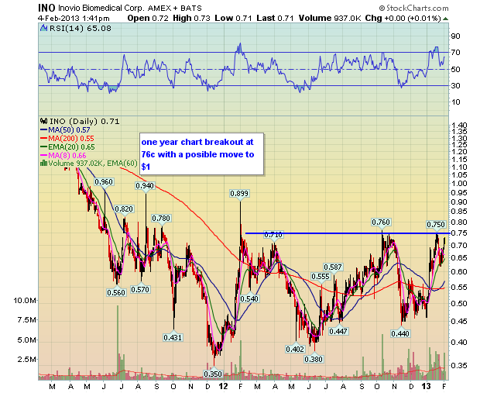 Click to enlarge
(Click to enlarge)
Investors in shares of Celsion Corp, (NASDAQ:CLSN) recently experienced both joy and pain of trading into events. Over the last two months in anticipation of their Phase III trial results, shares of Celsion doubled in price. Unfortunately the results of the Phase III trial were bad and the stock shed 80% of its value. However, it should be noted that the stock saw a large move upwards in anticapitain of the data. It is reasonable to assume a similar move can be seen in Durect and Inovio into their releases.
Durect and Inovio are two small pharmaceuticals that could see some nice price appreciation over the coming weeks. As with all biotech stocks there is risk playing ahead of data, but those risks can be well worth it when positive data is released. Many times stocks move before their data releases as traders and investors anticipate the news. Those upside moves appear to be starting in both of these stocks.
Disclosure: I am long DRRX. I wrote this article myself, and it expresses my own opinions. I am not receiving compensation for it (other than from Seeking Alpha). I have no business relationship with any company whose stock is mentioned in this article.