Laszlo Birinyi, president of Birinyi Associates, was just on CNBC (video) with a prediction that the S&P500, now just at 1500, will reach 1600 sometime during the year. His choice on how to play this prediction was to buy Spyder (NYSEARCA:SPY) December 160 calls.
SPY is the exchange traded fund for the S&P 500. It sells for roughly 10% of the value of the S&P500 (charts) index. A buyer of a December 160 call option will show a profit if SPY, now at $150, reaches or exceeds 160 before the December 2013 expiration date for the option.
Birinyi said "we have a little skin in the game" for this prediction.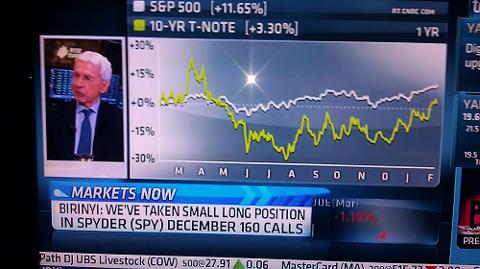 Click to enlarge
"We decided early on in this cycle that this was going to be a four or six year bull market." He said the last stages of these types of bull markets are where things get "interesting" in that:
Investors on the sideline missing the rally realize the price is not coming back.
Interest rates are not going through the roof.
Earnings are not falling to zero.
"Maybe there won't be another train to catch" meaning the "rally train" has left the station, and the only way for those not on it is to pay up for stocks.
Birinyi added that in three of the five markets similar to this current bull market, the last year was "really good," with gains of 20% or more.

More of my Favorite S&P500 Charts
Birinyi says, "we've taken small long position in Spyder December 160 Calls."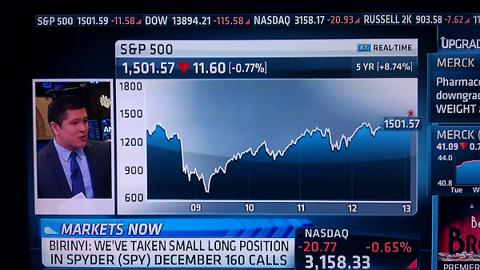 Click to enlarge
At the end of the short segment, Birinyi said he feels the odds of the SPY calls being in the money by the end of the year is at least 55%.
Birinyi's purchase of SPY call options is consistent with projections he gave on CNBC a few weeks ago. On Friday, January 13, Birinyi explained in the beginning of this CNBC video why he thinks this bull market is similar to 1982, the last phase of a protracted bull market.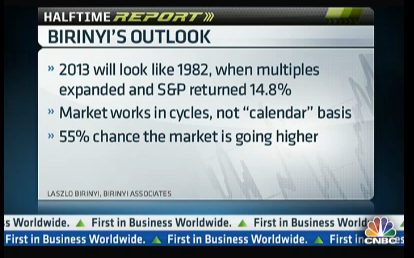 At the 5 minute mark of the video, Birinyi said he thinks the economy is better than people think, and once "real people realize that the market is not coming back to us that people are going to step up."
Birinyi thinks the bond market will "stall," and individual investors will not come back to individual stocks as much as they will come back to index funds and ETFs like SPY.
My take:
In my February 2011 Seeking Alpha article, "How to Play Expected Inflation from the TIPS Spread", I wrote I was long SPY as one way to benefit from expected inflation. I wrote, "I also believe it is a good time to own equities including SPY, the exchange traded fund for the S&P 500, for both inflation protection and income."
I've added three times and taken profits three times since that 2011 recommendation while growing my "Explore Portfolio" position from 85.2 shares to 129.6 shares with a break-even cost lowered from $119 per share to $105.18. With the help from my SPY trades and investments, my "Explore Portfolio" closed at another record high on Friday, February 1, 2012.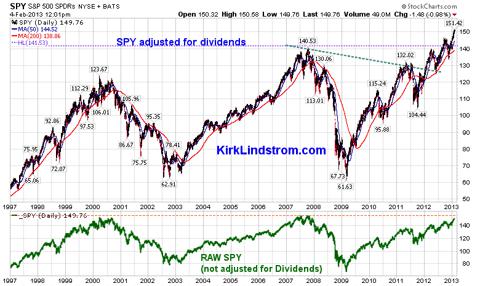 Click to enlarge
I like Birinyi's reasoning for another good year for SPY. What do you think?
Disclosure: I am long SPY. I wrote this article myself, and it expresses my own opinions. I am not receiving compensation for it (other than from Seeking Alpha). I have no business relationship with any company whose stock is mentioned in this article.