The fourth quarter of 2012 was a big one for Research in Motion/BlackBerry (RIMM)/(NASDAQ:BBRY). The public was starting to garner serious interest in BlackBerry 10, OS development was wrapping up and the full fledged fight to pull Research in Motion from the depths of stock purgatory were on. The company had been churning the cellar for over a year, and it looked like they just finally had enough momentum built up to garner some serious interest from investors again.
BlackBerry has had an impressive run from its depths in the low $6 range to its recent run up to $18, before paring some gains and settling around $14. The looming question remains, though: Can the company be saved?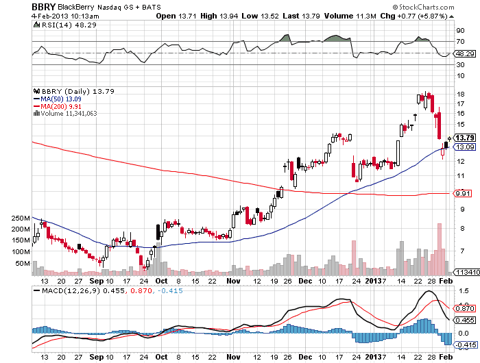 The entire company now hinges on the success or failure of the BlackBerry 10. Bears are citing it as the eventual downfall of the company and bulls are citing it as the savior that's going to bring the company back to its once majestic status. Converse to the short-term trend we can see above, BlackBerry's long-term three-year weekly chart below gives a visual indication of the dominance Apple and Android have had in the mobile market.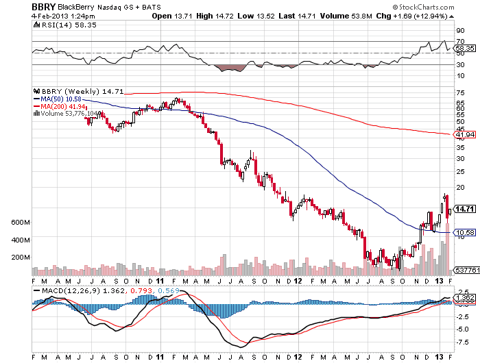 In a couple of my past articles, I've been writing about some obvious red flags that I've noticed in relation to some of my investments. In "My 17 Definitive Cardinal Rules for Investing Success," I've noted how important it is to pay attention to red flags, signs and "coincidences."
In a quest to try and deduce whether or not there's value behind taking a position in BlackBerry, I came up with what I consider to be five big red flags about the future of the company. Based on these five caveats, I'm bearish about BlackBerry; both the product and the future of the company.
1. BlackBerry Missed their Prime Time for Phone Release
This is an abhorrent way to start off a pitch for a new phone. The phone, although making its debut in parts of the world in the coming days, will not be available in the US until March. BlackBerry is blaming the delay on the US cellphone carriers, but one has to wonder why a company so well versed in the mobile phone market couldn't anticipate this and plan accordingly to have the phone released in the US on time. What does this mean for the company and for investors? Could there be something behind the scenes that we don't know about to cause this seemingly avoidable setback?
Also, the company isn't getting nearly as much bang for their buck for their Super Bowl ad which aired yesterday. There's going to be a nice buffer zone between that being fresh in the minds of potential consumers and the actual time somebody in the US can go out and purchase a phone. During that time, interest will wane and people will forget about it.
BlackBerry developers, which are none too large of a group to begin with, are already getting annoyed with the delay.
Another point is that the company misses what is seemingly a great window for them to make a splash on the consumer world. With no major product line additions coming out in January 2013 for both Apple and Samsung, there is a niche here that BlackBerry could have slipped in; making them the "event" for early 2013. Who knows what coming events by rival phonemakers could cast a shadow on a March release?
2. Wall Street's Big Money is Showing No Confidence
First, to give credit where credit is due. Vlad Deshkovich wrote a short, concise, no nonsense article based around institutional investors backing out of BlackBerry. You can read his full article here. Vlad notes:
Wall Street doesn't think RIMM will perform. UBS thinks the stock will fall to $9.50. Merrill Lynch thinks the stock will bottom out at $7. Analysts at Citigroup posted a price estimate of $6. The only exception is Goldman Sachs: the stock continued to gain momentum after Goldman upgraded it to a "buy" rating on November 29, 2012. Wall Street doesn't always play by the rules, however: a quick look at stock ownership shows that Goldman is not long RIMM, and may even be shorting it. The finance industry has no confidence in RIMM, a complete turnaround from the days when every banker had a BlackBerry in his pocket.

Confidence is low across the board, and Goldman wants your money. A stock's value, especially in the technology sector, is never based simply on how well the company is performing: investor confidence is key. And investor confidence is non-existent; this week many "bulls" showed their true color. Best to get out now.
This is a really important point to make for one reason. If the big money on Wall Street isn't behind something, they're almost definitely on the other side of the equation. The volume on BBRY has been consistently above their 100-day average now for the past few weeks, a sign that the stock is definitely getting action from other entities aside from retail. The question then isn't what big money is backing the company, but exactly how many big firms with big bankrolls and big influence are short BlackBerry. If there's a substantial short position, funds have the power to have the media turn on a company, crippling stock value and punishing long investors.
3. The Price Point is Horrendous
What's one major advantage that current smartphone providers are trying to do efficiently? Come up with an inexpensive smartphone. BlackBerry is a big miss in this respect. This article explains that the price point with a contract for the Z10 is going to be between $149 and $199 in the US.
When the new BlackBerry phones do appear on store shelves, the price may deter some buyers, Wu said. The Z10 will cost $149 to $199 with a wireless contract -- a level that doesn't compare favorably with Android devices, he said.

"Many Android smartphones are available for $99, $49 or free," Wu, who has a neutral rating on BlackBerry's stock, said in a report.
While I wouldn't write off the strategy of going for the high priced, high-end market, Apple already has that cornered. There isn't an argument that you can make that's going to result in the mobile phone market carrying two brands (one of which is arguably already the most dominant force in mobile) that are vying for the high-end price point.
Android, as you can see in the below chart, has found substantial success by finding their own niche price point as well (usually significantly cheaper than Apple). BlackBerry may find success by trying to nudge in-between the two giants and offering a mid-ranged price, but I don't realistically see consumers paying top shelf prices for a product they're 100% unfamiliar with and hasn't been vetted as anything short of phenomenal to use.
This leads me to my next point:
4. There Are Not Enough Apps for BlackBerry 10
The term "killer app" was coined many years ago during the Silicon Valley boom, upon the creation of VisiCalc, the first spreadsheet program as we knew it. What it meant was that someone had created an app good enough for a consumer to go out and purchase the entire operating system in order to run the application. This is a niche that BlackBerry would love to have; instead, they have just the opposite. CNBC.com reports:
While RIM did launch its app store with over 70,000 apps, it is missing some crucial applications that consumers have shown they want, she said.

"There are some significant apps, like Pandora, Spotify, Instagram that are missing, so it becomes sort of a chicken and egg type thing. You know people will come to them only if certain apps are there and if those apps come, then the people probably will come," Fritzsche said.
So, not only do we not have one BlackBerry specific "killer app," we're also missing a lot of the "killer apps" that are available on other platforms. How does BlackBerry expect to bring customers from Apple and Android if they can't even support the most popular apps from each of those platforms? This leads me to my final point:
5. Complete and Total Mobile Domination by Apple and Android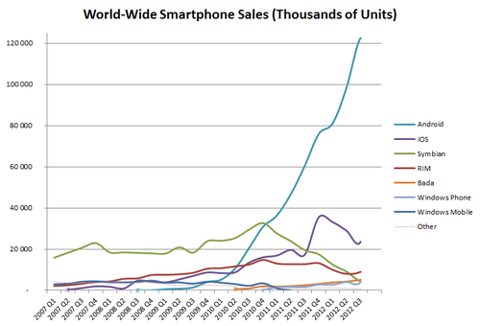 To be honest, you don't need much more of a visual indicator of BlackBerry's current grip on the market than the above chart.
The mobile phone market is no longer an emerging market. It is a market simply dominated by both Apple and Android. In conjunction with that, almost all smartphone accessories and 3rd party products are made for either the iPhone or certain Android phones. BlackBerry is not only going to have to compete with these two, it's going to have to reintroduce itself as a whole into the already firmly established mobile phone market. That means the potential customers that BlackBerry is going to be going after are probably already loyal to either Apple or Android.
These five points are enough for this investor to lean towards the bearish side on the upcoming BlackBerry 10 release. Unfortunately, in the balance, also hangs the fate of the company as a whole. There is substantial risk on going long BlackBerry here, a risk that makes a short position the most desirable here.
Disclosure: I have no positions in any stocks mentioned, and no plans to initiate any positions within the next 72 hours. I wrote this article myself, and it expresses my own opinions. I am not receiving compensation for it (other than from Seeking Alpha). I have no business relationship with any company whose stock is mentioned in this article.