Herbalife (NYSE:HLF) stock price declined Monday morning (February 4, 2013) on a New York Post article that suggested FTC action by saying.
"Other complaints contained a note referring to a "pending law enforcement action." The FTC did not say whether the action was civil or criminal. "
This sounds like good news for the shorts, doesn't it? But is it?
Upon review of the FTC data. I found two complaints from the Internet Crime Complaint Center (record 138 and 165 of 192) and this is what it says:
NOTE: To prevent interference with pending law enforcement action, prior to any investigation action, please contact the IC3 at SEARCH@IC#.GOV. Please check the "CSN Record Details page - Data Reference field" link for further details on IC3 data.
Record 165 referred to Sypware \ Adware \ Malware. A computer needed repairs after the screen froze when a link was clicked. Not sure how this would affect Herbalife.
Record 138 was created on July 13, 2012 and concerns a refund. In part it reads "All the packages were returned and I signed for my them on 7/1/2/2012 and I have contacted (NYSE:B)(6) Sahm by email for my funds and she keeps coming up with excuses none of which are pertain to the matter."
If the product was sent for return on Thursday July 12th is it realistic to expect a refund by Friday July 13th?
Now the FTC file does say "pending law enforcement action" but do the complaints warrant such action? I don't view that they do, but I am long Herbalife and could be wrong.
Further review of the FTC release shows that there were 34 complaints referring to spam or unwanted phone calls.
A recent review of the website factsaboutherbalife.com revealed some interesting discoveries. The updated testimonial for January 7, 2013 was most interesting as the slide had the date January 7, 2012. See below.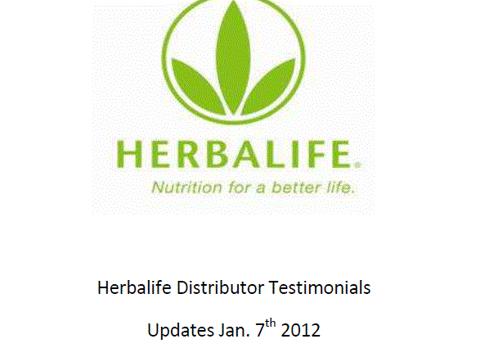 The testimonials updated for January 8, 2013 had no link for data: Nor did many other issues listed.
The January 7th testimonials were from scambook.com . This site showed 27 complaints for Herbalife, but none for Fortune Hi-Tech that the FTC recently shut down. There were complaints filed against Netflix, PayPal, Yahoo and many others.
The CNBC exchange between Mr. Icahn and Mr. Ackman was most entertaining with one comment by Mr. Ackman getting my attention. He mentioned that his funds were not leveraged. This got my attention as his funds contain total-return swaps, per SEC filings. This might suggests his funds are larger than SEC filing might suggest. The way I view an unleveraged position is that the most that can be lost is the amount invested. This would rule out short positions or require a large cash buffer. In theory there is no limit to what can be lost when short, right? Or am I wrong or missing something?
I have reestablished a position in Herbalife on recent weakness and am currently underwater. However, if the details of the NY Post article and the Facts about Herbalife website are any indication of the attention to detail paid, then the short sellers might be in for a surprise.
Comments / suggestions?
Disclosure: I am long HLF. I wrote this article myself, and it expresses my own opinions. I am not receiving compensation for it (other than from Seeking Alpha). I have no business relationship with any company whose stock is mentioned in this article.