Northrop Grumman Corporation (NYSE:NOC) provides technologically advanced, innovative products, services and integrated solutions in aerospace, electronics, information and services to its global customers. Northrop Grumman Corporation is one of the largest defense contractors in the U.S. NOC had been focusing on certain key areas and more profitable contracts, ranging from intelligence and surveillance to cyber security and unmanned aerial systems. Recent developments will be updated for NOC, and NOC will also be analyzed fundamentally and technically in the following article.
Recent Developments
Q4, 2012 Earnings
On January 30, 2013, NOC reported increased Q4, 2012 EPS of $2.14, with a 2.4% increase compared with $2.09 per share last year. Excluding special items, earnings were $2.06 per share, beating analysts' estimates of $1.74. Revenue declined to $6.48B from $6.51 last year, which was also below analysts' estimate of $6.97. For fiscal 2013, NOC expects sales of $24.00B and a diluted EPS in the range of $6.85-$7.15. Analysts are expecting revenue of $24.36B with an EPS of $6.99. As reported by Reuters,
Guidance for fiscal 2013 also assumes there is no disruption or shutdown of government operations resulting from a federal government debt ceiling breach or lack of immediate appropriations following the current CR, that sequestration is not triggered, and any budgetary approach agreed by Congress to address longer term spending does not result in significant reductions to its customers' fiscal 2013 budget levels.
The full earnings call transcript for NOC's Q4, 2012 management discussion can be accessed here.
Analysts' Calls
On January 8, 2013, JPMorgan downgraded NOC from Neutral to Underweight. On January 7, 2013, NOC was upgraded by RBC Capital from an "underperform" rating to a "sector perform" rating with a $72.00 price target (vs. the previous price target of $68.00).
Contracts and Delivery
On February 2, 2013, NOC has delivered the first of eight Common Infrared Countermeasures, CIRCM, missile defense systems to the U.S. Army two months ahead of schedule. The system was delivered under a $31.4 million technology demonstration contract to develop the next generation of aircraft survivability equipment to defend helicopters against man-portable air-defense systems and other heat-seeking munitions. The system is now scheduled to enter reliability testing.
On January 15, 2013, NOC was awarded a $14.1M contract to support system development and demonstration phase through preliminary design review for the Joint Counter Radio-Controlled Improvised Explosive Device, RCIED, Electronic Warfare, JCREW, 3.3 System.
On January 14, 2013, NOC secured a $9.2M contract from the U.S. Army to supply Hand Held Precision Targeting Devices, HHPTDs. NOC will supply the systems over a three-year period. On the same day, NOC's subsidiary, Northrop Grumman Park Air Systems, had delivered the world's first integrated nationwide Internet Protocol, IP-based VHF solution that will provide voice communications to all aircraft operating in Uruguay. Uruguay is the first country to offer a countrywide IP system based on internationally agreed standards that address the safety-critical area of air traffic control communications.
Risks/Concerns
Declining defense spending: As reported by Bloomberg, defense spending plummeted in the last three months of the year, which may foreshadow the dangers to the economy of across-the-board budget reductions set to kick in March 1. The 22 percent drop in Pentagon expenditures is probably due to "uncertainty concerning the automatic spending cuts," as wrote by Alan Krueger, chairman of the White House Council of Economic Advisers. The decline in defense purchases in the fourth quarter was the biggest since 1972, when military spending slumped in the closing years of the Vietnam War. Spending on major Pentagon contracts weakened at the beginning of 2013. Awards slumped 23 percent to $10.1 billion in the first three weeks of January compared with $13.1 billion during the same period in 2012.
Automatic cuts: As reported by Bloomberg, if the automatic cuts aren't averted by March 1, 2013, defense funds would decline 7.3 percent and nondefense federal programs would fall 5.3 percent. The automatic cuts will take place unless the Obama administration and Congress work to stop them. It's "more likely than unlikely" that the reductions will take effect, Deputy Defense Secretary Ashton Carter said on January 29, 2013.
Key Stats and Valuation
NOC has an enterprise value of 15.65B with a market cap of $15.58B. NOC has a total cash of $3.86B with a total debt of $3.93B. NOC has a book value of $39.77. NOC generates a positive operating cash flow of $2.64B with a levered free cash flow of $2.08B. By using Morningstar's data, NOC's key stats will be compared with its competitors in the aerospace & defense sector, including Textron Inc. (NYSE:TXT) and General Dynamics (NYSE:GD). NOC has a lower, negative revenue growth (three-year average) of -6.5, comparing with the industry average of 2.2. NOC has higher operating margin of 12.3%, ttm, and net margin of 7.9%, ttm, as compared with the averages of 9.6% and 6.1%, ttm. NOC generates an ROE of 17.4, which is lower than the industry average of 22.3. NOC's P/E of 8.4 is higher than the industry average of 12.9 but lower than NOC's five-year average of 5.2. NOC's forward P/E of 7.5 is lower than S&P 500's average of 13.3.
Technical Analysis
NOC closed at $65.13 with 0.14% gain on February 1, 2013. NOC had been trading in the range of $56.69-$71.25 in the past 52 weeks. The MACD (12, 26, 9) indicator had been showing a bearish sign with diverging MACD difference. The momentum indicator, RSI (14), is indicating a strong selling momentum at 35.53. NOC is currently trading below its 50-day MA of $67.18 and is approaching its 200-day MA of $64.41, as seen from the chart below.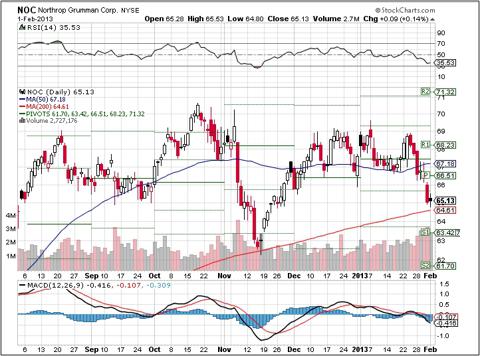 Source: StockCharts.com
Reviewing Options
For bullish investors, it is important to see if NOC can hold above its 200-day MA. Once the support is seen, the credit put spread of May 18, 2013 $55/$57.5 put or May 18, 2013 $57.5/$60 put can be reviewed depending on the price level when NOC becomes stabilized.
Mutual Fund Exposure
For mutual fund investors, American Funds Washington Mutual A (MUTF:AWSHX), which holds 1.42% of NOC, and Oakmark Equity & Income I (MUTF:OAKBX), which has 1.56% of NOC, can be reviewed.
Note: All prices are quoted from the closing of February 1, 2013, and all calculations are before fees and expenses. Investors and traders are recommended to do their own due diligence and research before making any trading/investing decisions.
Disclosure: I have no positions in any stocks mentioned, and no plans to initiate any positions within the next 72 hours. I wrote this article myself, and it expresses my own opinions. I am not receiving compensation for it (other than from Seeking Alpha). I have no business relationship with any company whose stock is mentioned in this article.