The most famous user of Research in Motion's (NASDAQ:BBRY) (formerly (RIMM)) BlackBerry smartphone device, Barack Hussein Obama, was known for his campaign message of "Hope and Change." We think that BlackBerry's shareholders have been taking Obama's "Hope and Change" campaign message and applying it to their position in the stock in order to justify bidding up BBRY's price from $6.22/share in September to $18.32 in January. We believe that BBRY's shareholders helped bid up its share price by nearly 200% over this four-month period because they were hoping that BlackBerry 10 would change BBRY's fortunes and put an end to its continual sales declines. We can see why BBRY's shares have sold off by nearly 30% since January 24, as the BlackBerry 10 will not be available in the United States until March. The biggest news out of the Blackberry 10 product launch was that Research in Motion would be changing its corporate name to BlackBerry, it changed its ticker symbol from RIMM to BBRY, and it hired Alicia Keys as Creative Director.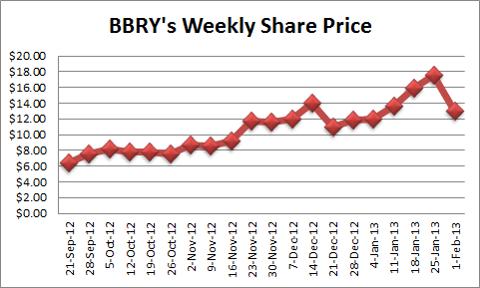 Source: Morningstar Direct
We have to agree with TheVerge when it asked, "Why on Earth did BlackBerry hire Alicia Keys?" Even if it is a glorified endorsement deal, we have to agree with TheVerge's assessment that the hiring underscores how little faith BlackBerry expects users to have in its actual creative team. If one already loved the work BlackBerry was doing, you wouldn't be thrilled to have a parachuting celebrity join the team. Furthermore, if a company wanted a celebrity to endorse its product, we would hope that it could find someone better than Alicia Keys. If her performance as Creative Director of BlackBerry is anything like her performance at Obama's inauguration, we believe that BlackBerry's share price will test the $6.22 lows it achieved in September. We're not against BlackBerry hiring a celebrity endorser, though we believe that Alicia Keys might not be the best celebrity endorser for BlackBerry's marketing strategy. BlackBerry is seeking to solidify its hold on business enterprise clients, and we can't see how Alicia Keys relates to BlackBerry's target market of business enterprise users. Maybe BlackBerry could ask Ben Stein if he'd like to be its spokesman.
Although Apple Inc (NASDAQ:AAPL) has utilized its share of celebrity endorsements over the year, at least it didn't have to give them any spiffy job titles in order to secure the endorsements. Even though the iPhone 5 introduction was not as smooth as previous iPhone product launches, at least Apple is still seeing continuous growth in its iPhone sales volumes.
The former Research in Motion announced that it was changing its corporate brand name from Research in Motion to BlackBerry, and it will be changing its legal corporate name to BlackBerry if shareholders vote for the official change at BBRY's Annual General Meeting in 2013. The company also announced that it was changing its ticker symbols from RIMM in the U.S. and RIM in Canada to BBRY and BB, respectively, and these changes took effect on Monday, February 4th. The company has changed its website address from rim.com to blackberry.com, and will be migrating its corporate email addresses from @rim.com to @blackberry.com. We can actually commend this considering that its primary product is the BlackBerry platform of smartphones, tablets and the BlackBerry operating system. However, we couldn't help but chuckle at BlackBerry's Chief Marketing Officer's statement about how "the strength of the brand has opened doors in new and emerging markets." Considering that BBRY's revenue has seen sharp declines in all of its geographic reporting segments, we believe that BBRY and its boosters are overly optimistic with regard to its prospects in the all-important, fast-growing emerging markets.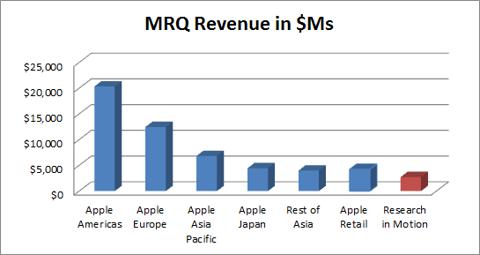 Source: MRQ Reports for Apple and Research in Motion
We are surprised that it has only been 18 months from when BlackBerry released its BlackBerry 7 devices and operating system in August 2011 to its release of BlackBerry 10 devices and operating system in 2013. However, investors should realize that 18 months between product launches is a very long time in the smartphone industry. Furthermore, BlackBerry 7 represented only an incremental upgrade relative to BlackBerry 6. When we consider that BB7 was only a minor improvement on BlackBerry 6 and BlackBerry users had to wait 18 months for the spiffy new BlackBerry 10 products, we can see why the company's quarterly revenue has crumbled by more than 50% over the last two years.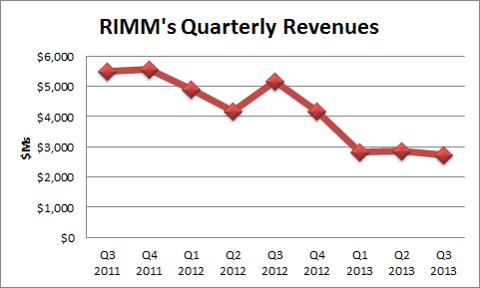 Source: Morningstar Direct
Although the new BlackBerry 10 smartphone devices are a marked improvement from the horribly outdated BlackBerry 7 system, investors should be concerned that this is too little and too late for BlackBerry to regain its competitive position in the smartphone marketplace. According to mobile communications expert Tomi Ahonen, BlackBerry has seen its smartphone market share erode from 20% four years ago to 3% recently. We disagree with Mr. Ahonen's assessment that BlackBerry's fate was doomed because it focused its marketing efforts on the BlackBerry Playbook tablet computing device. We believe BlackBerry got squished by other smartphone competitors because its management ignored and ridiculed the usefulness of consumer-oriented smartphones while devoting its efforts to acquiring a professional hockey team. While we believe that BlackBerry can retain a profitable niche by focusing on enterprise-oriented smartphone consumers, this segment isn't growing as fast as the consumer market.
BlackBerry's first smartphone devices that is running its new BlackBerry 10 operating system is the BlackBerry Z10 device. This device was recently released in the United Kingdom, and Vodafone is the most notable British carrier selling this device. The three most notable carriers that will be selling the BlackBerry Z10 device in Canada will be Rogers Wireless, Bell Mobility and MTS Mobility. BlackBerry will be released to U.S. carriers in March, and all of the Big Four Carriers (Verizon Wireless, AT&T Wireless, Sprint and T-Mobile USA) will be carrying either the BlackBerry Z10 or the BlackBerry Q10, which will be released in April. Verizon Wireless will sell the BlackBerry Z10 for $199.99 with a two-year contract in black and white, and white will be exclusive to Verizon Wireless. AT&T Wireless will be offering the Z10 and the Q10, and the Z10 will be the first BlackBerry device to run on AT&T's 4G-LTE network. T-Mobile USA will be offering the Blackberry Z10 without a contract, but without a subsidy, and Sprint will be carrying the Q10 sometime in 2013.
Based on these observations, we believe that investors in BBRY should look to take profits while they still can. Although BBRY was able to allegedly generate positive sales buzz over the weekend in Canada and Britain, it remains to be seen if this translates into improved sales volumes. We remembered how Nokia (NYSE:NOK) claimed that its Lumia Windows Phone 8 devices were flying off the shelves, and yet Nokia only sold 4.4M Lumia WP8 smartphones in Q4 2012. BlackBerry and Nokia have a long way to go in order to position themselves as a competitive alternative to the Apple/Android duopoly. While BBRY was able to harvest $893M through its first nine months of FY 2013 and has a $2.94B cash balance, it will need to spend $1.4B of that cash stash in order to market the BlackBerry 10 device. All the work BBRY expended to build its brand and image over its first 25+ years has basically been destroyed over the last two years. Other than the BlackBerry Balance feature that divides the phone into a work phone and a personal phone, we don't see anything really exciting about the BlackBerry 10 device. Furthermore, it will have to deal with Apple having its iPhone 5 on the U.S. market for about six months, and Nokia having its Lumia Windows Phone 8 devices on the U.S. market for almost four months before BBRY releases the BB10 in the U.S.
Disclosure: I am long AAPL. I wrote this article myself, and it expresses my own opinions. I am not receiving compensation for it (other than from Seeking Alpha). I have no business relationship with any company whose stock is mentioned in this article.
Additional disclosure: This article was written by an analyst at Saibus Research. Saibus Research has not received compensation directly or indirectly for expressing the recommendation in this article. We have no business relationship with any company whose stock is mentioned in this article. Under no circumstances must this report be considered an offer to buy, sell, subscribe for or trade securities or other instruments.