On January 30, Phillips 66 (NYSE:PSX) reported its Q4 and FY 2012 results. The market had been pricing in very high expectations for Phillips 66 this quarter, and the company did not disappoint. Excluding impairment charges, Phillips 66 reported Q4 EPS of $2.06, beating estimates by $0.39, while revenues came in at $44.7B.
Phillips 66' stock price has been on an absolute tear since its was spun-off from ConocoPhillips (NYSE:COP) last year. Shareholders who have owned Phillips 66 since the spin-off have seen Phillips 66 stock price increase nearly 100%. Even if you bought into Phillips 66 late last year, you would have still seen a return of 24%.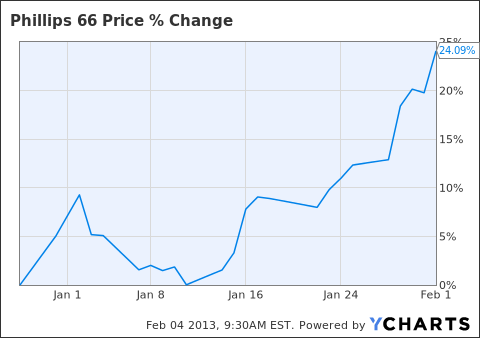 I was not very surprised that Phillips 66 was able to beat Q4 estimates. Another large refiner, Valero (NYSE:VLO) also reported an excellent Q4, easily beating estimates. The refining segment for Phillips 66 was a huge winner, with adjusted earnings of $916 million, significantly higher than a year ago, largely as a result of improved refining margins. Phillips 66 benefited from improved feedstock advantage with stronger Gulf Coast and Canadian crude differentials, as well as higher gasoline and distillate market spreads. During the quarter, Phillips 66 was also able to increase its use of advantaged North American crude feedstock to 67 percent, up from 57 percent in the fourth quarter of 2011. Phillips 66 processed 135,000 barrels per day of shale crude in Q4, up 97 percent over the same period last year.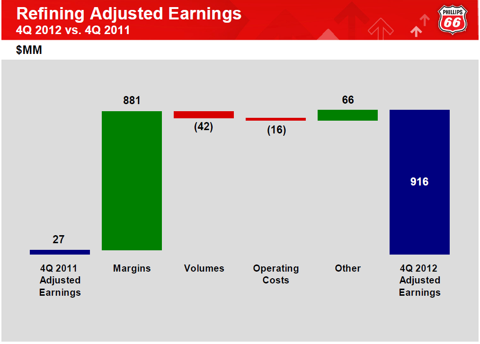 Just to see how well Phillips 66 refining business is doing in the North American market, let us take a look at the difference of crack spreads between the "Atlantic/Europe" segment and the "Central Corridor" segment. We can see that the Atlantic area refineries only have 39% of the Central Corridor's crack spread.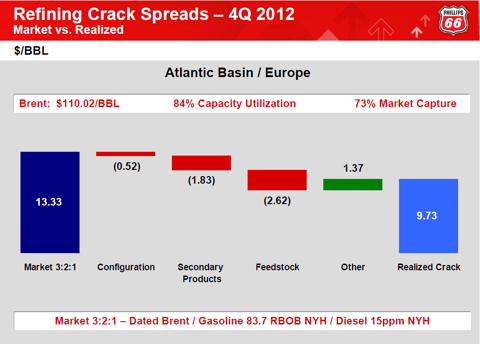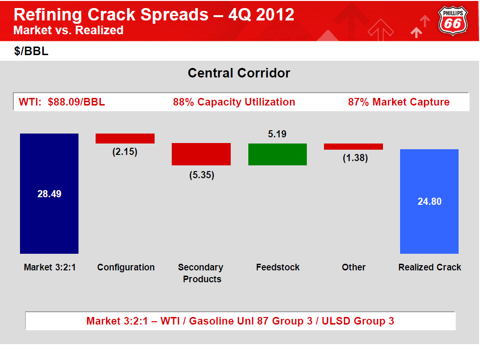 Even with these impressive results in refining, Phillips 66 still has an area of improvement remaining: the Gulf Coast. The Gulf Coast refineries are still using large amounts of higher priced crude ("Light Louisiana Sweet"), and they would benefit from increased use of WTI and/or Canadian sourced supplies.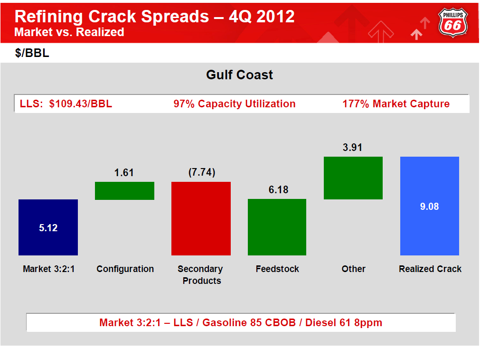 Phillips 66 also generated impressive amounts of operating cash flow in Q4. Excluding working capital requirements, Phillips 66 generated operating cash flow of $1.7B. The company also reduced its debt by $1.0B. Phillips 66 also paid out $160M in dividends and repurchased $240M in stock. Phillips 66 ended the quarter with $3.5B in cash.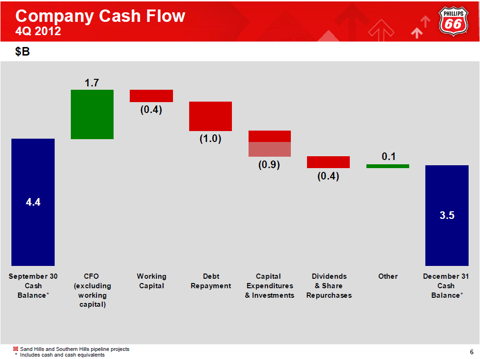 Conclusion
With the increases of US and Canadian heavy oil production, refiners such as Phillips 66 have been clear winners. Shareholders of these companies have also benefited, as the increased cash flow is used to buy back stock and pay dividends. Even with a 100% gain since it was spun off, Phillips 66 is still an inexpensive stock, with a forward 2013 PE of 9.1.
Disclosure: I am long COP, PSX. I wrote this article myself, and it expresses my own opinions. I am not receiving compensation for it (other than from Seeking Alpha). I have no business relationship with any company whose stock is mentioned in this article.