Market Recap:
The market did not follow through from Friday's strength as it got pushed lower on the back of fears over Europe and the pending sequestration for our government's budget. This will bring about significant budget cuts if a deal is not struck before March 1. The market looked fairly weak as Spanish and Italian markets looked pretty weak. The issue for each was political. In Spain, the Prime Minister Mariano Rajoy was being asked to resign among scandal as the yield on 10-year bonds rose over 5%. In Italy, reforms that were supposed to help to bring down debt risk are being questioned as former PM Silvio Berlusconi regains popularity. Both issues brought about a reason for the market to sell, which it needed. After a very strong January, which saw the market rise over 5%, it was time for a pullback. A healthy pullback is good for the market and allows for sidelined money to enter stocks. We may see this type of trend continue for the rest of the week.
Stocks To Trade:
Today, we are looking at longs in iShares Silver (NYSEARCA:SLV), Netflix (NASDAQ:NFLX), and short in Monster Beverage (NASDAQ:MNST).
Silver could be ready to make a solid comeback if the market continues to stay weak over the next couple weeks as it is gaining some strength as commodities increase in price. The FOMC rate decision to maintain interest rates at current levels, coupled with their decision not to discuss when they will pull the plug on asset purchases, has given the precious metal some definite upside. Can it rally with the market down? It may not rally as strongly as it could, but we definitely believe it will outperform the general market. We like pairing SLV long with a short on the SPDR S&P 500 (NYSEARCA:SPY).
Additionally, the recent flow back into silver seems to suggest the metal returning as a safe haven play. The reason for this is that equities seem to have topped out and bonds still offer very small yields. Last week's slate of weaker economic data (as we discuss in our weekly outlook article), gives silver and gold a better safe haven play. Current resistance for silver sits at 31.00, and we believe if the commodity can take out that level it is a nice pair with a short on the market as a whole. The threat to silver is that the ECB or BOE drops its interest rate this week, which will really hurt the metal. Watch out for those reports on Thursday.
Trade: SLV, Long and SPY, Short
Entry Point: SLV above 31.00.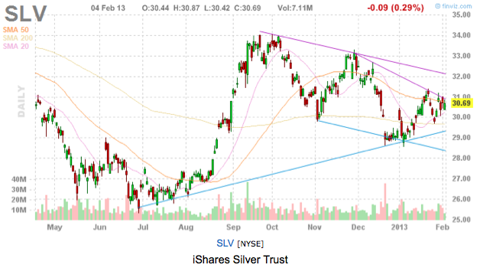 Another long that looks very interesting right now is Netflix. The movie rental company had great earnings last month, and it has been on a tear ever since. Is it going to reverse soon? We doubt it. Right now, NFLX has turned into the momentum favorite of the market as it offers strong growth and has a lot of positives working in its favor. First off, the company's last earnings showed a key growth level in international markets. The report showed that the company grew its international subscriber base by 230% in 2012, and has switched its revenue makeup to have international markets account for 18% of its sales. It was at 8% in 2011. We believe the company's success here is the key to future upside.
Right now, the stock has been priced with a future PE at 62, which is a very strong level. Yet, the company has a 2.5 price/sales ratio. How does that compare to other valuation giants? Linked (NYSE:LNKD), which we have a sell rating on, has a 16 P/S ratio. Amazon.com (NASDAQ:AMZN) has a 2 p/s ratio, and Apple (NASDAQ:AAPL) has a 2.6 p/s ratio. It's important to keep valuations in check when just looking at PE. What this means is that NFLX is still not converting sales into profits as the company is in a strong expansion mode. We view this as very bullish long term. The company is pushing a lot of potential earnings into new distribution facilities, marketing, and future potential. Due to the company's volatility, we like approaching the stock with a bull put spread that we can convert to stock if there is a large pullback. We like the 135/130 spread as it sits below the earnings breakout level.
Options Trade: NFLX, Mar16 135/130 Bull Put Spread
Max Gain on Spread: 14%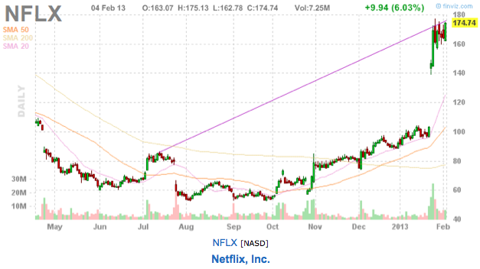 One stock that we like for a bearish position is Monster Beverage. Monster has had trouble since late last year when the FDA linked its products to several deaths and health issues. The FDA later retracted those statements, and shares rebounded. Since then, though, the stock has had trouble moving higher despite solid market conditions. We suspect the reason is that the black eye from the FDA, while gone, has left some consumers avoiding the product, meaning that revenue/sales may be lower than expected in the company's coming quarterly report as well as earnings. Despite the retracement, the FDA linked other energy drinks to the issue including 5 Hour Energy and Red Bull. The entire energy drink market, therefore, got a jolt.
We do have shares Buy-rated for the long-term as we expect strong international growth to occur over the next several years, but we believe the near term health issues need to be resolved, or at least overcome before investor sentiment turns positive again. Earnings are expected to be released on February 18 with earnings expected to have grown 20% and revenue to grow 19%. Despite such strong expectations, the company's shares have seen strong resistance at the $48-$50 level. We believe that shares will continue to stay put until at least earnings and actually see the potential for some more weakness into earnings as we expect some investors/traders to drop the stock before the report due to what we expect to be a miss for the company in earnings. We like shorting the stock along with a bear call spread hedge that expires on Feb16. We want to hold the short until earnings date but close before the report.
Position: MNST, Short and Feb16, 50/52.50 Bear Call Spread
Max Gain: 8% on spread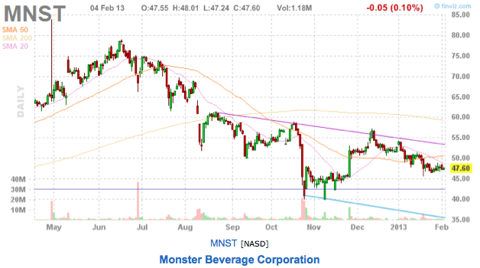 Tomorrow's Outlook:
It was a rough day for the market as Europe, selling, and budget fears put together the worst day of the year for the market. Can it reverse back to upside on Tuesday? The market will be paying attention to several things. First, we get some interesting earnings on Tuesday morning from BP (NYSE:BP), Kellogg (NYSE:K), and Sirius XM Radio (NASDAQ:SIRI) as well as Baidu (NASDAQ:BIDU) on Monday evening. Beyond those reports, we will get limited economic data. The major reports are ISM Services for the U.S. markets and eurozone Retail Sales. Neither, though, will have an extremely strong impact on the market. Most of the move will likely come down to whether or not buyers want to reenter the market yet or if they want to wait for more downside. The latter seems more likely, and we expect some correction moving forward this week. However, any surprises in earnings or data, could help keep us neutral or slightly up.
Chart courtesy of finviz.com.
Disclosure: I have no positions in any stocks mentioned, and no plans to initiate any positions within the next 72 hours.
Business relationship disclosure: The Oxen Group is a team of analysts. This article was written by David Ristau, one of our writers. We did not receive compensation for this article (other than from Seeking Alpha), and we have no business relationship with any company whose stock is mentioned in this article.