Bill McBride has been inclined to think that housing inventory will bottom, though he seems to be hedging a bit more now.
Bill early last month:
Right now my guess is active inventory will bottom in 2013, probably in January. At the least, the rate of year-over-year inventory decline will slow sharply. It will be very interesting to see how much inventory comes on the market during the spring selling season!
Bill Monday:
The key will be to see how much inventory increases over the next few months. In 2010, inventory was up 8% by early March, and up 15% by the end of March.

For 2011 and 2012, inventory only increased about 5% at the peak.
So far in 2013, even with the slight decline last week (probably noise), inventory is already up 3.0%. The next few months will be very interesting for inventory!
I am even less certain. Changes from week one can be highly sensitive to unusual factors in week one.
To get a separate look I seasonally adjusted the data by hand. I took the actual seasonal pattern from 2008 and then trended it up based on the Dec-10/Jan-11 break. I then applied those seasonal factors to all months.
I get this: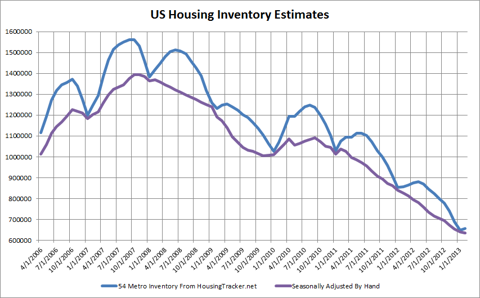 Highly notable is both the steady decline and the clear Seasonally Adjusted carve out from the homebuyers tax credit. It even looks like you can see some confusion in the inventory data from April-10 to Sep-10, presumably related to the extension of the credit. That's pretty cool for a simple hand adjustment.
Importantly there isn't much sign of a slowdown in the inventory collapse, so far. There is a bit of a nick upwards at the end but in the context of the dominant trend it's hard to put a lot of stock in that.
As far as I am aware, once the data are seasonally adjusted there is no reason to think of Jan-Feb as being special inventory wise. Hence, we should be good chartists and project the strongest trend forward.
To help gauge how well this does I did a naïve extrapolation of the seasonally adjusted series and then divided through by the seasonally factors to get estimated, not seasonally adjusted, data through the end of the year.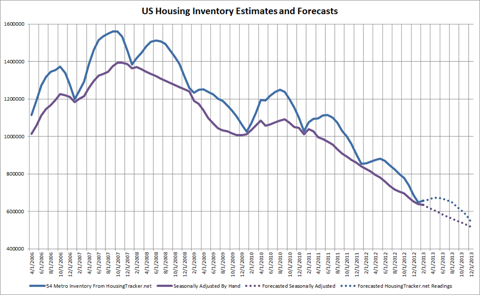 Here as well is a chart of what a seasonally adjusted bottom near the middle of the selling season might look like.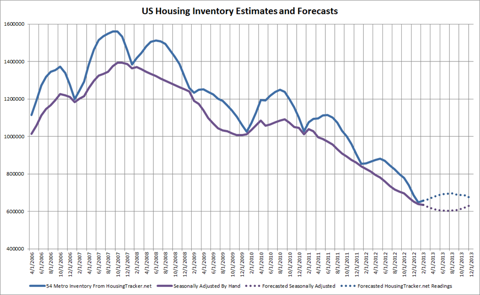 Data shout-out to HousingTracker.net