Life is good for Qualcomm (NASDAQ:QCOM) CEO Paul Jacobs. Quarter ending December 2012 was all about all-time record highs: total revenues ($6.02 billion), operating income ($2.09 billion), net income ($1.91 billion), non-GAAP earnings per share ($1.26), and cash flow per share from operations ($1.13). GAAP earnings per share of $1.09 were the second best ever, eclipsed only by the March 2012 quarter of $1.28, which included a $0.44 gain from sale of discontinued operations. So, from an operations standpoint, even the earnings per share were a record.
As noted, non-GAAP earnings per share of $1.26 are a record high and GAAP earnings per share of $1.09 are a record operations high. This results in a GAAP earnings per share jump of +49% from the prior quarter and a strong increase of +35% from the prior year. The good news for shareholders was generated by a record $6.02 billion in revenues, which was a +24% increase from the prior quarter and +29% gain from the prior year. Both total revenues growth and earnings per share growth year over year has been positive for 10 consecutive quarters.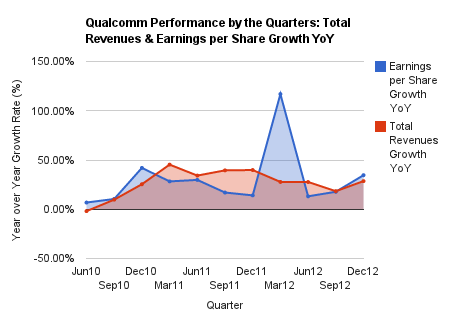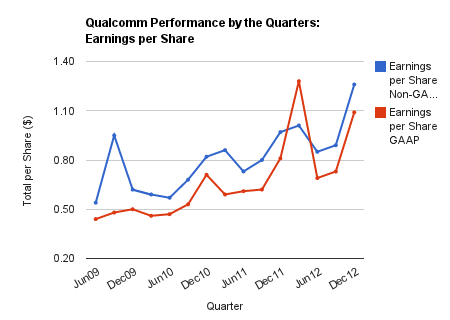 Qualcomm has proceeded onwards and upwards.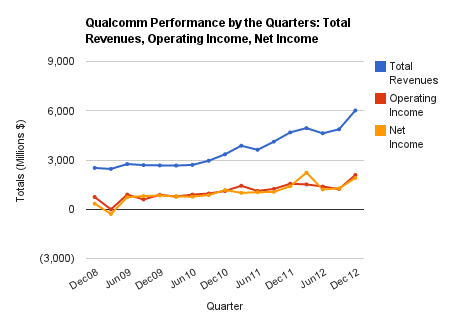 The gross (47%), operating (35%), and net (32%) margins have increased for the past two quarters. The long-term 18-quarter averages are 48%, 30%, and 26%, respectively. The downtrending gross margin has been a concern, but this trend has reversed. The current gross margin is still well below the chart peak of 54% long ago in quarter ending June 2009. I doubt that peak will ever be attained again.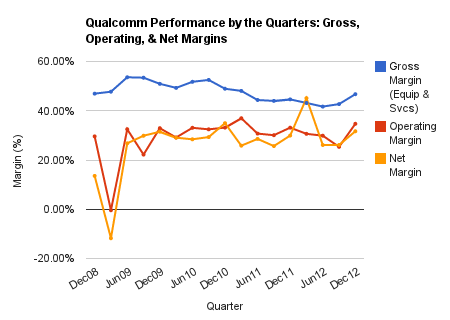 Qualcomm is liquid, has very strong capital, and an increasing annualized return on assets (a lagging indicator). The fundamentals, especially after the peak fourth quarter performance, are solid.
Next quarter revenue guidance, quarter ending March 2013, is $5.8 billion to $6.3 billion, which is +17% to +27% growth over the prior year quarter ending March 2012 and may (+5%) or may not (-4%) beat the prior quarter ending December 2012 revenues of $6.02 billion. Last year, quarter ending March 2012, was the peak quarter so Qualcomm could increase revenues quarter over quarter one more time.
Next quarter Non-GAAP earnings per share guidance, quarter ending March 2013, is $1.10 to $1.18, which would be the second highest ever reported. This would then be exceeded only by the latest quarter ending December 2012.
Next quarter GAAP earnings guidance is $0.98 to $1.06 would also be the second highest reported from an operations standpoint (see first paragraph above). Both Non-GAAP and GAAP EPS are projected to be year over year increases, which will keep the multi-year YoY streak of increases going.
Annual 2013 revenue guidance is $23.4 billion to $24.4 billion, up +22% to +28% from 2012 when the aforementioned gain from sale of discontinued operations is ignored. Ignoring the gain still results in a YoY increase of +14% to +19%. For growth comparison, the 2013 project revenues are more than double the $10.6 billion in 2009.
Okay, all these charts look great, the market has sung the QCOM accolades, and the stock popped after the earnings report. The train has left the station, what now? Be patient in 2013. The quarter ending March 2013 earnings will be strong and the guidance is priced in the stock.
The upcoming quarters ending June and September tend to be cyclically slower. The Qualcomm earnings machine will then slow, investors will lose interest and sell, and the stock will dip. A lower risk set up for a long position is a ways off. Think in terms of the quarters ending December 2013 and March 2014 for earnings pops. The time to buy QCOM will be during the summer and/or early autumn 2013 doldrums to catch the next ride up.
Disclosure: I have no positions in any stocks mentioned, and no plans to initiate any positions within the next 72 hours. I wrote this article myself, and it expresses my own opinions. I am not receiving compensation for it (other than from Seeking Alpha). I have no business relationship with any company whose stock is mentioned in this article.