Navidea Biopharmaceuticals Inc. (NYSEMKT:NAVB) is a diagnostics biotech company, focused on developing novel radiopharmaceutical imaging agents to aid the detection, level and status of disease, therefore allowing more accurate decisions to be made regarding treatment for the patient. The company is currently working towards FDA approval of their lymph node imaging product Lymphoseek (technetium Tc 99m tilmanocept).
From the company's website: it is a ''radiopharmaceutical agent being developed for use in external lymph node imaging and intra-operative lymphatic mapping. Lymphoseek has been evaluated in well controlled Phase III clinical trails in patients with breast cancer and melanoma.'. A Phase III trial is underway with patients with head and neck cancer, with interim results expected in mid 2013.
Without getting too technical (multiple articles already exist examining how Lymphoseek works), Navidea is hoping Lymphoseek will be proved more efficient than and replace, the two current agents used to determine the existence of metastatic cancer in lymph nodes, Blue Dye and Sulfur Colloid. Once injected into the lymphatic vessels, the former has been shown to move too quickly and often miss the cancerous lymph node, completely leading to a false negative diagnosis. The latter moves through the vessels too slowly (taking up to two hours following the initial injection), leading to inefficient use of medical facilities and time as the patient must wait in some discomfort for the Sulfur Colloid to complete its travels.
Neither of these agents 'binds' to the lymph node or tissue and this can cause both of them to miss the cancerous tissue. Lymphoseek is designed to bind specifically to the lymph tissues, allowing for a massive increase in the accuracy with which physicians diagnose cancerous tissue and the stage it is at, leading to a more secure, informed decision on the treatment and steps to take.
This article will focus on what I believe is the coming run-up in the company's stock and option prices, in anticipation of FDA approval of Lymphoseek on April 30th. This will be the company's second Lymphoseek PDUFA date. The FDA issued a complete response letter to the company last September, citing manufacturing issues as the reason behind the delay. Interestingly, the safety and efficacy of Lymphoseek was not questioned. Navidea submitted a Lymphoseek Marketing Authorization Application to the European Medicines Agency last December, part of which included having their manufacturing facilities and practices inspected by independent auditors pre-submission. These inspections were completed without a problem, giving Navidea bulls reason to feel more positive about the FDA decision this April.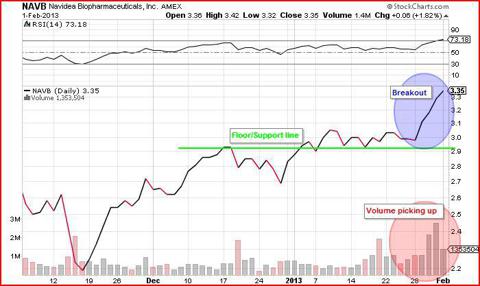 While I think one could make a pretty compelling argument for Lymphoseek's approval, I don't really plan on holding through the event, not my strategy. I'm looking to play the run-up to the FDA decision on April 30th and get out before the event. Looking at their 3 month chart, it's clear that NAVB has been bouncing around $2.90 - $3.05 range for the last month having popped 25% from the end of November. The last 2 weeks and in particular the last week of January saw a surge in volume and with that, Navidea's stock broke out of its monthly range. On Wednesday, January 30th, J.P Morgan Asset Management and a large unnamed hedge fund picked up over 1.5million Navidea shares at market price. Both in the weeks preceding this underwriting and the days following it, the company saw several respected finance columnists cover the upcoming FDA decision in articles which is just what a biotech company needs to get some notice and volume. Several analysts also initiated coverage of Navidea at the end of January, with Aegis Captial rating them a 'Hold', and Burrill Institutional Research giving them a rating of 'Market Outperform'.
What's made me even more bullish about the coming 3 months for Navidea is that their April $3 call has just broken out of its range and closed above $.60c for the first time since the FDA issued a Complete Response Letter and initially rejected Lymphoseek last September. Volume in this option has kicked off as well in recent weeks as investors position themselves for the run-up. This is where I'll be placing my money.
(click to enlarge - TradeKing.com chart)

In the months preceding its last PDUFA date of September 10th, Navidea saw its stock hit a high of $4.77. I believe it can easily test this level again if not higher given the only reason behind a lack of FDA approval last September was a manufacturing issue which has obviously been taken care of, as Navidea passed the European Medicine Agency's manufacturing facilities inspection in December. Furthermore, the recent large purchases of stock at market price by institutional investors has and will only add fuel to the fire which is what biotech investors look for and love.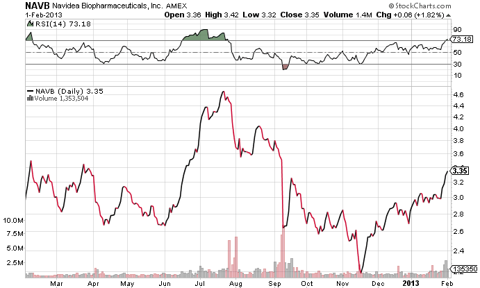 Look for volume to pick up and hype to build in the biotech Twitterverse and stock message boards over the coming weeks and months. This is a $350million market-cap company with an FDA decision date for April 30th, that has just set a post FDA-denial high and looks set to continue its breakout. Depending on how much it runs, I would consider taking out my profit and rolling my options to hold through the FDA decision. I think Lymphoseek has a very good chance of receiving FDA approval, given the factors already mentioned.
With the short percentage of float at 18%, any more of a run or further positive analyst/columnist coverage could lead to a beautiful short squeeze. At Friday's closing price of $3.35, Navidea offers a very attractive entry point for the biotech investor with the average analyst price target just under $6. And at just over $.60c, the April $3 call has a lot of room to run, and I believe it could see could see a 200% rise before April 30th.
Looking past April 30th, were Lymphoseek to gain FDA approval, the usual biotech investor's fear of slow sales growth post FDA approval shouldn't be a problem. Navidea already has a US partnership set up with Cardinal Health (NYSE:CAH) to market and distribute Lymphoseek. Cardinal's sale force already generates $100billion in sales revenue annually. Further Navidea catalysts expected include interim results from their Head & Neck Cancer Trial - NEO3-06 (mid 2013), non US Lymphoseek partnership (mid 2013) and possible EU approval of Lymphoseek (late 2013/early 2014).
As always though, small cap biotech companies carry a high degree of risk and should only be traded by those comfortable taking on that risk. Despite have a decent surgical imaging pipeline following Lymphoseek (providing further 2013 catalysts), Navidea is a non-profitable company with no approved products. This article represents my own belief that Navidea stock and options will see a decent run-up to Lymphoseek's PDUFA date on April 30th and looks at what I consider factors underlining possible approval, and further company catalysts. Investors however should only use this article as a base for their own due diligence.
Disclosure: I have no positions in any stocks mentioned, but may initiate a long position in NAVB over the next 72 hours. I wrote this article myself, and it expresses my own opinions. I am not receiving compensation for it. I have no business relationship with any company whose stock is mentioned in this article.