Exceedingly rare is the company that can offer investors a combination of impressive growth and consistently increasing dividends. Usually an investor has to settle for one or the other, between stock performance and dividend performance. And while this may be the norm, it certainly is not anywhere set in stone. There are a handful of companies that have the unique trait of being both a growth stock and a dividend-growth stock and they can be found in a wide range of sectors. My previous article, Church and Dwight: A Solid Growth/Dividend Investment in 2013, focused on one of these elusive stocks in the Consumer Products/Cleaning segment.
In this article I will focus on a second stock that I believe meets the rigid criteria needed to qualify as both a growth stock and a dividend growth stock: VF Corporation (NYSE:VFC).
VF Corporation is a highly diversified apparel and footwear company responsible for popular brands like The North Face, Timberland and Wrangler. The North Carolina-based company, originally founded in 1899, owns and operates 25 primary lifestyle brands, many of which have their own smaller spinoff brands. In total, VF Corp. has well over 30 brands that branch out into five distinct coalitions: Outdoor and Actions Sports, Jeanswear, Imagewear, Sportswear and Contemporary Brands. Together with its owned retail stores/outlets and expanding wholesale partners, VF Corp. has a global reach that extends worldwide.
As both a growth stock and dividend grower, VF Corp. is a 'best of both worlds' scenario for investors. The growth aspect of the equity can offer solid market outperformance and the dividend-growth aspect can offer a steady stream of income and shelter from some of the market's volatility. Let's first see how VF Corp. fares as a growth stock:
The Chart:
For any growth investor, the chart is an extremely important indicator. Quite simply, a consistently upward trending chart indicates a viable growth story; anything else is cause for concern on the growth front. Let's first take a look at VFC's five-year chart to ensure it is acting like a proper growth stock should (included are 50-day, 100-day, 200-day moving averages):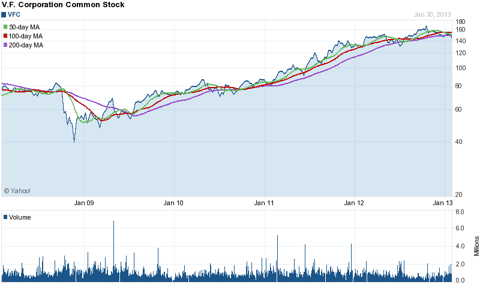 Chart courtesy of Yahoo! Finance
Five-year return (with dividends reinvested): 121.8%, an annualized return of 17.2%.
VFC's five-year chart is showing the kind of strength a growth investor needs to see. The overall trend is up and for the most part the stock obeys its moving averages well, significantly breaching its 200-day MA only twice in the four years since the major market collapse in 2008.
Let's take a look at VFC's one-year chart to see more recent developments in the stock's trading. The following is a one-year chart of VFC, courtesy of Yahoo! Finance (included are 50-day, 100-day, 200-day moving averages as well as MACD and slow stochastic indicators):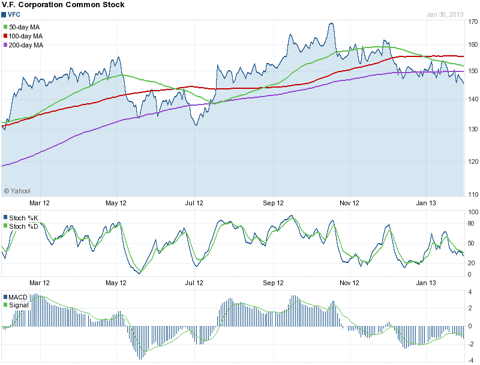 Chart courtesy of Yahoo! Finance
One-year return (with dividends reinvested): 14.8%
VFC's one-year chart is flashing some warning signals. Although the stock managed a positive return over the last year, the chart is displaying weakness. Currently, VFC is below all key moving averages and has been trending downward since mid-October. Additionally, the MACD indicates consistent selling since October that has yet to relent. From a chart perspective, the stock is not safe to buy here.
Growth:
To best illustrate VF Corporation's level of growth, I have chosen to compare the company to both smaller apparel/footwear companies like Under Armour Inc. (NYSE:UA) and Columbia Sportswear Company (NASDAQ:COLM) as well as larger ones like Nike Inc. (NYSE:NKE), Polo Ralph Lauren Corp. (NYSE:RL) and Phillips-Van Heusen Corporation (NYSE:PVH).
| | | | | | | |
| --- | --- | --- | --- | --- | --- | --- |
| Company | COLM | NKE*** | PVH | RL | UA | VFC |
| Revenue Growth (2011) | 14.19% | 9.7% | 26.9% | 21.2% | 38.68% | 22.86% |
| Revenue Growth (2012)* | -1.3% | 15.68% | 2% | 2.7% | 24% | 15.5% |
| Revenue Growth (2013)* | 3.4% | 4.8% | 17.5% | 8.9% | 21.7% | 8.5% |
| Revenue Growth (3-year Avg. from 2011-2013)* | 5.43% | 10.9% | 15.46% | 10.93% | 28.12% | 15.62% |
| EPS Growth (2011) | 7.73% | 13.6% | 445% | 24% | 37.31% | 54% |
| EPS Growth (2012)* | -3.3% | 7.73% | 18.8% | 10.5% | 29% | 17.4% |
| EPS Growth (2013)* | 9.6% | 11.4% | 16.1% | 16% | 25% | 14.2% |
| EPS Growth (3-year Avg. from 2011-2013)* | 4.67% | 10.91% | 17.45%** | 16.83% | 30.43% | 28.53% |
(Numbers from Yahoo! Finance, MSN Money as of 1/30/13)
* Some numbers derived from average analyst estimate in listed fiscal year.
** 2-year avg. growth rate, derived without abnormally large 2011 EPS number to avoid major distortion.
*** Nike fiscal year ends in May
The numbers in the table above indicate VF Corp. fares well compared to the other five listed retailers. Although it loses the revenue growth battle to the smaller, more aggressive retailer Under Armour, VF Corp. has the second highest average revenue growth rate for the last three years at 15.62%, just above PVH Corp.'s 15.46%.
The earnings-per-share story is similar, as VF's three-year average EPS growth rate of 28.53% is second only to Under Armour's 30.43%. It is also worth noting that VF Corp. has been very consistent with regards to both yearly revenue and EPS growth rates; both have consistently remained above a healthy 8% over the past three years. A look at the 10-year summary shows that, outside of 2009, revenue and EPS growth has been very consistent although not always robust.
Important to note is that VFC's growth has slowed notably the last several years, the company's revenue growth rate has fallen approximately 7 percentage points each year during the last two (2011-2013). The company's EPS growth rate has also slowed, understandably down almost thirty percentage points from 2011's dramatic increase but also projected to be almost 3% lower in 2013 than it was in 2012.
Looking forward, VFC's respective projected 2013 revenue and EPS growth rates of 8.5% and 14.2% are squarely in the middle of the pack when compared to the other listed retailers. In summation, VF Corp does not offer the most robust growth in retail apparel going forward but it is also nowhere near the worst. Instead, VFC manages to offer consistent, albeit mostly conservative, growth.
Fundamentals:
| | | | | | | |
| --- | --- | --- | --- | --- | --- | --- |
| Company | COLM | NKE | PVH | RL | UA | VFC |
| Market Cap | 1.74B | 48.34B | 8.35B | 15.21B | 5.32B | 16.26B |
| Total Debt | 10.2M | 328M | 1.87B | 265.8M | 72.2M | 2.57B |
| Total Cash | 96.3M | 3.52B | 276.6M | 1.01B | 157M | 304.6M |
| 2013 Projected Revenue* | 1.73B | 27.21B | 7.06 | 7.68B | 2.22B | 11.85B |
| ROIC | 8.6 | 19.8 | 7.3 | 15.3 | 14.7 | 13.3 |
| ROIC (5-year Avg.) | 9.7 | 18.9 | 5.3 | 13.5 | 14.6 | 11.4 |
| P/E (TTM) | 17.94 | 24.35 | 20.36 | 23.48 | 48.33 | 16.4 |
| P/E (forward) | 15.94 | 17.98 | 15.93 | 18.2 | 33.99 | 13.48 |
| Net Profit Margin | 9.38% | 8.2% | 7.2% | 9.74% | 6.42% | 9.38% |
| Dividend/Yield | .88/1.73 | .84/1.57 | .15/0.13 | 1.6/0.96 | NA/NA | 3.48/2.39 |
(Numbers from Yahoo! Finance, MSN Money as of 1/30/13)
* Some numbers derived from average analyst estimate in listed fiscal year.
The first major takeaway from the table above is that VF Corp. has the most debt out of all listed companies. VFC's current debt of $2.57 billion (as of Q3 2012) is equal to 15.8% of its market cap, the second highest ratio to only PVH, whose debt is equal to 22.4% of its market cap.
The all-important 'return on invested capital' metric looks very solid for VFC and the 5-year average of 11.4 indicates ROIC above 10% is the norm for the company. This indicates that management has been successful at investing its capital efficiently. Profit margins are also very high for VFC when compared to its peers as the company ties Columbia Sportswear for the second highest, at 9.38%, behind only Polo Ralph Lauren Corporation's 9.74%.
Valuation is where VF Corp. begins to really separate itself from its competitors. VFC is the cheapest stock on both a trailing-twelve-month P/E basis and a forward P/E basis, at 16.4 and 13.48 respectively. This is especially encouraging when we consider that VFC is poised to offer revenue and EPS growth rates comparable to many of its peers in 2013, better than several in fact (COLM and NKE). A quick look at historical P/E ratios for the company reveals that VFC, on a future twelve-month basis, is currently trading at a discount to its 5-year average P/E of 14.54.
Dividend:
The biggest differentiation VFC offers over all other listed retail companies is its extremely impressive dividend history. VFC's annual payout to shareholders is currently a very respectable $3.48, a yield of 2.39%. The quarterly dividend was recently raised at the end of 2012 from $0.72 to $0.87, an increase of 20.8%. And this last part is most definitely the key when it comes to VF Corp: the company is extremely dedicated to raising its dividend every year.
The short history of VF Corp.'s dividend growth is one that should have investors excited for the future. Over the last five years VFC has increased its dividend over 58%, from $2.20 to $3.48, which is essentially like receiving a 60% raise in five years. The longer history of the company's dividend growth is almost unmatched: in the last decade alone, VFC has increased its dividend an incredible 248%, from $1.00 in 2002 to $3.48 in 2012. Since 1996, VFC has increased its dividend 18 times, which equals over 16 years of uninterrupted dividend increases. This means VFC has not once lowered its dividend and has averaged over one dividend increase per year since 1996. Even better is that the company has managed over 40 consecutive years of dividend increases!
The fact that management has increased the company's dividend every year for such a lengthy period of time should give investors confidence that this trend will continue. The company's track record, four decades worth of incredible dividend-growth, speaks for itself.
Growth Catalysts:
VF Corp.'s growth has come primarily from acquiring popular brands like The North Face and more recently Timberland. Just a few weeks ago, VF management announced that it has an interest in acquiring Australian surf brand Billabong. The deal, which would also involve private equity group Altamont Capital Partners, values the surf company at $556 million. Management feels that Billabong would fit nicely in its lifestyle-brand portfolio and would be key in expanding its 'Action Sports' category to 'continue to build shareholder value.' This appears to be a viable method of future growth for VFC, as the company currently has no brands that offer anything close to the product lineup that Billabong has.
Management has stated the 'Action Sports' segment is the company's fastest growing business (29% increase in sales in Q3 2012), accounting for half of global revenues. Adding another unique brand like Billabong to the company's lineup is encouraging because VF Corp. has had great success in the segment before with brands like The North Face and Timberland. Management should be able to build on their prior success and use the company's more established sports brands to promote this possible new addition.
In a nice change of pace for the company, it looks as if one of the bigger drivers of growth for VFC during the next five years is shaping up to be the organic kind. At the company's investor meeting held in Shanghai, China in September, management unveiled details on its goal of adding $1.1 billion in revenues over the next five years to its business in Asia Pacific. The Asia Pacific market is projected to have accounted for approximately $900 million of sales in 2012. Management's goal is to reach $2 billion in sales in the region by 2017, which breaks down to an annual growth rate of 17% for the company's Asia Pacific business over a five-year time span.
Management plans to achieve this 17% annual growth rate primarily through creative use of its five most powerful brands: Timberland, Lee, The North Face, Vans and Kipling. CEO Eric Wiseman explained, "Our Asia Pacific revenues have grown nearly five-fold since 2007 and we continue to see tremendous opportunities for growth in all our brands." Management stressed the importance of capturing the large China market and then using the company's top five brands to further expand into other countries in the region. Currently, China accounts for about half of the company's entire Asia Pacific market and it is expected to grow to be around 60% by 2017. This growth will take the company's door count (vendors selling the company's products) in China from around 2,300 currently to almost triple that number in five years, to 6,000.
To provide some idea of the increasing global footprint of the company, VF International Group President Karl Heinz Salzburger stated that international sales are expected to be about 37% of VFC's total sales for 2012. Management's hope is to see that international number as high as 45% by 2017, the increase driven largely by methodical expansion in Asia Pacific.
And finally, since all of the international growth mentioned above will be accomplished by the company's five most powerful brands it is logical to assume that once VF Corp. has established these top brands overseas management can begin to start expanding the company's less popular brands as well, leading to additional foreign revenues.
Risks:
The first major problem with VFC is the one-year chart. As VFC is partly a growth stock I have to treat it like one when I do my analysis. I simply will not purchase, and I can't recommend anyone else purchase, a growth stock that is moving in the wrong direction and lately VFC has been trending downward. My recommendation would be to only buy shares of VF Corporation once the MACD and stochastic indicators flash buy-signals and the stock regains all of its moving averages. Until that happens, VFC's more recent chart is a risk for investors.
Also, as was mentioned before, VFC has debt and the trend is moving in the wrong direction. A look at VFC's ten-year summary shows that debt has been increasing as of late and is now almost triple where it was at the start of 2011 ($935.88 million). With a business in which growth is fueled primarily by acquisition, debt is to be expected but the rapid increase does present another risk for investors and is something that needs to be monitored going forward.
The company's exposure to Europe is a risk as well. Currently, just over 20% of VF Corp's revenues come from Europe and the region's very challenging economic conditions create a bit of uncertainty for that portion of the company's business. This is another risk for investors to consider.
Conclusion:
VF Corporation has a strong history of revenue/EPS growth driven primarily by its strategic acquisitions of smaller companies that fit into the company's large and increasingly diverse lifestyle-brand portfolio. While I prefer companies that rely primarily on organic growth to propel future appreciation, there is no denying that VFC has been successful in the past at making the right deals. I believe management will continue to strategically acquire great brands but I am also encouraged by the company's plans to substantially increase sales in its Asia Pacific markets over the next five years.
As strong and consistent as revenue/EPS growth is for the company, the dividend aspect of VFC is even stronger. While offering investors a healthy yield, the company has excelled at growing dividends for investors every year. History can be a useful guide to the future for investors, especially with regards to dividends, and I believe management at VF Corporation will remain committed to providing shareholders with increasing dividends for years to come.
VFC is a rare blend of equity: on one hand it is a very fairly valued growth stock that is poised to deliver solid growth in 2013 and on the other hand it is a consistent dividend grower. Investors should consider buying VF Corporation for its viable growth story and stay long for its increasingly bright dividend future.
I recommend investors wait for the company to announce its earnings on 2/15/2013. If guidance remains the same, or is raised, then I believe investors can purchase VFC once the chart signals a break in the stock's recent downtrend.
Disclosure: I am long UA. I wrote this article myself, and it expresses my own opinions. I am not receiving compensation for it (other than from Seeking Alpha). I have no business relationship with any company whose stock is mentioned in this article.