Renewed interest in social networking companies was led by an earnings report by Facebook (NASDAQ:FB); companies like LinkedIn (NYSE:LNKD) and Zynga (ZYNGA) rose. Yet when a word cloud of Facebook's quarterly conference call is visualized, danger lurks ahead for Zynga. It is highly clear that mobile will be the source of focus and growth for the social networking giant. The top words used during the quarterly conference call are illustrated in the word cloud below: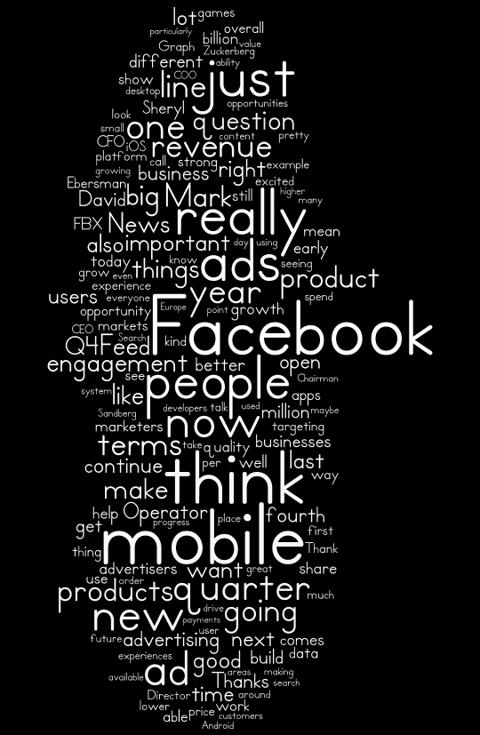 Ahead of Zynga's earnings report on Tuesday February 5, investors should anticipate that the mobile strategy for Facebook will have a negative impact for the social game maker.
The reasons are listed below:
1) Graph Search
Graph Search is a social graph tool that will make applications less visible to users, especially social games. Currently in beta, the tool is designed to enhance the customer experience around content from "friends." Facebook will continue to promote games on the News Feed, but the prominence of Graph Search at the top of the site will hurt gaming activity on the site.
2) Social Gaming on Desktop Declining
Facebook continued to experience healthy revenue diversification from new games and improving engagement. However, raising the focus on the mobile channel will hurt desktop usage further. Facebook has no choice: desktop usage in the developed market is declining, while mobile usage is increasing. This will mean that games payments revenue from desktop computers will decline for Facebook. It also means that the trend will have serious consequences for game makers dependent on the Facebook platform.
3) Post-Earnings, Facebook Shares Dropped
Facebook Shares continued to drop substantially after reporting earnings. Facebook shares spiked higher following quarterly earnings, but dropped steadily afterwards. Facebook declined 13% in the last week. Zynga and LinkedIn traded higher after Facebook's earnings report, but fell as Facebook shares declined: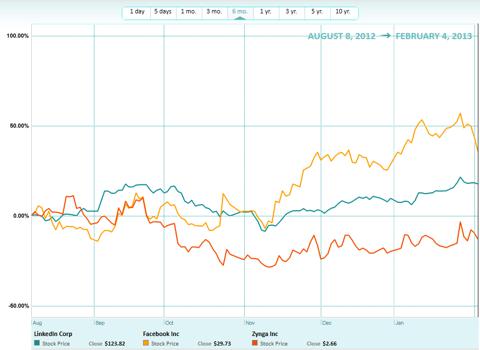 (Chart Source: Kapitall.com)
Investors could expect Zynga shares to fall steadily after the company reports.
4) Facebook Console Games Hurts Zynga
Developer partners could be working on 10 console-type games to sell to consumers. If this happens, Facebook will compete against Zynga's mid-core gaming push. Last November, Zynga bought November Software to help it build mid-core games.
Conclusion
Zynga traded recently at $2.56, and has a book value of $2.36 per share and $1.69 in cash per share. Executive departures, competition from Facebook, and a focus by Facebook towards mobile are reasons to be wary of investing in Zynga. When the company reports earnings after the market closes on February 5, investors should look closely at Zynga's free cash flow, R&D and any increases in operational costs. There may be some hope: positive developments for its online gambling initiative could help stem losses from Facebook-based games.
Disclosure: I have no positions in any stocks mentioned, and no plans to initiate any positions within the next 72 hours. I wrote this article myself, and it expresses my own opinions. I am not receiving compensation for it (other than from Seeking Alpha). I have no business relationship with any company whose stock is mentioned in this article.