Core Laboratories is a mid-cap oil servicer focusing only on production enhancement and research optimization. It has carved out a niche for itself by developing patented technology. By focusing on intellectual capital over heavy machinery, Core has put up stellar return on capital and Free Cash Flow numbers which consistently place it in the top decile in Bloomberg Financial's Oilfield Service Report.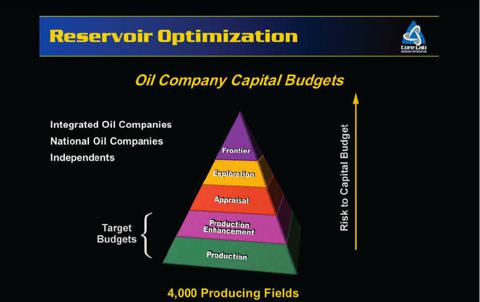 Source: Core Laboratories Bank of America Merrill Lynch 2012 Global Energy Conference
Also, by positioning itself in production as opposed to exploration, Core Laboratories (NYSE:CLB) has lowered its risk profile relative to other oilfield servicers. Oil companies are much more likely to cut capital spending for the exploration of new fields rather than for fields already in existence.
These two above factors, along with Core's explicit emphasis on generating Free Cash Flow and returning it to shareholders, have delivered amazing returns over the years. Those fortunate enough to buy stock in its 1995 IPO have seen a return of around 4,500%.
Yet, Core is still only a $6 billion company with plenty of room for growth. In this article we will look at what Core does, examine some of the important long-term trends, and finally look at when might be a good time to buy a piece of this company.
A Layman's Explanation of the Reservoir Optimization Company
Core operates in three business units:
Reservoir Description

Production Enhancement

Reservoir Management
The Reservoir Description unit measures rock properties and behavior of fluids during production. They analyze samples of rocks for porosity or reservoir storage capacity and permeability. This is done to define the ability of the rock to permit fluid flow. Basic measurements determine how much oil and gas are present and the rate at which it can be produced.
Reservoir Description also characterizes the crude oil, water and natural gas in a reservoir to know how they will interact. Since the reservoir's composition changes as oil is produced, so too must the methods of production as the life of the field progresses.
Core then determines the value of the crude oil based on quantities of gasoline that can be refined from it. They value the natural gas based on its British Thermal Unit content. After Core's data sets determine values, rates of return are then calculated for the operator.
Production Enhancement's goal is to minimize rock formation damage during drilling and thus increase production for its client. Hydraulic fracturing is one common enhancement method. Another is to flood the field with water, CO2, nitrogen and hydrocarbon gases to force out the oil.
Production Enhancement aims to control formation damage during these two techniques. On average, only 40% of all oil is recovered from reservoirs today. By minimizing the damage to the field's rock formation during drilling, oil recovery rates will increase and exceed the 40% average.
Reservoir Management provides well monitoring systems which enable operators to see real-time measurements of pressure, temperature and flow. These systems essentially give operators "eyes to the reservoir" to improve productivity. The Reservoir Management group can then generate, compile and interpret data seismically, geologically and petrophysically, giving a multi-disciplinary approach.
The Three Core Tenets
Management goes by three express goals. The first is to maximize Free Cash Flow through project discipline. In the past year, Core has increased revenue by 30% while assets have increased by only 4%. This has benefited Core's Asset Turnover Ratio (revenue/assets) at a time when other oilfield service companies have been adding assets faster than they've been growing revenue.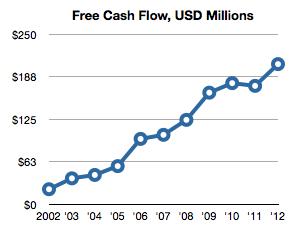 As a result, Free Cash Flow from revenue is now at an all-time high. One out of 5 revenue dollars is now converted into Free Cash Flow.
The second tenet is to maximize Return on Invested Capital [ROIC].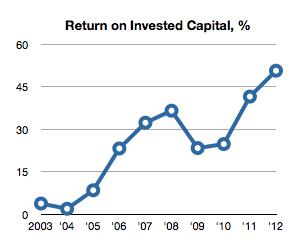 Data by Morningstar and 4Q Earnings Release. Charts by author
Core has maintained an exceptionally high ROIC through capital discipline and a focus on developing new oilfield technologies.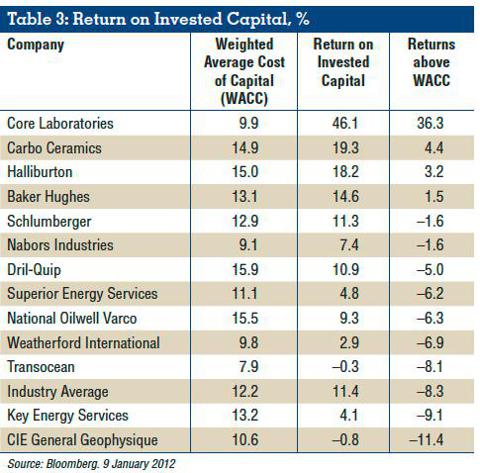 Graphic from Core Laboratories 2011 Annual Report
This has consistently placed Core Labs atop Bloomberg's list of best oilfield servicers.
Third, Core is committed to returning Free Cash Flow to shareholders. This has taken the form of share buybacks more than it has dividends. Don't worry, though. This is not your average buyback program. In Q4 2012 alone, Core has repurchased approximately 894,000 shares (out of a total of 46.6 million). Since its IPO, Core has repurchased a total of 1.4 billion in shares.
| | | |
| --- | --- | --- |
|   | Dividend | Div. Growth Rate |
| 2008 | 0.6 |   |
| 2009 | 0.57 | -5% |
| 2010 | 0.89 | 56% |
| 2011 | 1.0 | 12.3% |
| 2012 | 1.12 | 12% |
| 2013 est. | 1.28 | 14.3% |
More important to many of us is the dividend, which has not been neglected at all. In the past three years, Core has raised its dividend by a double-digit amount. This year, the dividend was hiked an impressive 14.3%. With dividends accounting for only 29% of Free Cash Flow, Core has plenty of room to increase the dividend and will likely maintain the pace of double-digit dividend growth for many years.
Strategy

Chart by YCharts
Unfortunately, the timing of this article couldn't have been worse for those who want to buy. After the previous quarter's earnings, Core's stock has surged by over ten percent to near its all-time high.
The good news is that expectations often get pumped up before operational reports, which then "disappoint" investors and lead to major selloffs. Our chart is littered with pullbacks of over ten percent and virtually all of them have come from earnings "disappointments."
These have usually been opportunities to buy. If history is any indication, there will be plenty more chances to buy a piece of this business.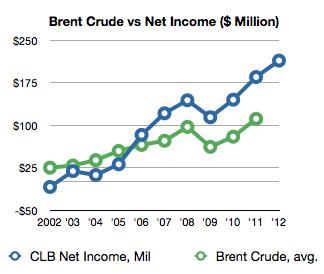 Data by Morningstar, 4Q 2012 Earnings Release and EIA. Chart by author.
Finally, Core's earnings results are strongly correlated to oil prices, which can fluctuate steeply. As such, investors should expect volatility in earnings. There will be up years as well as down.
Stay Tuned
Core Laboratories is a company I will continue to follow and provide updates on periodically.
Disclosure: I am long CLB. I wrote this article myself, and it expresses my own opinions. I am not receiving compensation for it (other than from Seeking Alpha). I have no business relationship with any company whose stock is mentioned in this article.