QNX. These three letters are the key to BlackBerry's (NASDAQ:BBRY) future. QNX is a software company that was acquired by BlackBerry (which was then called Research In Motion) in 2010 and its key product will provide BlackBerry with the advantages it needs to win back corporate America and much more.
Before I show you how this goal can be achieved, let me demonstrate how cheap BlackBerry's stock is. BBRY is trading below the company's book value which is $18/share. BlackBerry has no debt, $3.7 of cash at hand and its balance sheet has no goodwill or other "shady" assets. Basically, BlackBerry is trading below its current liquidation value. And this is extremely cheap, especially if I'm correct about the company's growth prospects.
Now let me explain to you what is so special about this subsidiary of BlackBerry and its products.
QNX's main product is its Neutrino RTOS (Real-Time Operating System). This OS is so reliable, fast and crash-proof that it (excerpt from QNX.com):
[...] is the preferred choice for life-critical systems such as air traffic control systems, surgical equipment, and nuclear power plants. And its cool multimedia features have QNX software turning up in everything from in-dash radios and infotainment systems to the latest casino gaming terminals.
The reason that QNX's Neutrino can function like that is its completely different structure from the commercial operating systems that Microsoft's (NASDAQ:MSFT) Windows, Apple's (NASDAQ:AAPL) OS, Linux, etc have to offer.
QNX is a microkernel operating system. The kernel is the software bridge between applications and the hardware that executes them. What QNX has managed to do is to separate the kernel from the apps and fit it inside the CPU's memory (cache) which allows it to pass orders to the CPU in a super-fast way.
Furthermore, every process (app, driver, program or whatever else) is executed within its own specifically allocated virtual memory.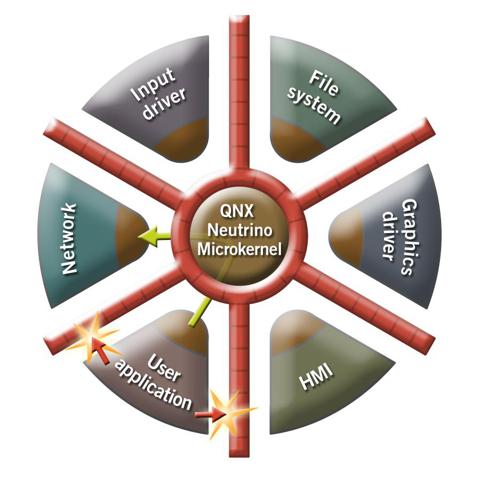 (Source: Image from Crackberry.com)
That gives us another benefit. No app can bring down the OS if it crashes (no blue screens of death, no frozen images). From QNX.com:
The QNX Neutrino RTOS (realtime operating system) is so reliable because it is a true microkernel operating system.

Under QNX Neutrino, every driver, protocol stack, filesystem and application runs in the safety of memory-protected user space, outside the kernel. Virtually any component can fail - and be automatically restarted - without affecting other components or the kernel. No other commercial RTOS offers this degree of protection.
This decentralized structure is also great for security. The OS's process manager can completely define what an app can and cannot do, making it extremely difficult for malware to spread and create havoc. The key strategic element of QNX's Neutrino is that no other commercial OS works in this way.
Since BlackBerry's new OS (BB 10) has QNX's Neutrino in its core, it enjoys some key advantages that may revive BlackBerry as the dominant smart-phone maker once again.
The first one is security. Although Apple is doing well winning over business employees who bring their products to work, IT professionals aren't so happy about it. This is a hole BlackBerry can easily fill. Not only because of the inherently better security its products provide but also because of features like the "Balance" which allows for complete separation between work-time apps and personal-time ones.
(click to enlarge)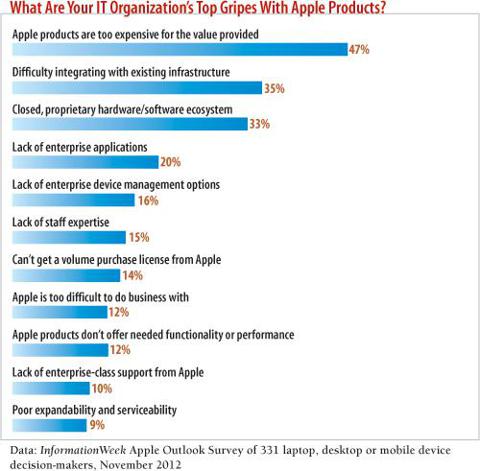 (Source: InformationWeek.com)
The second advantage is reliability. The self-healing capabilities of its BB10 OS provide a far better experience for end-users and will prove indispensable to professionals and businesses that rely heavily on their smartphones while doing their work.
The third and more scalable advantage is the decentralized structure of the BB10. Due to the fact that every process runs independently, the possibilities for sharing and remote connection are endless. Let me give two examples:
Imagine that you could seamlessly access your desktop's apps or files at work from your phone or tablet (while you're on the go) like you're sitting in front of them. Or that you will be able to connect seamlessly with your colleagues in a way that would be like every one of them was using your device. These are possible because of the OS's structure. Since every app runs on its own virtual memory slot, it is possible for your device to execute apps from other devices as if they are installed on its memory.
BlackBerry through QNX has managed to out-innovate in some areas the big players in the mobile market. However, innovation isn't enough, it must also execute on these concepts really well and really fast. At the end it must win not only business IT managers, but their end-users as well.
To sum things up, BlackBerry's new OS based on QNX's Neutrino gives the company another chance to win back a lot of the market share it lost to Apple's and Google's (NASDAQ:GOOG) smartphones and tablets.
Assuming that its new smartphones will sell well enough for BlackBerry to break even, its fair value can be placed between its $18/share liquidation price and 8-10 times its FCF which is more than $2.5/share.
Disclosure: I have no positions in any stocks mentioned, and no plans to initiate any positions within the next 72 hours. I wrote this article myself, and it expresses my own opinions. I am not receiving compensation for it (other than from Seeking Alpha). I have no business relationship with any company whose stock is mentioned in this article.