Even for a Luddite, fueling an electric vehicle ((EV)) looks easy. After all, what could be simpler than finding a socket, plugging in the cord and filling up your car's battery?
But behind the conceptual simplicity of the plug-in car, many technological barriers are hindering the EV industry's growth. Scientists and companies are racing to develop better car batteries and faster charging stations in a technological revolution that could shape the EV infrastructural landscape for years to come.
Conquering range anxiety-the biggest psychological barrier to mass adoption of EVs-is at the core of this quest. Drivers want the security to know that their EV won't run out of juice in the middle of a trip-and that it won't take a day to refuel.
The first challenge is to speed up the charging process. There are currently three types of charging technologies; all are imperfect. Level 1 charging is widely available but takes about 20 hours to fully charge a car. While it's faster with Level 2-about eight hours-that still requires an overnight charge. With DC fast charging, the job takes less than half an hour, though it might damage the battery in the process, and it's much harder to find. Indeed, according to the U.S. Department of Energy's EV project, DC fast charging accounted for a paltry 0.1% of all electricity consumed by EVs in the first quarter of 2012.

Not for long. For example, in Texas and California, eVgo, the EV-charging unit of utility giant NRG Energy Inc. (NRG), is rolling out a network of fast charging public stations, allowing drivers to add 50 miles of range in just 15 minutes. While it could be a breakthrough in fostering EV adoption, investors may struggle to get a piece of the action. Since eVgo is owned by NRG, it's not easy for investors to get direct access to the growth opportunity presented by the expansion of its network.
Wireless charging may be the next frontier, offering a way to leapfrog the limitations of the plug-in concept. "The experiences of EV owners have strengthened the case that the convenience of charging could be a major factor in purchase decisions," says Richard Martin, editorial director of Pike Research. "They have also made other benefits of wireless charging, including the alleviation of range anxiety through frequent, brief top-offs via embedded, automatic wireless charging systems, much more evident."
Scientists at Stanford University are trying to develop a wireless system that would be embedded in a road and allow drivers to automatically charge their cars while driving.
Car Charging Group Inc. (OTCPK:CCGI), a Miami-based company, has filed a patent for a wireless charging technology based on an inductive system that transmits electricity from a parking space bumper. It's easy to see the commercial logic: CCGI has access to 6.4 million parking spots across the US, via 40 strategic property and retail partnerships.
Still, wireless charging technology won't become reality overnight, and plugs will prevail in the near future. To that end, CCGI has also filed a patent on a technology that allows several EVs to charge successively while plugged into the same unit. According to the company, benefits include reducing strain on the energy grid while making it easier for drivers to avoid the hassle of taking turns at a multifamily property. While CCGI is a risky and volatile microcap stock, the combination of a viable business model and technological innovation provides investors with a potentially powerful way to access the early-stage growth of the EV charging industry.
Providers and networks still face plenty of technology-related hiccups. For example, ECOtality Inc., (ECTY), which operates the BLINK network of charging stations, was the subject of one California driver's frustrations when he ran low on power and struggled to find a fast charger, despite the company's directions. When Remy Tenant finally found the charger, it was broken. ECOtality is one of a few publicly traded companies in the charging station space. Investors should monitor whether failures like this are isolated or systemic, as the ability of EV charging groups to maintain robust networks could affect their ability to build a sustainable long-term business.
Information technology may be just as important as fast charging. According to a white paper by ABB, the industrial giant that also plays in the EV charging space, IT will create the ability for EV charging stations to control different rate structures, customize offerings and deliver customer service.
"Chargers will be the devices creating value chains for companies building a business in the commercial EV charging industry," according to the report. "If the charging infrastructure your business owns or leases is unable to connect to others in the value chain, it is utterly useless or will require a large one-off IT investment."
ABB practices what it preaches, and offers a range of charging equipment with sophisticated IT solutions. It also has a stake in ECOtality and a licensing deal with the company. However, as Remy Tenant's experience shows, the onus is on the charging companies to prove that the technology works out in the field.
EV battery technology is another obstacle to adoption. According to McKinsey, the cost of lithium-ion battery packs for cars is rapidly falling from more than $500 per kilowatt hour today to about $200 per kWh by 2020 and to $160 per kWh by 2025.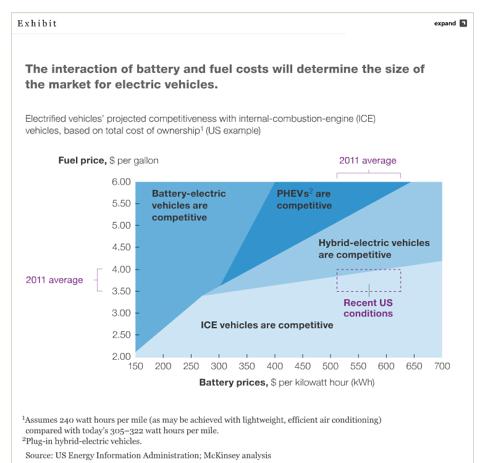 Based on a comparison of fuel prices and battery costs, this analysis suggests that EVs in the U.S. will make economic sense for drivers when the battery price falls below $250 per kWh. In other words, before the end of the decade, battery technology will have advanced enough to eliminate the inherent cost disadvantage of EVs versus traditional gasoline cars.
From batteries to the IT interface of charging stations, the technology needed to support a takeoff of the EV industry is moving ahead quickly. While it can be confusing to make sense of the changes, it's increasingly clear that investors must pay attention to technological developments, which will play a pivotal role in crowning the future kings of the EV charging industry.
Disclosure: I have no positions in any stocks mentioned, and no plans to initiate any positions within the next 72 hours. I wrote this article myself, and it expresses my own opinions. I am not receiving compensation for it. I have no business relationship with any company whose stock is mentioned in this article.