Following Google's (NASDAQ:GOOG) impressive 2012, investors may be wondering if now is an appropriate time to initiate new positions. With the share price recently surpassing all time highs set back in 2007, sentiment may become bearish and it could take a major catalyst to remain stable above this level. If you take the time to evaluate the company looking at "2007 Google" and "2013 Google", you will see a much stronger company moving forward, and further review of the price you pay for shares of Google may be that much needed catalyst.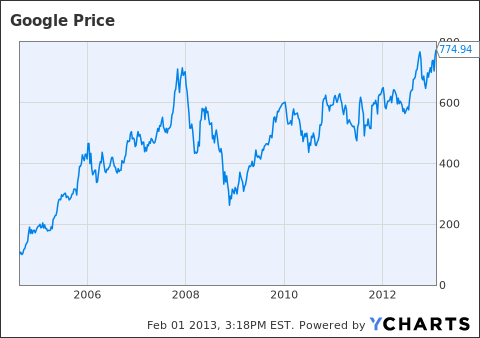 Throughout this article I will highlight why I believe shares of GOOG still remain attractive based upon multiple historical price models. Below are updated models which include the company's most recent quarterly results. It is worth noting that my research is done using GAAP results. Google reports both GAAP and non-GAAP results on their quarterly press releases, so be aware if you compare my data with other sources.
Price-to-Earnings
One of the reasons Google has been such a volatile stock is due to management's lack of clarity and consistency. A perfect example of this is the following comment which management reiterated again in the recent press release, "We expect to continue to make significant capital expenditures." The market loves stable earnings, Google has repeatedly said they plan to make investments that will grow the company into the future and will not strive to meet analyst quarterly expectations. You can see massive gaps in the stock price following earning announcements both upward and downward as investors continue to be shocked by earnings announcements. That being said, Google continues to grow EPS at rather robust rates. As the chart below shows, shares trade at 23.3x TTM earnings versus a five year average of 23.17x earnings. Note that my graph shows 2007 levels as a reminder to the 37x earnings you were paying for a less profitable company.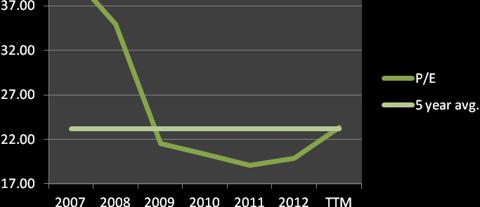 Source: Google 10-K's and 10-Q's
Price-to-Sales
Revenue has grown from $16.6 billion in 2007 to just over $50 billion in 2012. Although the argument of lower revenue due to increased mobile searches is important, the company still managed to boost revenues by 32% year over year. This company has shown its ability to monetize its mobile search operations, a feat some competitors such as Facebook (NASDAQ:FB) and LinkedIn (NYSE:LNKD) are still trying to prove. In 2007 shares of Google cost 10.27x revenue, today shares trade at 5x. The five year average price-to-sales ratio is 5.56x. You can see in chart below we are trading below the historical average. Although the argument of lower revenue due to increased mobile searches is worth noting, the company still managed to boost revenues by 32% year over year.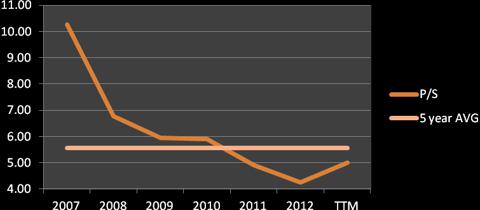 Source: Google 10-K's and 10-Q's
Price-to-Operating Cash Flow
Google continues to impress investors with its cash flow generating ability. In 2007 the company produced $5.8 billion in operating cash flow, last year it reached $16.6 billion. Even with CapEx spending of $3.2 billion last year, the company still generated $13.4 billion in free cash flow. This growth has led to a swelling of Google's cash and short term investments portion of the balance sheet, reaching just over $48 billion as of the last quarter. The five year average price-to-operating cash flow ratio is 15x. As depicted in the chart below, shares currently trade slightly north of 15x, roughly half of the 2007 valuation levels.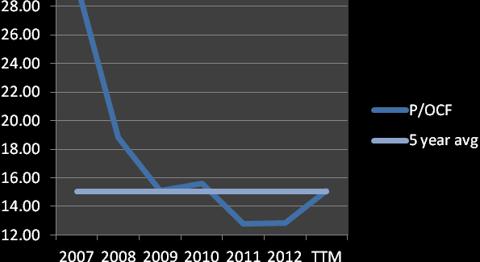 Source: Google 10-K's and 10-Q's
Although Google management has not made any hints of returning cash to shareholders through dividends or share repurchase programs, one would think this kind of activity is likely over the next few years. As free cash flow continues to grow, the company may face hostility from investors regarding its use of cash.
Price-to-Book Value
True value investors will certainly be intrigued by price-to-book value ratio. In 2007 investors were paying 7.51x book value per share, as of recent year end you can purchase shares of Google for roughly 3.5x. Over that same period shareholders equity has grown from $22.7 billion to $71.75 billion. The growth was fairly stable with equity growing at 24.26% (2008), 27.5% (2009), 28.43% (2010), 25.74% (2011), and 23.34% (2012).

Source: Google 10-K's and 10-Q's
Many technology companies can artificially inflate book value numbers by retaining large amounts of goodwill and intangible assets on their balance sheet (see my article on disappearing book value). Google has not followed this same path. Looking at the most recent balance sheet, Goodwill and intangibles make up just under 20% of total assets. If the company utilizes its cash for acquisitions this number will likely increase, however prior acquisitions (a good proxy for the future) appear to be accounted for in a fairly conservative manner.
Enterprise Value-to-EBITDA
Prior to 2010 Google had no debt outstanding and financial statements were fairly straightforward. With the issuance of debt in May 2010 (3 year notes at 1.25%, 5 year notes at 2.125%, and 10 year notes at 3.625%) and growing amounts of depreciation/amortization expense, the bottom line earnings number is somewhat distorted versus prior years. Looking at EBITDA gives us a clear picture of how the core business is performing. 2012 EBITDA currently stands at $15.72 billion, up from $6.05 billion in 2007. The five year average EV-to-EBITDA multiple is 12.56x as you can see in the table below we are currently trading higher that the historical average. (Note: My Enterprise Value calculation factors in non-cancellable future lease payments)
| | | | | | | | |
| --- | --- | --- | --- | --- | --- | --- | --- |
|   | 2007 | 2008 | 2009 | 2010 | 2011 | 2012 | TTM |
| EV/EBITDA | 26.18x | 16.57x | 12.05x | 12.23x | 10.85x | 11.11x | 13.53x |
Source: Google 10-K's and 10-Q's
Conclusion
Although the less profitable mobile search is beginning to take business away from Google's core search business, the company is still commands the largest presence of any competitor. comScore's recent search engine ranking still places Google at the top of the market with 67% of all searches. Microsoft (NASDAQ:MSFT) and Yahoo! (NASDAQ:YHOO) command just 16.2% and 12.1% respectively.
Even though Google's stock is flirting with all time highs, I believe shares may still offer long term investors a very attractive entry point. In my opinion, the fundamentals of this company suggest an attractive entry point and very favorable price multiples compared to historic averages. Consider your investment goals and objectives before initiating a position in Google and please remember that the value of investments in equity securities, like GOOG, will fluctuate in response to general economic conditions and to changes in the prospects of particular companies and/or sectors in the economy. Past performance is no guarantee of future results If you see a fit in your portfolio, I think being a long-term shareholder has the potential to provide attractive returns.
Note: All data reported and graphed is pulled directly from Google's SEC filings then ran through proprietary valuation models. The stock price used was from 1/30/2013.
Disclosure: I have no positions in any stocks mentioned, and no plans to initiate any positions within the next 72 hours. I wrote this article myself, and it expresses my own opinions. I am not receiving compensation for it (other than from Seeking Alpha). I have no business relationship with any company whose stock is mentioned in this article.