By Eric Schaefer
It seems to be becoming old news: investors once again withdrew money from equity and mixed asset (viz., balanced, target date and asset allocation among other categories) funds in December. Lipper reports net outflows for the group totaled $13.1 Billion in December. Domestic equity funds shed $16.9 Billion in assets during the month (the twentieth straight month of redemptions for the group). But there is worse to come. Large-cap U.S. equity funds lost $13.4 Billion in December - the forty-third straight month of outflows for the category. A streak this long suggests a complete loss of confidence in the stocks of blue chip U.S. companies. So the obvious question is, Are we witnessing the death knell of the cult of equity in the United States?
Well, hardly. We believe the public's infatuation with equities is far from over, headlines notwithstanding. It is just that technology and innovation enables investors to now gain exposure in a different form.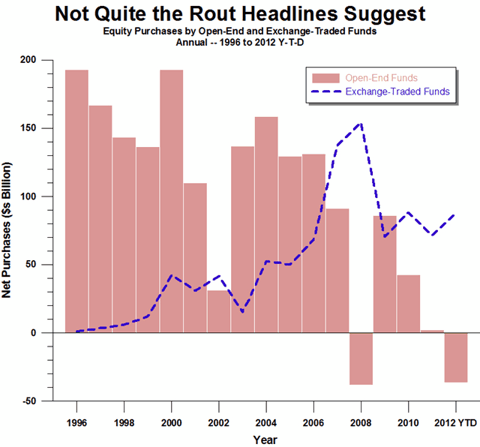 The Federal Reserve Board in its latest Flow of Funds Accounts of the United States reports open-end mutual funds sold $36.6 Billion in equities during the first nine months of 2012. Over the same period, exchange-traded funds (ETFs) were net purchasers, buying $87.7 Billion in stocks of publicly traded U.S. financial and non-financial corporations. Sales by mutual funds of the open-end variety were more offset by purchases by ETFs. Nor was 2012 anomalous. As the chart shows, ETFs have been taking share from open-end mutual funds for the better part of the last decade.
What has changed is the pace. In the aftermath of the 2008 market meltdown, purchases of equity-oriented ETFs by investors (as reflected in the funds' purchases of equity securities) has accelerated as investments in the open-end equity type have stalled. There are several explanations for this trend. One is certainly the novelty of ETFs. At year end 2007, there were just a bit more than $0.5 Trillion invested in equity-oriented ETFs versus more than $5.2 Trillion in similar open-end funds. ETFs were hardly a mass market investment. As a niche product, we suspect ETFS attracted more sophisticated investors. So when the crash came, ETF investors, as a group, sensed it was time to buy and not to bail.
A second explanation is based on changes in investors' expectations. The decade from 2001 to 2010 was a difficult period to be a long-term, buy-and-hold equity investor. In three (of the ten) years, the S&P 500 Index sustained double digit declines. As a consequence, annual index returns averaged a paltry 3.6%. This was a markedly different experience than the prior ten years (from 1991 to 2000). With the exception of 2000, the S&P 500 Index rose in nine of the ten years. From 1995 to 1999, annual returns for the index averaged in excess of 28%.
The notion of buying a stock or a mutual fund and locking it away for ten years has thus taken a dent. Likewise the idea of favoring a mutual fund that is always fully invested in equities is similarly dinged. Two crashes have taught investors to seek out management talent able and willing to actively and tactically trade their portfolios, shifting from stocks to bonds and cash and back again.
If so, then ETFs are tailor-made for this new climate. Since the majority are truly passive, investors should know what they are buying and how the funds should behave. Since they are exchange traded, ETFs can be bought and sold intra-day. When share prices are moving monotonically higher (as from 1995 to 1999) this flexibility is not important; but when prices bob higher and lower by large amounts over the course of a single day, this flexibility assumes greater importance.
With success has come proliferation, both in the number and kind of ETFs. What was formerly just another vehicle to trade passive equity indices, is now the means to aggressively trade an investor's entire portfolio.
---
Notes on Sources and Methods:
Open-end mutual fund equity purchases sourced from the F.120 Table for Mutual Funds, line 11. Exchange-traded fund equity purchases sourced from the F.121 Table for Mutual Funds, line 13.
2012 data is through the 3rd Quarter. All data is seasonally adjusted. Both tables can be found in the Federal Reserve Board's Flow of Funds Accounts of the United States release.
The S&P 500 Index is widely regarded as the best single gauge of the large cap U.S. equities market since the index was first published in 1957. It is a market capitalization weighted index of the performance of 500 stocks which S&P believes are representative of the U.S. equity market. You cannot invest in an index.
Sources: Federal Reserve Board, Z.1 Flow of Funds Accounts of the United States, December 6, 2012; Lipper; AIFS estimates.)