Forest Laboratories (NYSE:FRX) launched Lexapro, escitalopram selective serotonin reuptake inhibitor (SSRI), in September 2002. Lexapro quickly became the second largest selling antidepressant in the U.S. and sales peaked at $2.3 billion in 2008.
During 2012, Lexapro generated $2.1 billion in revenue and accounted for over 50% of Forest's total revenue. In March 2012, Lexapro lost U.S. patent exclusivity and generic competition followed. As of December 2012, Lexapro has lost more than 95% of its revenue.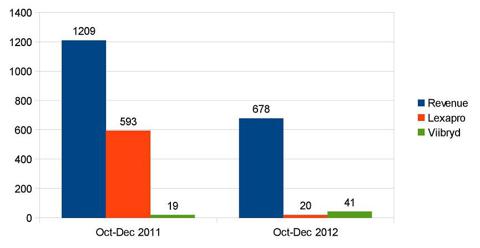 In August 2011, Forest launched Viibryd (vilazodone), another selective serotonin reuptake inhibitor antidepressant, to replace Lexapro and to guard against the steep decline in revenue that Lexapro's patent expiry might cause. However, in business, as in life, there's no such thing as a perfect plan.
Viibryd recorded sales of $41 million in the last quarter compared to $19 million a year ago and prescription demand for the quarter was up 12% sequentially with slightly over 1.3 million prescriptions ever been written for Viibryd since its launch. So, a potential blockbuster Viibryd is certainly not.
Forest, which reports earnings in March every year, reported $0.58 loss per share for Q3-2013 fiscal compared with income of $1.04 for similar period last year. Net sales for the quarter decreased 42% to $678 million, from $1.2 billion a year-ago.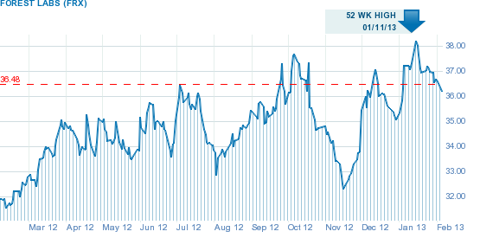 Forest now expects earnings per share for the fiscal year ending March 2013 to come at the lower end of the previously guided range of $0.45 to $0.60. Total net revenue is now expected to be between $3.1 billion and $3.2 billion.
Forest is a great sales and distribution organization with excellent connections and a first class sales team. However, its future appears bleak.
The whole pharma industry is currently consolidating, downsizing, reducing costs, and giving wealth back to shareholders through increased dividends and share buyback programs.
Forest, posting a loss in the recent quarter, is in no position to redistribute wealth back to shareholders. And, at a current $9.6 billion valuation, three times sales, and a PE of 85, it is hardly a shiny acquisition candidate.
Lexapro was the last SSRI antidepressant to lose patent protection in the U.S. The first was Eli Lilly's (NYSE:LLY) Prozac (fluoxetine).
Prozac lost U.S. patent exclusivity August 2001 when it accounted for less than 25% of Lilly's $10.8 billion in total revenue, at the time.
Without Prozac to lean on, Lilly fell into a funk and its share price tumbled. After the dust settled, Lilly had lost more than $30 billion of its peak 2001 market value.
Eli Lilly made substantial cutbacks in 2002, salaries were frozen, executives saw their bonuses decline and Mr. Taurel, Lilly's CEO at the time, received only $1 in salary and bonus for the year. It would be interesting to see how Forest executives will react.
Disclosure: I have no positions in any stocks mentioned, and no plans to initiate any positions within the next 72 hours. I wrote this article myself, and it expresses my own opinions. I am not receiving compensation for it (other than from Seeking Alpha). I have no business relationship with any company whose stock is mentioned in this article.