In part 1 and part 2 of my series on "Imminent Catalysts Should Keep Investor Interest Alive in These Pharmaceuticals", I delved into some imminent catalysts for development phase pharmaceuticals. It is my opinion and experience that during both bullish and bearish market conditions, small pharmaceuticals with near term catalysts whether in the form of drug regulatory decisions, clinical data or other events are potentially profitable investments. They tend to perform very well if catalysts are likely positive and may return gains during bearish markets and may even continue their positive trends even while markets are experiencing downside pressure. I focus a large portion of my investment funds in these pharmaceuticals with some understanding of the possible gains and risks involved and find these holdings suit my current level of risk, somewhere between moderate and high risk depending on the time I have to research and monitor the investments during trading sessions. Dara BioSciences (DARA) is another small pharmaceutical with imminent catalysts that I believe could provide for a profitable investment going forward in 2013. This investment is not for the risk averse, but I believe a solid entry and much additional research could provide for a profitable holding, even as the markets appear to be peaking for the interim. Dara's common shares have been bullish over the last month, trading at $0.80 as recently as January 18th. The company's stock closed Monday at $1.11, up almost 39% in less than a month.
Dara has a few near term catalysts that could continue driving the share price higher. However, I strongly advise a cautious entry and pre-planned exit in the event the chart turns bullish or loses support. On November 29th, the company announced that it had submitted an Orphan Drug application to the FDA for KRN5500, a drug in development to treat a painful form of chronic chemotherapy-induced peripheral neuropathy (CCIPN). If the company obtains this designation for KRN5500, it could benefit from up to 7 years of marketing exclusivity for the therapy in treating CCIPN along with reduced regulatory fees while undergoing clinical development. The FDA's response to the Orphan Drug application should be considered an imminent event. Dara already received a fast-track designation for the drug's development in October of 2011 for what the company states is a $2.5 billion market, a huge amount for an indication with no FDA approved treatment. The company completed and announced phase 2a data with proof of concept being validated and a statistically significant (p=0.03) versus a placebo in patients who had already failed at least two previous pain therapeutics. Dara is currently in partnering discussions, according to the company's Q3 financials, to advance the development of KRN5500 into phase 2b clinicals, also a likely imminent positive catalyst moving forward.
On January 17th 2012, the company announced that it had acquired South Carolina-based Oncogenerix, Inc. along with the company's exclusive license to market Soltamox® in the U.S. Soltamox® is the orally administered liquid formulation of tamoxifen, a drug commonly prescribed in pill form to help prevent breast cancer recurrence in hormone-receptor-positive breast cancer. For patients who have gone through the experience of radiotherapy, chemotherapy and/or resection, swallowing a pill may prove to be difficult and may prevent adhering to a strict schedule of efficous dosing. On October 12, Dara announced that it had launched Soltamox® in the United States. With no indication as to how successful the launch has been so far, the Q4 financials could provide for some evidence of how profitable the venture is at these early stages. According to Google Finance, the filing should occur on February 11th, less than a week away.
On September 13th, Dara announced that it had obtained the license to another promising therapy in the form of Gelclair®, an FDA-cleared product prescribed for the treatment of oral mucositis. With over 400,000 patients per year experiencing oral mucositis as a result of cancer treatments, proper marketing of Gelclair® could prove to be a profitable venture for the $20.7 million market capitalization company. According to the press release, Dara intends to launch Gelclair® in Q1, 2013, another positive and imminent catalyst for the company moving forward.
As of September 30th, Dara had cash and equivalents of $8.3 million and then added $2.8 million more in funds due to a December 31st stock offering. According to the press release, the funding will provide adequate finances to "alleviate ... needs for additional financing in 2013". With solid potential catalysts ahead, and a recent stock offering behind it, the company's stock could provide for solid gains in the weeks ahead. With the stock trading in a bullish pattern over the last month, the chart's next resistance is at $1.12, $1.15 and then $1.27. A solid push through these levels should be construed as bullish, although the 52-week high of $2.77 is a bit of a stretch in the interim due to some dilutive financing in January, April and December of 2012. Short-term support for the stock is at $1.05 and then $1.00.
Dara is rapidly evolving from a development phase entity to a marketing phase pharmaceutical. If it makes wise use of its funds, has successful launches for its two licensed products, finds the right partnerships for additional licenses and marketing going forward and garners the potentially lucrative Orphan Drug designation for KRN5500, investors could reap the rewards of a wise and early entry into this budding pharmaceutical. These are competitive markets, nonetheless. So careful monitoring of the company's progress is advised via press releases, SEC filings and insider trading transactions.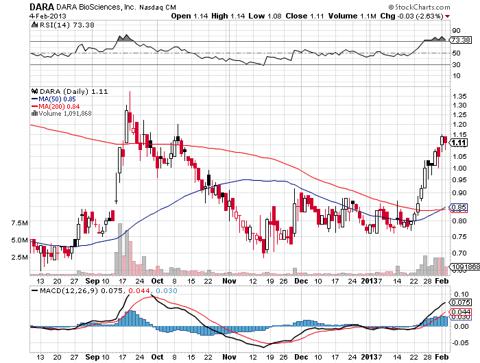 Disclosure: I have no positions in any stocks mentioned, but may initiate a long position in DARA over the next 72 hours. I wrote this article myself, and it expresses my own opinions. I am not receiving compensation for it. I have no business relationship with any company whose stock is mentioned in this article.