By: Todd M.
Overview
Chipotle Mexican Grill (CMG) is slated to report 4Q 2012 earnings after the close of trading on Tuesday, February 5, with a conference call to follow at 4:30 p.m. EST. Chipotle is an operator of over 1,300 Mexican food restaurants in the United States, Canada, and Europe.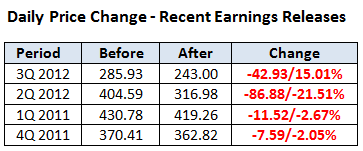 Outliers & Strategy
Earnings Per Share: Chipotle typically reports Earnings Per Share, which is comparable to consensus estimates. Analysts are expecting $1.96, with a range of $1.94 - $1.97. Chipotle has reported better than expected EPS five of the last eight quarters.
Revenues: Revenues are seen growing 17.10% Y/Y to $698.87 MLN, with a range of $692.90 MLN - $699.22 MLN. Sales have been better than analyst's consensus estimates six of the last eight quarters. (Source: Yahoo! Finance)
Preannouncement: Chipotle gave preliminary 4Q results on January 15, forecasting Earnings Per Share in the range of $1.92 - $1.97 and revenues to increase 17.2% to $699.2 MLN. The company also reported that food costs as a percentage of revenues of 33.5%, but has the belief that this should decrease in 2013. The 4Q guidance sent shares of Chipotle down ~5.50%.
Yum! Brands Earnings: A key competitor of Chipotle, Yum! Brands (YUM) posted earnings of $0.83 vs. $0.82 expected. However, the stock sold off approximately 9%, due to a negative outlook on Yum! China, which does not affect Chipotle's business.
Implied Volatility: The average absolute move over the past eight quarters was 7.39%. Options premiums for CMG imply an absolute move of about 5.12% after earnings dissemination. Chipotle has a short interest of 11.63% of outstanding shares.
Recent News
Techincal Review
Chipotle shares have traded 22.86% higher since the last earnings release, reclaiming its 50-day SMA. After reporting preliminary results, shares sold off, but ultimately bounced and convincingly broke both its descending trend line and the $300-level. If earnings surprise to the upside, resistance can be found at the 200-day SMA near $328, followed by the $350 area, which corresponds with the top set on 9/17/2012. If earnings disappoint, look for support at the 50-day SMA, followed by the $270 area. (Chart Courtesy of StockCharts.com)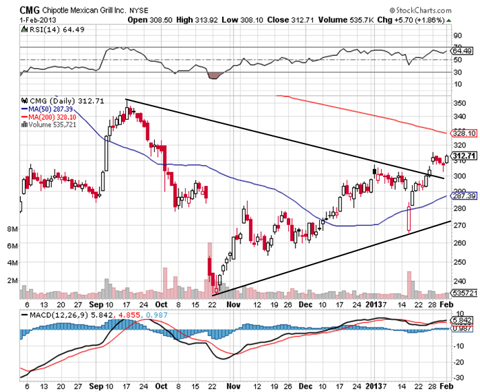 Summary
Chipotle has rebounded this quarter, shaking off disappointing preliminary results from January 15 - which signals that many were already positioned for a downbeat report. Sentiment is mixed with some analysts predicting slower growth and higher commodity inflation, while others take just the opposite stance. Look to results outside the range of the guidance for a reliable trade signal.
DISCLAIMER: By using this report, you acknowledge that Selerity, Inc. is in no way liable for losses or gains arising out of commentary, analysis, and or data in this report. Your investment decisions and recommendations are made entirely at your discretion. Selerity does not own securities in companies that they write about, is not an investment adviser, and the content contained herein is not an endorsement to buy or sell any securities. No content published as part of this report constitutes a recommendation that any particular investment, security, portfolio of securities, transaction or investment strategy is suitable for any specific person.
Disclosure: I have no positions in any stocks mentioned, and no plans to initiate any positions within the next 72 hours. I wrote this article myself, and it expresses my own opinions. I am not receiving compensation for it (other than from Seeking Alpha). I have no business relationship with any company whose stock is mentioned in this article.