Any chance I get, I discourage investors from chasing the dream of large gains due to a buyout. These almost never work as planned, and after the initial pop it can take weeks, months, even years for an acquisition to be announced. This is typically an emotional investment on behalf of retail investors, a topic that I have discussed in great detail, and one that is not based on fundamentals. Yet one company that might be entertaining acquisition talks is Spectrum Pharmaceuticals (NASDAQ:SPPI), and it might be worth owning.
The rumor of an acquisition often creates a great deal of movement. Last Wednesday, Chesapeake Energy (NYSE:CHK) CEO Aubrey McClendon announced his retirement and the stock rose over 6%. This is a man who built the largest collection of energy assets in the U.S., yet the prospects of a potential acquisition were far greater than any fundamental loss that could occur. In the last three weeks I have also covered the rumors surrounding both Dell (NASDAQ:DELL) and Zillow (NASDAQ:Z), telling investors how to play the speculation. Because far too often, investors play these rumors wrong, and then lose money when the acquisition does not occur, or when the buy price is less than expectations.
While I don't like the idea of buying a stock on the expectations of an acquisition, there is one case in which I think it makes perfect sense, with Spectrum Pharmaceuticals. In my opinion, there are three reasons that make this position attractive: 1) The stock looks to be trending higher and is not accounting for the likelihood of an acquisition, 2) the stock is fundamentally cheap, and 3) the stock is nowhere near its potential buyout price. Before exploring these three reasons, let's look at what sparked the conversation.
Acquisition Rumors Starting to Build
On Tuesday January 29, a report from MSN Money entitled, "Inside Wall Street: Is Big Pharma eyeing Spectrum?" was released and the stock rose from $11.55 to over $12.50, before closing at $12.14. The stock made this jump with over one million shares traded in a period of just 12 minutes. These gains, although significant, are nothing compared to the gains that we often see in biotechnology when acquisition rumors begin to spread.
In the article, the columnist Gene Marcial makes mention of his conversation with a company executive, "who preferred not to be identified", and cited quotes from various analysts who cover the stock. The key takeaway: Spectrum is an undervalued biotechnology company developing drugs in oncology and urology that has grown drastically in the last 10 years and is now trading at a 50% discount to its one-year price target with three approved products and 10 more in its pipeline. These facts we all know, but the market moving takeaway was that this "unnamed executive" stated, "we have been getting inquiries from some Big Pharma companies, including foreign drug makers, most particularly from Japan and Europe." He then added, "One large Japanese pharmaceutical company has expressed more interest in Spectrum than the other potential suitors."
To me, and to many others, this language sounds very inviting, almost as if the company could be in late-stage talks. It also suggests that the company is shopping itself. With that being said, let's take a look at those three reasons that were previously mentioned above.
Spectrum is Trending Higher, With or Without an Acquisition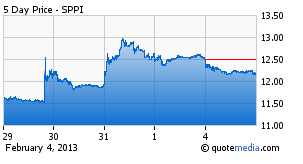 Of course, Spectrum has traded higher since the report from MSN on Tuesday, but it's important to remember that the trend was already being created prior to the "rumor". Take a look at the chart above, after the 2011 July/August selloff, Spectrum had continued to post lower lows from August 8 till November 16. This was during the same time that the company's CEO was selling his shares. Yet since November 16, the stock has begun to trend higher.
On November 16 it dropped to a low of $10.64 and then on December 10 it tried to retest those lows but was unsuccessful, closing at $10.74. From that point forward the uptrend was created, and despite the frustration that surrounds this stock due to short interest, it has been trending higher ever since.
The stock is now trading higher by over 18% since December 10 and has pulled back on three occasions since that point, yet the lows are always higher than the previous lows. This is a great sign that the stock is trending higher and that it will continue to rally. As you can see, this occurred prior to news of a potential takeover, meaning the rumors to this point have been quite minimal to the price of the stock, as far as setting the trend. Basically, the trend had already been set, the acquisition rumors simply added a spark to the fire.
I've said it before, Spectrum is a trendy stock. If you look at its recent trend then it looks possible that Spectrum could rally and break out higher. The only potential risk in regards to its trend higher is if the stock were to fall back below previous lows. So far, it has continued to post higher lows on pullbacks; its last pullback fell to $11.44, the stock is currently trading at $12.21. Therefore, as long as it stays above this level there will be many such as myself who try to use this trend as a sign of a rally. But if it falls below $11.44, then watch for shorts to take it significantly lower.
Spectrum is Fundamentally Cheap
In 2012, Spectrum Pharmaceuticals grew earnings by almost 100% yet depreciated in valuation by 20%. During a presentation, the company's CEO had said that revenue for 2012 would be greater than $300 million and that revenue would be even higher in 2013. With such growth, 10 drugs in its pipeline, and three approved drugs, you'd think this would be a momentum stock. Instead, it has the luxury of having the highest short ratio in the entire market and a P/E ratio below 9.0.
There's really no arguing the fact that Spectrum is fundamentally cheap. In fact, I don't think an argument can be made that the stock is priced too high. It has just about everything an investor would want in a biotechnology investment: It has growth, operating margins over 30%, a large pipeline, diversity, strong returns on equity, a large cash position, good cash flow, and large institutional ownership. Therefore, with all of these factors considered, doesn't it make sense that a large pharma company would be interested in purchasing it? Looking back on history, there have been acquisitions in biotechnology where companies without an approved product are acquired for five times peak sales on one product. Therefore, why wouldn't a large pharma company be interested in Spectrum?
Spectrum is Nowhere Near its Buyout Price
With Spectrum Pharmaceuticals, a company wouldn't just be buying its three approved drugs, but also its pipeline. The company has several late-stage products with high sales potential. When we look at its current product line, Fusilev is its bestselling drug, however, upside is minimal due to it treating a rare disease. Zevalin is a promising drug that the Spectrum CEO has said on multiple occasions could reach sales between $300 and $500 million. And Folotyn is believed to be able to reach sales between $75 million and $100 million. Therefore, with a best-case scenario, Spectrum's current product line could reach sales between $700 and $800 million, although unlikely. When you incorporate the company's pipeline, Spectrum becomes a very attractive company.
Looking at its pipeline of late-stage and Phase 2 products there are five total candidates, and I have located peak sales potential on four of those products. The company's two late-stage products are Apaziquone and Belinostat. Last Thursday the company announced that it had reacquired the full rights to its bladder cancer drug Apaziquone from Allergan, Inc (NYSE:AGN). In Allergan's region, peak sales were estimated at $500 million, yet the drug failed to meet its primary endpoint in two Phase 3 trials. All hope for this drug appeared lost, but it now looks as though Spectrum will further explore the drug to see if reduced tumor recurrence in the combined data after two years will appeal to the FDA. Therefore, it's still possible that this drug is approved at some point in the next two-three years, and could produce sales between $500 and $700 million.
Belinostat is another late phase drug that has so far been successful in all stages of testing. According to Edison Investment Research this is a product that could earn peak sales in excess of $500 million. Then, there are two Phase 2 products, Lucanthone and Ortaxel, which if successful could reach peak sales of $700 million combined. Now, when you add up the potential for its currently approved drugs, its late stage products, and the two Phase 2 products, this is a $750 million company that could reach sales of more than $2 billion. Of course this would be many years down the road, and would require all pieces of the puzzle to fall in place, yet it's still possible.
Even if Apaziquone is never approved, Zevalin never reaches its full potential, and one of its Phase 2 products fail, we're still looking at a company with revenue potential of more than $1 billion with other products in early stage development. Therefore, I believe there is value to this company. In my opinion, it's the safest investment in the class of high growth biotechs on a valuation/upside basis, and will trade higher regardless if it's acquired. As a result, there is little risk. Perhaps the only risk is that Zevalin never becomes a commercial success and that its pipeline underachieves. However, with a P/E ratio under 9.0 it looks like these risks are priced into the stock.
Conclusion:
I am in no way a fan of investors chasing a potential acquisition. Yet due to Spectrum's value compared to its potential, I believe there could be legitimacy to the rumors. Considering the fact that an acquirer would be purchasing its pipeline, it makes sense that a buyout price of 1-2 times peak sales would be discussed on a speculative basis. Therefore, it could be a $2 billion acquisition conservatively, if the company is for sale. This may sound overly optimistic, but would you say that a P/E ratio of 21 is too expensive for a company with this much potential?
It's somewhat ironic to discuss Spectrum as an acquisition target. This is a company that has built itself through acquisitions, and now may be looking to capitalize on years of good decisions and efficiency. The large pharma names such as Bristol Myers Squibb Co. (NYSE:BMY) or Gilead Sciences (NASDAQ:GILD) acquire speculative companies with one or two candidates for two-three times peak sales potential, which are deals that could never pay off in terms of profit. Spectrum is a bottom-feeder company, one that seeks and buys products that fly under-the-radar, products that no one else wants. Therefore, it knows how to find a good deal, and I assume that if sold that management will be sure to get proper value for its company and its pipeline.
Yet I must say, if you're going to invest in Spectrum, do it for the value and upside with or without the acquisition. If the acquisition occurs then it's just an added bonus.
Disclosure: I am long SPPI, GILD. I wrote this article myself, and it expresses my own opinions. I am not receiving compensation for it (other than from Seeking Alpha). I have no business relationship with any company whose stock is mentioned in this article.