Shares of Apple, Inc (Nasdaq: AAPL) might be halted after the close of regular trading today due to much higher than expected revenue and earnings results. Occasionally, stocks will be halted when a company's earnings results come in at levels that are far beyond the normal variance seen in a typical earnings report. In Q1 2007, for example, the NASDAQ halted trading in Apple when it delivered a pretty hefty beat on both the top and bottom lines. The NASDAQ will typically halt trading in a stock when big market moving news is pending. They do this both to allow a settling in of the news, and to give market makers time to organize the buy and sell orders in orderly fashion. I think this particular report might be one of those situations where the NASDAQ halts trading as Apple's earnings results are released to the public.
Analysts polled by Thomson Financial expect Apple to report earnings of $1.38 in EPS on $9.74 billion in revenue when Apple releases its results shortly after the close of trading this afternoon. The analysts are looking for Apple to sell approximately 4.5 million iPhones, 18.5 million iPods and about 2.45 million Macs this quarter. I'm looking for Apple to beat those expectations quite handily. I expect Apple to report earnings of $1.81 in EPS on $10.730 billion in revenue driven in part by sales of 7.11 million iPhones, 20 million iPods and 2.72 million Macs. On a non-GAAP basis, I'm expecting Apple to report earnings of $3.12 in EPS on $13.646 billion in revenue driven by approximately $4.266 billion in fully recognized iPhone revenue. The tables below outline my earnings forecast, and unit sales estimates for Apple's first fiscal quarter of 2009:
Andy Zaky's Earnings Estimates for Q1 2009 (in Millions, except for per share data)
Revenue Breakdown by Unit Sales for Q1 2009
At the outset of the quarter, I offered detailed arguments as to why there might be such a disparity between analyst consensus estimates and reality (see here). The analysts simply were too carried away with the chopping of their estimates this quarter, and they let the bear get the best of them. If previous earnings debacles weren't already embarrassing enough for the analysts, then this quarter should be one for the books. The sad part is that all of the data in support of my estimates are available to the public at large. All it takes to accurately forecast Apple's results is basic math and common sense – Wall Street analysts seem to lack in both regards. The table below outlines earnings estimates from several prominent Wall Street analysts along with a few rather accurate, but unaffiliated analysts.
Q1 2009 Analyst Estimates GAAP-Based (Lowest Est. in Red; Highest in Green)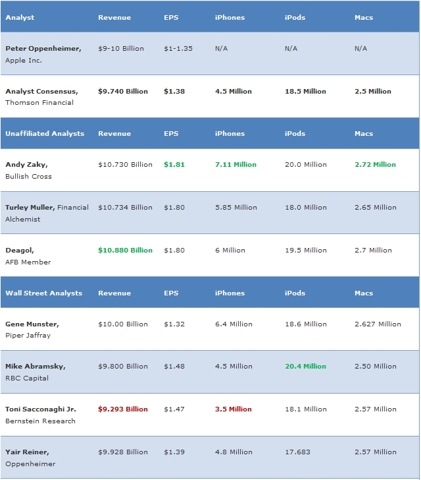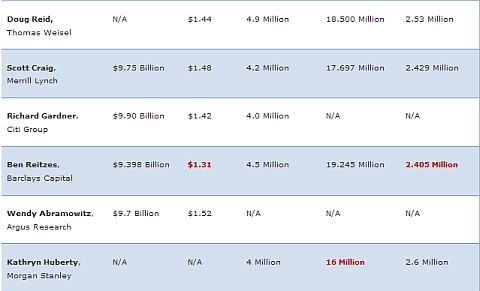 Some notable highlights from the table above include the rather bearish outlook by Toni Sacconaghi from Bernstein Research who is famous for incorrectly predicting that Apple would not meet its internal but highly publicized goal of selling 10 million iPhones in 2008 (Apple completed the feat in nine months). Sacconaghi is looking for Apple to come in at the extreme low end of its proffered revenue guidance of $9 billion. I guess Sacconaghi has a difficult time understanding the term "prudence" which Apple repeatedly used in its Q4 conference call to describe the nature of its guidance. While it was difficult to secure full estimates from Kathryn Huberty, her revenue expectations are likely quite low given the fact that she is once again modeling for apocalyptic iPod sales. This wouldn't be the first time Huberty has modeled for the complete destruction of Apple's financials, and it certainly won't be the first time she is shown to be dead wrong, either.
Also interesting is how all three unaffiliated analysts arrived at very tight estimates for Q1. Both Deagol from Mac Observer's AFB (famous for his accuracy in forecasting based on his tracking of web orders is forecasting sales) and Turley Muller from the Financial Alchemist have come within a few million dollars in revenue of my own revenue estimates. Each of us is basically looking for $1.80 in EPS when Apple reports this afternoon.
In terms of non-GAAP earnings forecasts, several analysts including Yair Reiner and Ben Reitzes simply failed to provide estimates for Apple's adjusted earnings in their research reports despite the fact that Apple promised to report adjusted earnings on an on-going basis. I was able to secure non-GAAP revenue estimates from a few analysts however, and each is presented in the table below.
Q1 2009 Analyst Estimates Non-GAAP (Highest Est. in Green; Lowest in Red)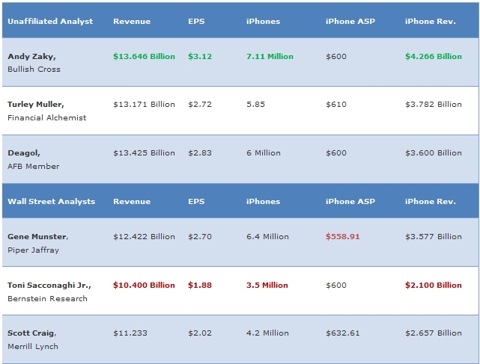 The table above should highlight just how delusional some Wall Street analysts can be regarding Apple's financial situation. Toni Sacconaghi's non-GAAP estimates have risen beyond the level of mere incompetence to outright negligence. Sacconaghi's non-GAAP revenue estimates are almost $400 million below the unaffiliated analyst consensus for GAAP-based revenue! If Apple does happen to report in-line with our expectations, Sacconaghi will have missed calling Apple's revenue by more than $3 billion! It will be interesting to see if his clients continue to place any weight in his future forecasts if such an event happens to happen. After all, why pay for a research report if you could do a better job guessing?
Macintosh Sales Estimate
I arrive at the 2.72 million Mac unit sales estimate based on interpreting quarterly data released by the Gartner Group on computer sales in the United States. I also use IDC and NPD data as secondary sources to complement my primary analysis. Gartner data is especially helpful in that it typically predicts about 44-46% of Apple's total sales during fiscal Q1 and Q4 while accurately predicting between 55-63% of Apple's total Mac sales in Q2 and Q3 of any given fiscal year. While this quarter is unusual in that it is difficult to tell just how well Mac sales fared in Europe, the fact that Apple grew its U.S. sales rather dramatically on YoY basis might suggest that things are not as bad as they might seem.
I place a lot less emphasis on NPD data because NPD focus exclusively on retail chain store sales. Apple's own retail has been growing at an explosive pace and to extrapolate Mac sales data from NPD findings places the analyst on rather dangerous grounds. This is especially true in an environment where retail sales are sinking and online sales are booming. To read a full in-depth analysis on this method of forecasting Mac sales, click here. Gartner data this quarter seems to suggest that Apple will post sales of 2.670 to 2.852 million Macs.
Quarterly Released Gartner Data Compared to Actual Macintosh Sales
Macintosh Unit Sales Breakdown by Region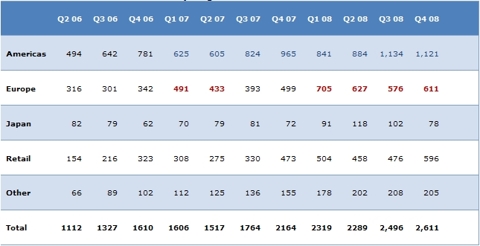 Comparing Actual U.S. Sales with Total Actual Sales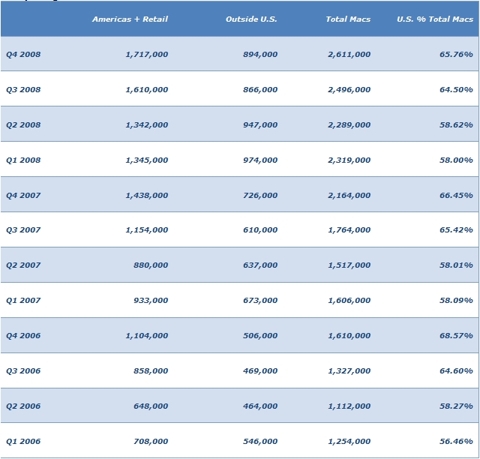 A Note on iPhone Sales Estimates
Last quarter, the analysts missed on their iPhone sales forecasts by an average of 72%. Even bullish analysts such as Gene Munster from Piper Jaffray missed iPhone estimates by close to 30%. The unaffiliated analysts, by contrast, all came within 8% of the actual number. The unaffiliated analysts arrive at their iPhone estimates by tracking IMEI data, which unofficially tracks the actual production rate of the iPhone by analyzing the TACs or numbering system used by Apple. Not the hocus pocus nonsense methods which seem to be employed by Wall Street analysts and which lead them to miss estimates by 72%. Seriously, what the hell is the point of using a research method that leads one to miss estimates by a whopping 72%!
At the end of November, IMEI data suggested that Apple had produced its 15 millionth 3G iPhone. Yet, no data is available for the month of December so a lot guess work has to go into how might have happened in December. Since its debut, Apple has produced, on average, about three million iPhones per month. If one conservatively assumes that Apple produced only one million iPhones in December (only 33% of the normal rate), that would put Apple at a total of 16 million 3G iPhones produced. If one subtracts the 3G iPhones Apple already reported as sold in Q4 2008 (6.89 million), one will arrive at a total of 9,110,000 iPhones that could have potentially been sold. However, one always has to assume that about 2 million iPhones are sitting in Apple's inventory, are replacements for defective iPhones, or are damaged during the manufacturing process. Thus, if one subtracts about 2 million iPhones from the total potential sales for the quarter, one would arrive at 7.11 million iPhone sales. Read more about this extremely accurate method of forecasting iPhone sales here.
Analyst FY 2009 Earnings Forecast for Apple, Inc.
While investors should rightly focus on Apple's Q1 earnings results out after the market closes today, I think it's important to hold analysts accountable for their obvious errors in forecasting 2009 earnings results. So, before analysts are quick to adjust the FY 2009 estimates after Apple reports today, I thought it would be nice to remind everyone how these analysts have handled themselves over the past few months. The table below outlines several Wall Street analyst estimates, price targets and buy ratings for FY 2009. I find it interesting that it's a lot easier to locate a Wall Street analyst's FY 2009 estimate than it is to find that same analyst's estimate for the current accounting period.
FYE 2009 Analyst Estimates for Apple, Inc. (Highest Est. in Green; Lowest in Red)
Disclosure: None