Investment Thesis
Dunkin' Brands Group Inc. (NASDAQ:DNKN) has the potential to become a global brand and continue with its trend of increased earnings for the long-term. The combination of experienced management and expansion opportunities overseas make DNKN a very attractive investment for the long term. With declining coffee prices, DNKN will become increasingly profitable over the next few quarters. I have a BUY rating for DNKN and think that the next pullback in the stock would be a great opportunity for investors.
Company Report - Initiation of Coverage
Rating & Target
BUY
Target Price (18 months): $45.00
Current Price (02/01/2013): $36.71
Total Return to Target: 22.58%
52-Week Range: $27.36-$40.00
Market Data
Beta: 0.77
Market Capitalization (Mil.): $3,875.05
Shares Outstanding (Mil.): 105.56
Dividend: $0.19
Yield: 2.07%
(Market Data from Reuters)
Company Description
Dunkin Brands Group Inc. is a franchiser of restaurants serving coffee and baked goods, as well as ice cream within the quick service restaurant segment of the restaurant industry. The Company operates its business in four segments: Dunkin' Donuts U.S., Dunkin' Donuts International, Baskin-Robbins International and Baskin Robbins U.S. It franchises restaurants under its Dunkin' Donuts and Baskin-Robbins brands. The Company has about 16,800 points of distribution in 58 countries. It leases and sub-leases properties to franchisees in the United States and Canada.
1-Year Performance
Source: Yahoo Finance
Investment Overview
Expansion into new territories
On January 16, 2013, Dunkin' Donuts announced that it is expanding to Southern California. Dunkin' Donuts has been strategically expanding in contiguous markets across the country with a long-term goal of having more than 15,000 restaurants in the United States alone. In 2012, Dunkin' Donuts announced the opening of 291 net new locations in the United States. In 2013, the company says it plans to open 330 to 360 net new restaurants in the United States, with growth coming from both new and existing markets. In regards to the expansion efforts being made by Dunkin' Brands, CEO Nigel Travis states:
In addition to California, we believe we have incredible domestic growth opportunities for Dunkin' Donuts, both east and west of the Mississippi. On a global basis, we remain committed to our long-term development goal, which calls for us to accelerate to approximately a 5 percent net new annual development rate for Dunkin' Donuts and Baskin-Robbins combined.
On January 30, 2013, Dunkin' Donuts announced that the company signed a franchise agreement with Vietnam Food and Beverage Co. Ltd., whose partners have a proven track record of success in the local restaurant industry, to develop the brand in Vietnam. The agreement calls for the development of Dunkin' Donuts restaurants across the country over the next several years, with the first locations planned for the Ho Chi Minh city area. Dunkin' Donuts currently has more than 10,000 restaurants around the world in 32 countries, including more than 1,450 locations in Southeast Asia. In 2012, the brand entered several new markets, including India and Guatemala, and announced expansions in a number of existing markets, including Chile, Colombia and Germany.
Dunkin' Brands reports higher profit; hikes dividend
Dunkin' Brands reported a higher quarterly profit on January 31, 2013 after sales at established Dunkin' Donuts cafes in the United States came in above analysts' estimates. Dunkin' Donuts shops in the United States account for almost 75 percent of the company's revenue and more than 80 percent of its profits. During the fourth quarter, that business reported a 3.2 percent rise in same-store sales, compared with the 2.4 percent rise analysts had expected. The company's net income rose to $34.3 million, or 34 cents per share, from $11.6 million, or 30 cents per share, a year earlier. However, revenue fell 4 percent to $161.7 million. The company also raised its quarterly dividend by 4 cents to 19 cents per share.
New products in store
Product innovation is a huge contributor to the success of Dunkin' Brands. In 2012, they launched more than 30 new products. This included, Breakfast Burritos, the Oreo Coolatta, the Roast Beef Bakery Sandwich, Red Velvet Donuts and Mocha and Pumpkin K-Cups. They also tested more than 40 new products in 60-plus market tests. More of the products that they tested in 2012 will be in their restaurants in 2013. As CEO Nigel Travis states in his fourth quarter results earnings call:
I'm more positive than ever about our product pipeline. Products are competing with each other to get into the restaurants, and consumers crave and love our beverages and food, driving both traffic and ticket. And in keeping with the focus franchisee profitability, we have a portfolio of high-margin products from beverages and sandwiches.
He believes that product innovation will contribute to another strong year of comps store sales growth for Dunkin' U.S. For 2013, they are targeting 3% to 4% comps, part of this innovation will be K-Cups, an area that achieved great growth in Q4. With the continued growth in brewers, he thinks that 2013 will be another great year of K-Cup growth.
Going mobile
CEO Nigel Travis' vision for Dunkin' is that in a couple of years, they are a leader in the quick service restaurant industry when it comes to using mobile technology. They want to enable an entirely new level of speed and convenience market and engage them on a much deeper level to further distinguish their brand from the competition. Dunkin's mobile app got off to a great start in 2012, ending the year with more than 1 million downloads. Their goal is to more than double that number of total app downloads in 2013. In November, they began weekly mobile offers through the app and did 10 offers over the course of the last couple of months of the year. It is still in the early stages of mobile offers, but in 2013, there will be an increase in offers as well as more geographically targeted offers.
Company Overview
Dunkin' Brands Group, Inc., incorporated on November 22, 2005, is a franchiser of restaurants serving coffee and baked goods, as well as ice cream within the quick service restaurant segment of the restaurant industry. Through its Dunkin' Donuts brand, it develops and franchises restaurants featuring coffee, donuts, bagels, and related products. Through its Baskin-Robbins brand, it develops and franchises restaurants featuring ice cream, frozen beverages, and related products.
Dunkin' Donuts-U.S.
Dunkin' Donuts is a United States quick service restaurant concept. Dunkin' Donuts has transformed itself into a coffee and beverage-based concept and is engaged in hot regular coffee, with sales of over one billion servings of coffee annually. As of December 31, 2011, there were 10,083 Dunkin' Donuts points of distribution, of which 7,015 were in the United States and 3,068 were international. Its points of distribution consist of restaurants, and gas and convenience locations, as well as alternative points of distributions, such as full- or self-service kiosks in grocery stores, hospitals, airports, offices, colleges and other smaller-footprint properties.
Baskin-Robbins-U.S.
Baskin-Robbins is the #1 quick service restaurant chain in the United States for serving of hard-serve ice cream and develops and sells a range of frozen ice cream treats, such as cones, cakes, sundaes and frozen beverages. As of December 31, 2011, there were 6,711 Baskin-Robbins points of distribution, of which 4,254 were international and 2,457 were in the United States.
International Operations
The Company's international business is primarily conducted through joint ventures and country or territorial license arrangements with master franchisees, which both operate and sub-franchise the brand within their licensed area. During the year ended December 31, 2011, it represented 23.1% of Dunkin' Brands global franchisee-reported sales.
Experienced Management Team
Dunkin' Brands has a management consisting of very experienced individuals. Starting with its CEO Nigel Travis, who has been Chief Executive Officer since January 2009. He served as the President and CEO of Papa John's International Inc. from April 1, 2005 to December 2008. Mr. Travis served as the President and Chief Operating Officer of Blockbuster Inc. from September 2001 to October 27, 2004. He served as the President and Chief Operating Officer of UI Video Holdings, Inc. He was credited with stabilizing the inherited base of 330 restaurants, restoring profitability to this business unit and leading the expansion to 650 restaurants in 20 countries. The Non-Executive Chairman of the Board of Dunkin' Brands Group Inc. is Jon L. Luther. He has served as non-executive Chairman of the Board since July 2010 and prior to that as Chairman from January 2009. He previously served as CEO of Dunkin' Brands from January 2003 to March 2006 and was appointed to the additional role of Chairman in March 2006. Prior to joining Dunkin' Brands, he was President of Popeyes from February 1997 to December 2002.
Industry Overview
Competition
Dunkin' Brands' major competitors are 7-Eleven, Burger King (BKW), Cold Stone Creamery, Dairy Queen, McDonald's (NYSE:MCD), Starbucks (NASDAQ:SBUX), Tim Hortons (THI) and Wendy's (NYSE:WEN). Although DNKN is smaller in market cap than its closest competitors, it has been increasing its profitability over the years and is now a strong force in the quick service restaurant industry, as shown by its stock performance over the past year compared to its closest competitors.
| | | | | |
| --- | --- | --- | --- | --- |
| | DNKN | SBUX | MCD | INDUSTRY |
| Market Cap. | $3.88B | $42.61B | $96.33B | $628.62M |
| Revenue | $658.18M | $13.66B | $27.57B | $428.10M |
| Gross Margin (NYSE:TTM) | 0.78 | 0.57 | 0.39 | 0.31 |
| Net Income | $108.31M | $1.43B | $5.46B | - |
| EPS | 1.03 | 1.86 | 5.36 | 0.40 |
| P/E | 35.71 | 30.59 | 17.91 | 22.08 |
| PEG (5 yr. expected) | 1.57 | 1.42 | 1.89 | 1.40 |
| Current Ratio (MRQ) | 1.19 | 1.85 | 1.01 | 1.58 |
Source: Yahoo Finance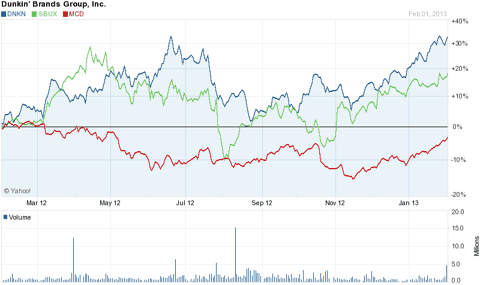 Click to enlarge
Source: Yahoo Finance
Financial Analysis & Outlook
F4Q12 Results Overview
· Revenue of $161.70 million; -4% yoy
· EPS of $0.34; +13.3% yoy
· Net income of $34.3 million; +196% yoy
· Net profit margin 5.48%
· For the full year, Dunkin' earned $108.3 billion, a 231.9% increase over the previous year
F1Q13 Preview
For the upcoming fiscal quarter, Dunkin' Brands is estimated EPS of $0.29. This decline in earnings from the most recent quarter is partly a result of increasing wheat prices from last year's drought. However, with lower coffee prices, Dunkin' is sure to rebound as the year goes on and post higher earnings, as they have done over the years before.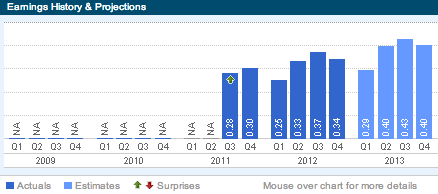 Source: CNBC
Conclusion
I believe that Dunkin' Brands will continue to gain more of the quick service restaurant market share through expansion and new products. Since most of its U.S. locations are still in the northeast region, there is much room for expansion into new markets. Its P/E ratio has been decreasing over the past couple of years from increased earnings, as shown by the following graph of its P/E ratio over the years. As it expands its Dunkin' Donuts and Baskin-Robbins brands internationally, as well as domestically, it will truly become a global brand.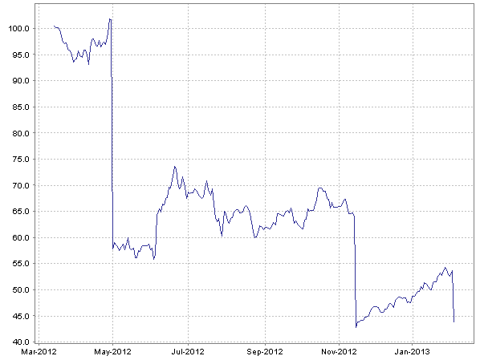 Click to enlarge
Source: Mergent Horizon
Disclosure: I have no positions in any stocks mentioned, and no plans to initiate any positions within the next 72 hours. I wrote this article myself, and it expresses my own opinions. I am not receiving compensation for it (other than from Seeking Alpha). I have no business relationship with any company whose stock is mentioned in this article.