Apple Inc. (NASDAQ:AAPL) -- manufacturer of the world's highest-satisfaction, most-loved, and best-selling tablet -- is persistently rumored to intend selling Apple-branded televisions or otherwise entering the home entertainment market with a product competing with game consoles. Some of the stories are clearly labeled as fantasies (bigger-than-HD screens dwarfing competitors' pixel counts), but many of them claim evidence like insider reports from assemblers, reports of testing, or information from screen suppliers. Apple doesn't make a game console per se, but software developers have commented repeatedly on the strength of Apple's phones and tablets (and mini-tablets) as game console substitutes. Success with iOS devices as portable game-machines, and developers' attention to iOS for game development, has positioned Apple to evolve its product line to include a living-room game console. What risk do competitors really face from Apple in the living room?
Although Microsoft (NASDAQ:MSFT) has become the volume king of the game console, it spent quite a bit of time from the 2001 Xbox debut through its eventual release of the Kinect losing money in the console business, subsidizing its efforts from other business segments. And Microsoft isn't the only competitor seeking to take over your living room: Nintendo (OTCPK:NTDOY) has long made money selling consoles while competing with firms making beefier, costlier hardware. Historically, its lightweight hardware sold more units than competitors, though Microsoft recently took the lead in units. And Sony (NYSE:SNE) is fighting to drive its console sales beyond even those of Microsoft, with cumulative sales of its PlayStation3 exceeding 70 million units in sales on the heels of the earlier-released Xbox360.
Intent To Distribute
When Apple first announced third-party developers would be able to create native iPhone applications, an early demo included a prototype game involving a spacecraft flying on a starry background to the accompaniment of 5.1 surround sound. Ever see portable hardware that delivered actual 5.1 surround? Of course Apple wasn't planning that feature to be experienced with a mobile device. Then, Apple asked to buy Bungie - maker of the hugely popular Halo series - mere days after it had consummated a deal with Microsoft, angering Steve Jobs. Who can think Apple doesn't intend to sell a major game platform? With real 3D sound?
Already, Apple instructs developers how to use AirPlay to put iOS content on AppleTV, taking over the HDTV in your living room and delivering sound through the best equipment in your house: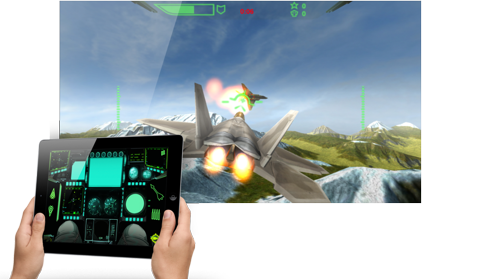 In case the above image - from Apple's own AppleTV page - fails to illustrate the point adequately, Apple already sells a set-top console whose controller is an Apple-branded phone or tablet. Apple just hasn't bothered to push the platform as a game. As illustrated in the game being played in the image, the tablet can depict controls completely different than what's depicted on the user's big screen.
A few months ago Apple (apparently inadvertently) exposed to users a category for buying holiday-themed apps and games (this and more photos at MacOS Ken in the prior link)...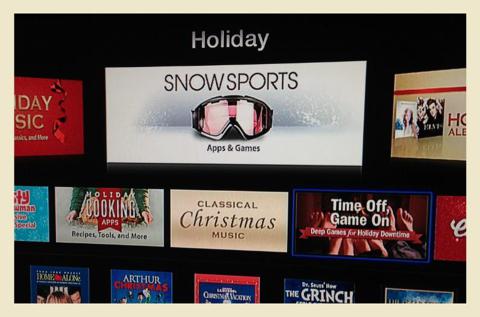 Still, Apple doesn't market the AppleTV primarily as a game console. This is particularly interesting since Apple continues to beef up its set-top box with the very same processor improvements that appear in iPads and iPhones. With the power to drive multiple monitors with 3D graphics and surround sound, Apple's high-production-volume hardware used inside the AppleTV is ideally suited to run games at least as sophisticated as those on iPads. Even onlookers who doubt the iPhone 5 will revolutionize mobile gaming admit Apple's phones' chips crunch pixels so well they approach the specs of dedicated consoles.
Since iPads can run better-than-HD screens while driving remote monitors, perhaps the fantasy described above about better-than-HD televisions and the potential for 3D is not so far-fetched as it first appears. With the hardware available to Apple from its iOS business, there's little limit to the potential extent of its vision for a high-end model.
Demand
NPD estimates Americans will buy 39 million game consoles in 2013. Microsoft's 24-month run leading console sales includes a 1.4 million-unit December. Nintendo forecasts selling four million Wii U consoles in 2013. In fiscal 2012, Apple sold 5.3 million set-top units, while continuing to refer to AppleTV (as did Steve Jobs) as a "hobby". But what a hobby: in Apple's last-announced quarter, Apple sold 2 million units - half the sales Nintendo expects to sell in a whole year, and 42% more than Apple sold the prior holiday quarter (despite the shorter week count). And Apple hasn't begun selling a "game console" yet. Just a screen-sharing set-top box - in effect a DVD player that can't play a physical DVD.
For a hypothetical and unseen Apple-branded television, demand seemed strong in surveys, which show interest exceeding that of iPhone interest in 2007 and iPad interest in 2010. Customers reported high interest in an Apple-branded television, and willingness to pay about a 20% premium to own one. Apple's valuable brand apparently signals to consumers "electronic gadgets" that "just work." And apparently, people are willing to pay for that. Since the television is now households' primary screen for online content, rebellion against customer-hated over-complicated "smart" TVs should be easy to for Apple to foment. Easy-to-use access to online content through televisions should be an easy sale to online content consumers.
Televisions are a $31 Billion market, and offer lots of room at the high end. Half a million ultra-high-definition "4Kx2K" televisions are forecast to ship this year, for example. And customers don't tend to change TVs often (maybe 7-8 years, according to detractors), which means Apple has much longer to enjoy the post-sales benefit of a TV installation than it does a cell phone sale. A large market need not have a lot of turnover to offer material opportunity.
Business Model
Historically, manufacturers used software revenues to subsidize game console hardware in order to reduce sticker-shock. Since games were priced to cover hardware losses, they were relatively expensive. People who wanted a large game collection produced huge revenues for manufacturers, but the cost of games made that prospect so expensive it supported an aftermarket enterprise in dealing used games. When the Xbox was first launched in 2001, its heavily-discounted hardware was only available to buyers who bought a couple of ~$50 games at the same time. Microsoft cheered the high "connect rate" caused by the mandatory tying practice, but still lost money. Some users' unorthodox employment of Xbox hardware led to small-scale but unintentional Microsoft subsidy of Linux desktops and Beowolf clusters. In short, the classic console business model required costly game titles to support hardware sold below cost. However, since the introduction of Xbox360, Microsoft has priced some Xbox models at a premium to manufacturing costs. Currently, subscription services supply subsidy revenue for some hardware units. The subsidy/premium difference between Xbox360 and PS3 may explain why the latter has reached 70 million in sales faster in fewer months since introduction.
Compare the iOS model. Tablets are sold without subsidy, at a profit. Compared to games written for the subsidized-hardware market, iOS games are cheap, and getting cheaper. Since iOS development is much cheaper than on platforms with higher costs of entry, iOS games are also plentiful. Instances exist in which highly-popular games have been written by a single developer using Apple's free development tools. People can therefore afford more games, increasing the value of the platform to the user. Many top-grossing games are free to download, but offer in-app opportunities to buy in-game currency to advance game play. Like the quarter-eating arcade games we grew up on, iOS developers' products sip gently at users' wallets month after month. Apple keeps 30% of that revenue. Ignoring hardware margins for a moment, Apple currently grosses about $12 billion a year through its content store.
On the other hand, Apple isn't having a hard time moving hardware, or subsidizing it. Without a need for costly screens, special glass, and other costly components, Apple's existing set-top box is relatively cheap to make. Because of enormous economies of scale in sourcing components, Apple can make money on hardware capable of competing with dramatically more expensive products.
Between customers' willingness to pay a premium for an Apple-branded TV and Apple's capacity to control its costs, billions seem available in big screens. Apple doesn't price AppleTV for hardware-only profit, however. Apple is using the power of its ecosystem to make every Apple product more valuable. How valuable? Despite much lower numbers of set-top units, Apple's iTunes clobbers Microsoft's video on demand. Long-lived hardware like an Apple-branded television will make more valuable every Apple computer, tablet, phone, and iOS music-player - while making ownership of any of those products stickier. Apple prices products not for profit per-product, but enterprise-wide.
Apple's living-room push won't just enhance Apple's massive media marketing machine, but will increase use of other Apple hardware because the ecosystem makes them more useful - more valuable to users - in combination. And the more users buy and organize content with Apple's tools, Apple products will seem more and more valuable for accessing them. Unlike music - in which Apple famously disdained DRM then cut it from the store - movies are still encumbered with anti-piracy encryption whose side-effect is non-portability across device types. As Apple moves more people onto Apple-sourced applications and video content and other non-portable media investment, users' willingness to start over with a competing product will wane.
Show Me The Money
The installed base of televisions is about 1.4 billion units globally, but this number grows annually due to factors such as the addition of households and the increase in televisions per household. The UK market for televisions absorbed 10 million units in 2009 despite the recession; with a $1000 product, Apple would achieve a billion in revenue in the UK alone if it took ten percent of that market.
In 2012, global television sales shrank about 4% to 237 million units. This number is slightly misleading, though: if one excludes CRTs - a legacy technology Apple has rejected for years - Apple's addressable market actually grew. The same sales volume is expected in 2013. Connected televisions are expected to enjoy particular growth: the installed base of connected televisions is expected to grow from about 100 million at the start of 2012 to over half a billion by 2016. China, where Apple enjoys triple-digit growth lately, will surpass the US in connected televisions in 2014.
Forbes published an estimate that Apple-branded televisions could sell 156,000,000 units globally in their first year. At an average price of $1060 apiece (as assumed in the article), this would mean over $160 billion in revenue. The Forbes estimate uses Morgan Stanley projections of US sales to estimate global sales based on Apple's recent trends in US vs non-US revenue percentages. Assuming Apple's product has 20% margins - much lower than on other product lines - this would yield over $33 billion in earnings in a year. This would amount to over $30 per share in earnings from a business that currently doesn't exist, and does not appear in estimates that currently project Apple earning $50 per share in calendar 2013. The Forbes article concludes the surprise Apple earnings would double the stock price.
Since Apple hasn't launched its new product yet, revenue over the first twelve months can't actually accrue in calendar 2013. Moreover, differences between US demand and non-US demand could have material effects on total global sales, even if the global release were simultaneous. Although Apple's last major launch reached China in record time, regulatory approvals still prevent Apple from achieving simultaneous global launches. So, there are many things to consider before accepting Forbes' numbers for Apple's unnamed, unreleased product.
Among these considerations are the following: Apple is already doing something that appears to compete with unreleased consoles at the price point of $100, allowing Apple to deliver an Apple experience to consumers use other manufacturers' HDVTs. So Apple's competition might span a much larger range of prices than Forbes suggests. On the other hand, back when Apple held cellphone market share of 4.2% in the third quarter of 2011, it nevertheless reaped 52% of the profits. Apple may very well elect not to compete in market segments in which it isn't offering an outstanding product, and profit wildly in the market segments it actually chooses to pursue. Increases in content deals may impact Apple's financial benefit from its installed base over time, in ways that are not captured in estimates based solely on TV hardware sales. As both a hardware vendor and a content vendor, Apple is in an unusual place to profit from televisions. As a vendor capable of selling hardware without needing to subsidize it, Apple is also in an extremely favorable position as a potential console competitor.
Apple: Lost Without Jobs?
There's been argument both sides on whether Apple is doomed to decline due to the departure of its pitch-man arbiter of taste. The attack on television transcends the debate. The reason is simple: it's not a post-Jobs project.
Before his death, Steve Jobs reported to his biographer that Apple had cracked the TV problem. Of course, Apple didn't yet have a TV-related product beyond the AppleTV, but the implication is that Apple has a Jobs-approved internal product strategy not yet launched on the public. Apple's movement to execute this plan can't reasonably be dismissed as a misdirected post-Jobs descent into failure, as the program clearly had the blessing of the leader everyone seems to agree had his finger on the pulse of electronic gadget success.
Without speculating whether Apple's attack on the living room is a game console or a television or both, it's evident Apple continues to execute its founder's vision for television. Just like Jobs' vision for textbooks was interactive, so too is the vision for television: it will ultimately include elements that make it a direct competitor to set-top boxes.
Conclusion
Apple, far from running out of good ideas, is using its huge platform power to advance its reach into the living room. It's not a desperate gambit cooked up at the last minute by B-team players scrambling to make a quarterly number, but the evolution of ideas Steve Jobs claimed he'd worked out to solve the living room problem. Either the television market or the console market would be multibillion dollar markets, and Apple's apparently preparing to plunge into both.
Current market estimates value Apple's upcoming living room project at $0. Despite the unannounced nature of the project, however, it is far from speculative. Apple's clear development path has been toward an attack on the home entertainment center, and no less authority than Steve Jobs has declared the problem successfully solved. With Jon Ives in charge of critical living room hardware that must have an enjoyable interface, Apple seems on the threshold of an undervalued winner.
Disclosure: I am long AAPL. I wrote this article myself, and it expresses my own opinions. I am not receiving compensation for it (other than from Seeking Alpha). I have no business relationship with any company whose stock is mentioned in this article.