Dara BioSciences (DARA) is a small oncological support company currently trading with a market cap of $21.3 million and a share price of $1.14. DARA owns the rights to a host of viable oncological support drugs and products, which are expected to return a steady and sizable revenue stream over the next several years. In addition to having several approved products about to enter -- or already on -- the market, Dara BioSciences holds the U.S. patent to a drug that, provided future clinical studies prove positive, would provide it with access to a sizable portion of a $2.5 billion market.
Current Outlook and Products
Despite gaining over 20% in the last several days, DARA is currently trading about 60% off 52-week highs. In November 2012, Ladenburg Thalmann initiated coverage of the company with a buy rating and a price target of $2 -- a 75% increase over current share prices. Institutional ownership has climbed steadily, while short interest has decreased to only 6.2% of the current float.
With a cash burn rate of $2 million per quarter and about $9 million in cash from a December dilution, without including expected revenue from products launched in 2012 and early 2013, Dara BioSciences should have enough operating cash to last well into the fourth quarter of this year -- beyond upcoming catalysts. Prior articles on Seeking Alpha provide a wealth of information regarding the anticipated success of DARA's current product line, so I'll just summarize before moving on to upcoming catalysts. For a more in-depth analysis of current products and drugs, I suggest reading this article by Jason Napodano.
In 2012, Dara BioSciences launched two new products, Soltomax and Bionect, and will be launching a third product, Gelcair, early this year. In just nine short months the company has readied and launched three products with combined expected sales of approximately $30 million, with an ANDA about to be filed with the FDA for a fourth product, Gemcitabine. Fundamentally, shares of DARA present an opportunity to invest in a highly undervalued company relative to future earnings.
Soltomax
Soltomax is a liquid formulation of current standard, Tamoxifen, to be prescribed as a chronic therapeutic for breast cancer and typically administered over a period of three to five years. Soltomax's liquid form addresses a subset of the population who has difficulty swallowing pills.
While there is always a subset of the population that displays an aversion to swallowing pills, chemotherapy and radiotherapy often result in complications that exacerbate dysphagia (difficulty swallowing). Soltomax is a unique product in its market, as it is the only available option to patients taking Tamoxifen who want, or need, a non-pill vector for the drug. Current peak revenue expectations for Soltomax are in the $20-$30 million a year range.
Click to enlarge images.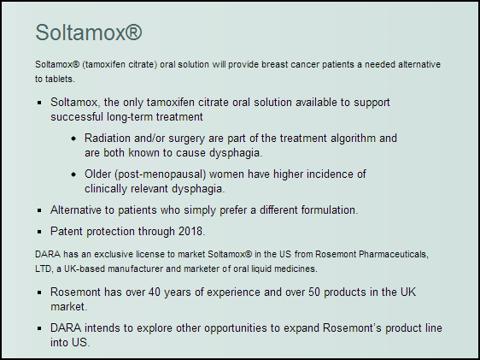 Source: Darabio.com.
Bionect
Bionect is a topical treatment for burns resulting from radiation therapy, which comes in either a cream or gel and can be used to prevent or treat burns and skin irritation. Bionect contains a low molecular weight hyaluronic acid, which is able to more easily penetrate tissue and stimulate wound healing than current formulations of hyaluronic acid. Current revenue expectations for Bionect are about $5 million a year.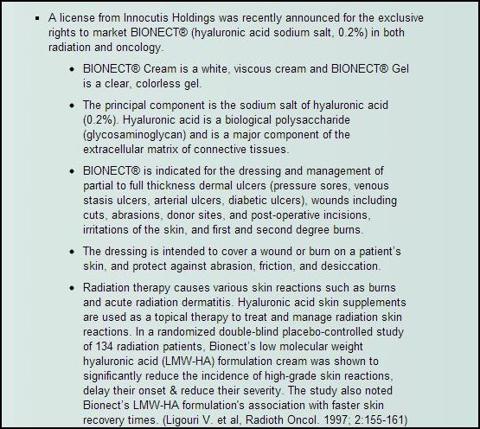 Source: Darabio.com.
Gelcair
In September 2012, Dara BioSciences entered into an exclusive agreement with the Helsinn Group for U.S. commercial rights to market Gelclair for the purpose of treating oral mucositis (mouth sores) resulting from chemotherapy. Oftentimes patients undergoing chemotherapy or radiotherapy develop mouth sores and lesions that are painful and disruptive to quality of life. Gelcair is a bio adherent oral gel that should help alleviate and manage those painful symptoms caused by mucositis. Gelcair forms a protective barrier over oral mucosa while hydrating and lubricating damaged tissue, and it has been clinically shown to alleviate painful symptoms. Anticipated U.S. sales of Gelcair are in the $3-$5 million range.
These three products combine to yield an expected revenue stream in the range of $28-$40 million annually. Each product addresses a niche within a specific market and faces relatively little competition. Conservative revenue estimates for Dara BioScience's current line of products should result in a fair amount of optimism for the fundamental investor. However, as previously indicated, the purpose of this article is to highlight upcoming catalysts for the biotech event investor. My optimism for future share prices of DARA has less to do with its solid fundamentals and more to do with the company's ability to excite and invigorate the investing public through meaningful upcoming catalysts.
Upcoming Catalysts

One of the possible bad complications resulting from chemotherapy is damage to nerves of arms and legs, referred to as chemotherapy-induced peripheral neuropathy, or CIPN. CIPN is a potentially permanent and disabling disorder that often results in severely limited quality of life. In 2004, KRN5500 was licensed to DARA from Japan's Kirin Brewery. KRN5500 is an analgesic non-opioid that has been shown in four different studies to be a safe and effective treatment for pain reduction in individuals suffering from CIPN. The implications of a non-opioid drug being available to individuals suffering from CIPN as an effective pain management drug are staggering -- consider the recent push by the FDA to move away from opiate class drugs as evidenced by an FDA ADCOM rejection of Zohydro, a Tylenol-free opiate from pharmaceutical company Zogenix.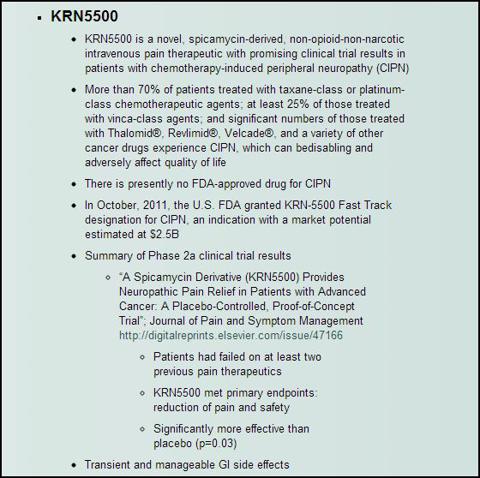 Source: Darabio.com.
While the implications and potential market for KRN5500 are huge -- think billions -- DARA has yet to find a partner willing to fund Phase IIb studies, which are expected to cost around $8 million according to CEO David Drutz. However, on Nov. 29 Dara announced its intentions to seek orphan drug status for KRN5500. The benefits of being designated an orphan drug by the FDA are numerous and include tax credits, marketing incentives,and extended market exclusivity, and should go a long way toward encouraging potential partnerships with Dara BioSciences. A lack of currently approved non-opioid therapies for the treatment of CIPN leads me to be optimistic about KRN5500's chances to be designated as an orphan drug candidate.
We can expect a decision regarding KRN5500's orphan designation by the end of March/beginning of April. Should the FDA see fit to designate KRN5500 as an orphan drug, we would see a significant gain in share prices. We can conclude that KRN5500 provides two powerful near-term catalysts for DARA share prices. The first being an anticipated partnership with a major drug company sponsor for KRN5500 Phase IIb clinical studies, and the second an FDA decision regarding DARA's application to have KRN5500 designated as an orphan drug.
Summary
It is hard to imagine a better play for the biotech event investor. Not only is DARA undervalued at current prices, but considering upcoming catalysts and product launches, the company should generate a fair amount of long-term and speculative attention. An FDA decision regarding KRN5500's orphan drug designation as well as any news regarding partnerships would have a significant impact on share prices. I am excited about the possibilities of a company trading with a market cap of $20 million being able to tap into a $2.5 billion revenue stream -- you should be as well.
Disclosure: I am long DARA. I wrote this article myself, and it expresses my own opinions. I am not receiving compensation for it (other than from Seeking Alpha). I have no business relationship with any company whose stock is mentioned in this article.