Carbo Ceramics Inc. (CRR) has been a manufacturer of ceramic proppants for more than 20 years. Its six production plants span the globe but are predominately established in the United States (two plants outside the United States, in China and Russia). The company's products and services are primarily used in the hydraulic fracturing of natural gas and oil wells. In addition, the company provides a broad range of technologies for spill prevention, containment, and countermeasures, along with geo-technical monitoring through its Falcon Technologies segment.
Carbo Ceramics reported fourth-quarter results that surpassed top-line consensus and were in line with bottom-line consensus, but would have beat expectations if a $0.03 per share charge for the wind-down of Applied Geomechanics were removed. With that being said, expectations were low into the earnings report (as reflected in the stock reaction up 8.85%), given management's commentary in recent months and misses at other services companies. Gains in international sales volumes partly offset low North America levels. Gross margin was under 30% for the first time ever and is likely to remain at lower levels for the first half of 2013, although waning influences from selling third-party proppant and some pricing stability should have set the bottom for pricing in the fourth quarter.
While some clients appear to be replacing Chinese intermediate density ceramic proppant, which is of lower quality and cost than Carbo's offerings, with proppant from Carbo and other suppliers, it could be that the market will remain wary of imports when projecting pricing and margins, particularly if North American activity levels pick up significantly toward the end of 2013.
In addition, it seems that demand for ceramic proppant will not come roaring back anytime soon, as activity levels, low natural gas prices, volatile liquids prices, and operators focused on costs and cash flows will remain significant industry drivers in the several coming quarters.
However, distribution costs may show a bit more progress through 2013, and more resin-coated sand sales to accelerate volume growth a bit (weighted to the back half of 2013). Fewer field trials in 2013 and less third-party proppant sales is expected, which in turn will put less pressure on ASPs. Moreover, year-on-year ASP comparisons are expected to get considerably easier as the year progresses. Selling, general, and administration expenses are expected to be 9.5% to 10% for the full year, showing consistent leverage.
Final Thoughts
The continued pressure on the dry gas markets and volatility in liquids prices in the United States will keep service companies a bit more hesitant about using ceramic proppant, or perhaps even resin-coated sand, for longer than the Street may expect or at prices lower than any in recent memory. This perspective keeps us cautious on shares of Carbo Ceramics in the near term, even though analysts believe the industry continues to view ceramics as helping provide a "better frack" and thus a better return on investment on drilling and completion spending.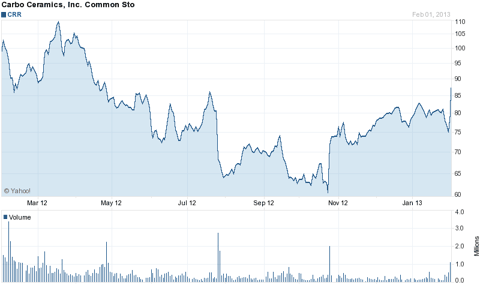 Disclosure: I have no positions in any stocks mentioned, and no plans to initiate any positions within the next 72 hours. I wrote this article myself, and it expresses my own opinions. I am not receiving compensation for it (other than from Seeking Alpha). I have no business relationship with any company whose stock is mentioned in this article.