By Tim Seymour
You have to trade Baidu (NASDAQ:BIDU) hard, and last night's release tells you why. First off, any BIDU release has volatility attached to it. Over the last 13 quarterly releases, you either made on average 6.9% on moves higher playing earnings, or lost on average 3.7% on moves lower over the last 10 quarters.
Today, the stock was set to open down hard. Heard this story before? BIDU has to continue to invest in its growth and this will hurt at the margin. The iQiyi online video business and mobile Internet solutions are great, but with a price. Meanwhile, the competition gets stronger.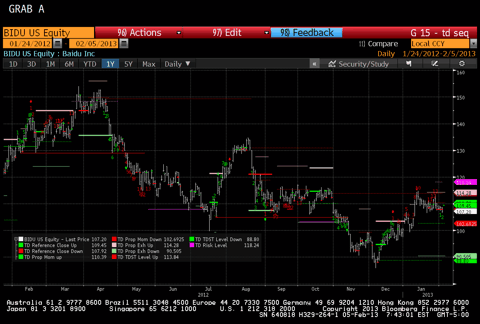 Note that Google (NASDAQ:GOOG) has and will go through similar issues without the same competition for search that BIDU is starting to see from Qihoo (NYSE:QIHU). The stock is in great value territory, but we have heard this throughout tech (see Apple (NASDAQ:AAPL)). With 18x 2014 earnings, BIDU is hardly expensive. But the multiple is falling and could go lower.
Technically, BIDU also has major sell signals until you go down and test the December lows, which would be a great place to add shares. Look for BIDU to be rangebound and retest the December lows. With regard to a target -- TD prop down exhaustion 90.505 TDST 88.80 and TD Risk 85.11. The TD indicator refers to Thomas DeMark Sequential.