Eric Sprott is well known in the investment community for his commitment to precious metals investing, and his track record of earning consistently high returns for his precious metals and natural resource-focused hedge funds. His Toronto-based hedge and mutual fund company, Sprott Asset Management LP, has over $10 billion in assets under management, including $848 million in equity assets per its most recent SEC 13-F filing for Q4/2012. The company was spun-off the asset management business of Sprott Securities, now called Cormark Securities Inc., which Mr. Sprott founded in 1981.
The company is also a wholly-owned subsidiary of Sprott Inc. that is a gold- and resource-focused fund manager that has been offering managed accounts since 1981, the Sprott family of mutual funds since 1997 and a family of long/short funds since 2000. The fund is heavily concentrated in precious metals stocks, including gold, silver and platinum, that accounted for 74% of its investments in the latest December, 2012, quarter filing. Also, 58% of its holdings are in small-cap and micro-cap equities, 29% are in mid-caps, and the remaining 13% are in large-cap equities.
Sprott's top precious metals pick in Q4/2012 based on position size and change relative to the prior quarter is Primero Mining Corp. (NYSE:PPP), a Canadian gold and silver mining company, with operations in Mexico. Vanguard opened a new 1.58 million share or $10.2 million position in the company, accounting for 1.65% of its portfolio. PPP has been one of the strongest performers lately in the precious metals space, up over 150% from the lows last summer, while the average gold stock as represented by the Market Vectors Gold Miners ETF ($GDX) is down about 5%-10% during that same period.
PPP just announced its 2013 outlook late last month, with Q4/2012 production of 26,300 gold equivalent oz. coming in at the top end of its guidance, and cash costs of $365 per gold oz. v/s its earlier guidance of $384. Furthermore, the company lifted production guidance for 2013, now expected to be up to 17% higher compared to last year, compared to the 9% year-over-year increase in the last quarter. It also projected 200,000 gold equivalent oz. production in 2015, at 80% above the levels recorded in 2012. While PPP stock is up significantly, and is near its all-time highs, it trades at a respectable 12.4x trailing-twelve-month ((NYSE:TTM)) earnings, a discount to the industry average of 13.4. Meanwhile, earnings growth has been strong, having doubled in 2012 v/s 2011, and can be expected to continue higher given the projected 80% increase in production in the next three years. We would be buyers on dips, especially if it nears the 200-day moving average near $5.
Besides PPP, Sprott also increased its position in Canadian gold and silver mining company Keegan Resources Inc. (KGN), engaged in exploration in the Republic of Ghana, adding 0.69 million shares to 3.01 million share prior quarter position.
Additional precious metals companies in which Sprott is bullish based on it holding a large position at the end of Q4/2012 included:
High conviction bearish moves by Sprott in Q4/2012 in the precious metals group included:
For full coverage of Sprott's 13-F filing for 4Q/12, and the latest updated 13-F and 13D/G filings of 245 leading Wall St. funds, you may do so for free by registering as a guest on our website, and for those already registered, you can access the full summary here.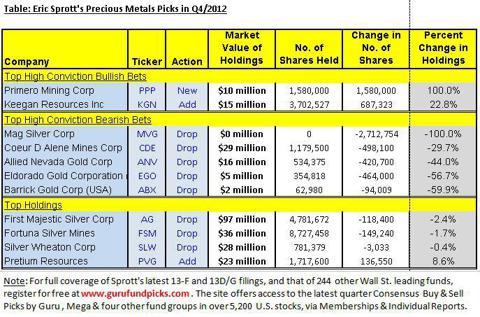 Credit: Fundamental data in this article and company descriptions are based on SEC filings, Zacks Investment Research, Yahoo, Thomson Reuters and Briefing.com. The information and data is believed to be accurate, but no guarantees or representations are made.
Disclaimer: Material presented here is for informational purposes only. Nothing in this article should be taken as a solicitation to purchase or sell securities. Before buying or selling any stock you should do your own research and reach your own conclusion. Further, these are our 'opinions' and we may be wrong. We may have positions in securities mentioned in this article. You should take this into consideration before acting on any advice given in this article. If this makes you uncomfortable, then do not listen to our thoughts and opinions. The contents of this article do not take into consideration your individual investment objectives so consult with your own financial adviser before making an investment decision. Investing includes certain risks including loss of principal.
Disclosure: I have no positions in any stocks mentioned, and no plans to initiate any positions within the next 72 hours. I wrote this article myself, and it expresses my own opinions. I am not receiving compensation for it (other than from Seeking Alpha). I have no business relationship with any company whose stock is mentioned in this article.
Additional disclosure: The article has been written by the Hedge and Mutual Fund Analyst at GuruFundPicks.com. GuruFundPicks.com is not receiving compensation for it (other than from Seeking Alpha). GuruFundPicks.com has no business relationship with any company whose stock is mentioned in this article.