By Cagdas Ozcan
There are different types of modules when it comes to investing money. While some investors go for large earnings in a short time by taking risks, I prefer safer, sounder ways even if it means a longer term, including dividend investing, long-term investing and Forex investing.
Over my part of life as a financial advisor, I got along well with retired people. That's maybe why I try to avoid risky moves and prefer stable gains over long-term periods, which is highly appropriate for retirement portfolios. Of course, that doesn't necessarily mean that it would take decades to collect sizable profits. If you know how to act in the investment world, you can receive attractive returns in relatively shorter times. You should know where to begin: dividend stocks with well-built balance sheets.
There are tons of dividend stocks offering safe and high returns if you know where to look. Lots of industries include such stocks, and I will write an article about dividend stocks in each of them in the following days. Today, I would like to start with dividend stocks in my favorite industry: Technology. With major technology stocks getting cheaper and dividends growing, perhaps it is time to accept that tech is the new value. This is one of the few industries that shows little volatility in the last decade. Moreover, it sits on an enormous amount of cash and equivalents. Yes, the technology sector holds considerable risks, but it is also one of the most stable industries after the tech bubble. I have picked three large-cap technology stocks that are doing great and promising an even better future. All of these stocks are priced with low P/E ratios and estimated to deliver positive EPS earnings in the next five years. They also offer a minimum dividend yield of 2.64%. Here are the three technology stocks offering attractive dividends.
Everybody agrees on the fact that Intel Corp. (NASDAQ: INTC) is a value investment, but what about the current downside movement? I guess it would be best to name it as a bargain. Intel was too hot around May and it is cooled down now. With disappointing Q4 results, the company may even face a short recession.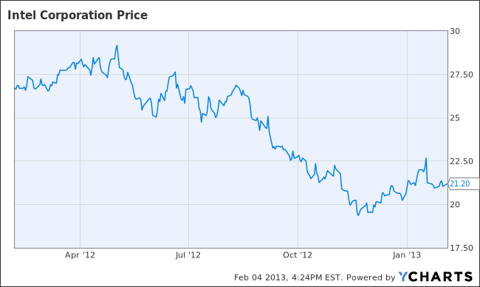 Things are not looking bright for Intel at the moment. The stock is trading with a Relative Strength Index of 53.62%, which indicates possible further declines. However, analysts are still optimistic on this giant. Intel's revenues for 2013 are estimated to be around 1.4%, which is still conservative if you ask me. Intel suffered from a rough PC market last year, which led to a one-fifth loss of the company's stock price. A rebound is quite possible in the second half of this year which may also bring fatter dividends. The stock offers an attractive dividend of 4.11%.
There are hardly any red flags in Intel's key stats even at this time. Intel is a solid example for the long-term dividend investment policy, so you have to be patient if you want to win here. Current price is suitable for entry. Recent dividend payments per share are as follows:
| | |
| --- | --- |
| 02/05/13 | $0.225 |
| 11/05/12 | $0.225 |
| 08/03/12 | $0.225 |
| 05/03/12 | $0.21 |
Despite fierce clashes in the smartphone arena, the specialty glass producer Corning (NYSE: GLW) is still range-bound. Corning has been stuck between $12-12.50 levels for some time. The company suffered from sales declines in 2012. Corning is hovering around $11.8 currently.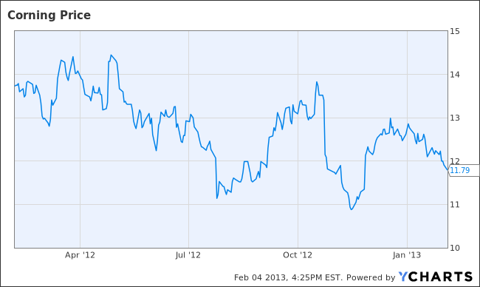 2013 can be a key year for Corning. With LCD sales in touchscreens and televisions, Corning can stabilize its sales. Its latest admiral ship Gorilla Glass 3 seems quite assertive. Corning is a key factor between Apple and Samsung, so don't lose hope as long as these two giants grind teeth to each other. Its financials are extremely suitable for a leapfrog. Revenue and assets are going up since 2009. It offers an average dividend of 2.67% currently.
Corning is a symbol stock for long-term, patient investment types. If you manage to keep your temper, you will be rewarded. The stock has increased its dividend for more than two years straight, and it has a promising balance sheet. Corning will keep up the challenge as long as smartphone wars exist. Count on this name and you will be fine. Recent dividend history is:
| | |
| --- | --- |
| 11/14/12 | $0.09 |
| 08/29/12 | $0.075 |
| 05/29/12 | $0.075 |
| 02/27/12 | $0.075 |
Finally, a stock without downside momentum. CA Tech (NASDAQ: CA) is in a much better condition nowadays than the two above. The stock is doing all right as its Q3 fiscal year 2013 results surpassed analyst expectations. CA is doing great since the beginning of the year. Since January 1, the stock returned 21.9% to shareholders, which is a tremendous amount.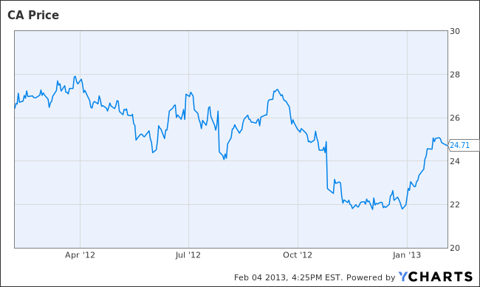 The company has ignorable debt (debt-to equity ratio is only 0.2) and has an average Beta of 1.04. Price-to earnings ratio is 12.5, less than half the industry average of 25.9. Revenue and cash flow keep increasing for the last four years. Analysts' mean target price is $26.78, implying an 8% upside potential. Dividend yield is 4.05%.
The fat dividend, the optimistic Q3 reports and a strong balance sheet keep the stock on track. CA Tech, formerly known as Computer Associates, has left its poor past behind. It attracts investors with slow yet steady gains, which is a natural part of long-term investment. CA Tech has been reporting positive FCF (free cash flow) since 2007. It would be wise to rely on such a stable company. Recent dividend yields of CA Tech per share are:
| | |
| --- | --- |
| 07/24/12 | $0.52 |
| 07/04/12 | $0.52 |
| 07/05/11 | $1.08 |
| 05/07/10 | $1.08 |
Disclosure: I have no positions in any stocks mentioned, and no plans to initiate any positions within the next 72 hours.
Business relationship disclosure: EfsInvestment is a team of analysts. This article was written by Cagdas Ozcan, one of our equity researchers. We did not receive compensation for this article (other than from Seeking Alpha), and we have no business relationship with any company whose stock is mentioned in this article.